Fresh & Flavourful Foods to Look For in November
Discover the Seasonal Produce That Peaks in Late Fall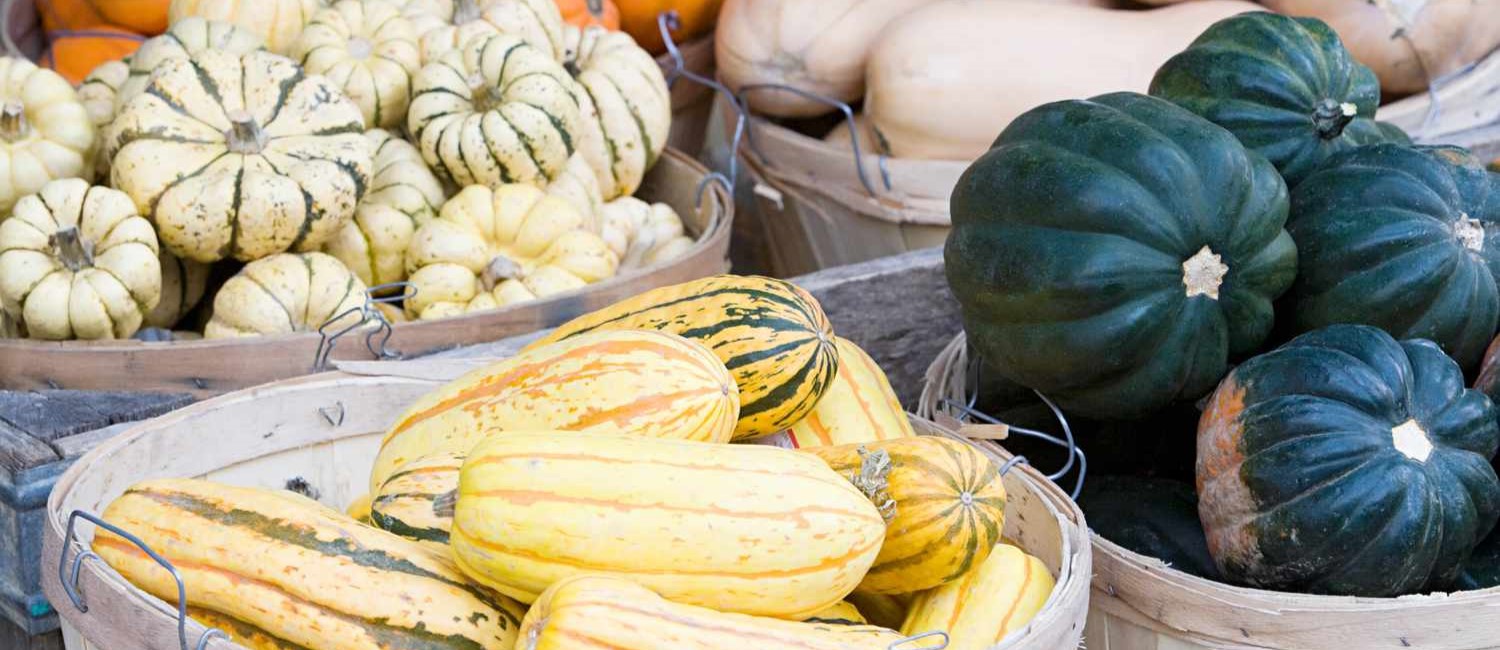 Sure, the weather is getting colder, but that doesn't mean the farmers are done delivering incredibly delicious and nutritious fruits, vegetables, and seasonal fall foods. Join us as we explore the range of fresh produce that is at its best and most flavourful in November.
As the weather outside turns from sunny and warm to cool and frosty, and the daylight seems to vanish earlier every day, putting a delicious and nutritious meal on the table helps brighten moods and bring smiles to faces. This is the time of year where we are all-in on hearty comfort food dishes and aromatic recipes that fill our homes and souls with warmth. Now, November may not be the month that springs to mind when you think of the best time to buy fresh vegetables and fruits, but there are certain types of produce that are late bloomers and reach their peak this month.
Seasonal Foods That Peak in November
Farmers around the world work really hard to make the most of each and every growing season, and that means planting a wide range of fruits and vegetables that can be ready to harvest after the main growing season of summer has come to an end. You'd be surprised at just how many different types of foods are at their optimum flavour and freshness in such a late month of the year, but it's true! Let's start by looking at the many vegetables that you'll find to be best in November.
November Vegetables
Pumpkin – This should come as no surprise, but November is a great month to find fresh pumpkin for a wide variety of fall-themed recipes. Pumpkin is rich in vitamin A, and contains a good amount of other nutrients like vitamin K, vitamin E, potassium, copper, fiber, and iron.
Squash – Similar to pumpkin, squash peaks in late October and early November. There are several varieties of squash that you'll find, but two of the most popular are butternut squash and acorn squash. Both are high in many of the same nutrients as pumpkins.
Turnips – Turnip is a vegetable that doesn't get enough recognition for how versatile it is, and how much nutrition is packed in to one, particularly in the leaves. Raw turnip is high in vitamin C and has a good amount of calcium, while the greens are rich with plenty of vitamin K.
Beets – November is a great time to cook with beets and take advantage of their nutritional value delicious flavour in many different recipes. Beets contain essential minerals like manganese, copper, potassium and magnesium, along with vitamin C and vitamin B6.
Parsnips – Another popular root vegetable that is fresh and readily available in November, parsnips contain potassium, sodium, iron, calcium, and dietary fiber. Parsnips make delicious vegetable chips when sliced & baked, and can make a low carb mashed potato substitute.
Bok Choy – One of the most flavourful and nutritious leafy green November vegetables that we love to cook with is bok choy. It has a unique taste profile, and is high in essential minerals like calcium, potassium, and iron, and contains dietary fiber, and vitamin C.
Kale – This famous superfood is very popular at fresh vegetable stands in the fall. Kale can be used in all kinds of nutritious low carb recipes, including salads, casseroles, smoothies, stir fry, and more. Kale offers plenty of vitamin K, vitamin C, calcium, manganese, and riboflavin.
Brussels Sprouts – Forget about the old, tired stereotypes about Brussels sprouts. These hearty green vegetables are amazingly delicious, and super-healthy for you. They are high in fiber, rich in potassium, and a good source of vitamin C, vitamin B6, iron, and calcium.
That's a lot of vegetables to think about, isn't it? Of course, that's not the only kind of fresh produce you'll find in November. Here's what to look for in fresh fruits this month!
November Fruits
Cranberries – Synonymous with Thanksgiving feasts and holiday-themed baked goods, November is the best month to get fresh cranberries. These bold and flavourful berries contain calcium, iron, and potassium, along with dietary fiber and a healthy amount of vitamin C.
Apples – Apples typically start to be picked in late July and early August, but many varieties of this fruit can be harvested well into November. Apples are a bit high in sugar, so low carbers need to use them in moderation, but they are versatile and a source of fiber and potassium.
Pears – Another fruit that you'll find tastes better in the fall is pears. There are many varieties to choose from, and they contain many of the same nutrients as apples. Potassium, fiber, vitamin C, iron, and magnesium are all found in the delicious pears you can enjoy in November.
Pomegranates – Pomegranates are a bit famous these days for being so high in antioxidants, but they're also a good source of fiber, vitamin C, magnesium, phosphorus, and potassium. They are also said to have anti-inflammatory properties, but the best part is the taste!
We haven't reached the end of the list quite yet. There's a couple more examples of seasonal November foods you should be watching out for!
Other Seasonal November Foods
Walnuts, Pecans, Almonds – In addition to the wide range of vegetables and fruits that we've already mentioned, there are plenty of varieties of nuts and seeds that reach their peak in the month of November. Some of these include walnuts, pecans, and almonds, which are all very healthy and rich in essential vitamins and nutrients.
Wild Mushrooms – If you're a fan of mushrooms, you'll be glad to know that this is the season where wild mushrooms like porcini, fall oyster, and blewit are ready to be harvested. Wild mushrooms deliver unique flavours and textures to enhance a wide range of low carb dishes.
With all these ingredient ideas, you might be eager to see some recipes to go with them that will help you make the most of the wonderful flavours that abound this season. Good news! We've found a bunch of really good ones, and here they are.
Seasonal November Low Carb Recipes & Cooking Ideas
Easy Oven Roasted Brussels Sprouts – This recipe takes the word 'easy' very seriously. Simply chop, toss, and season the Brussels sprouts while you pre-heat the oven, and in just 25 minutes you've got a delicious and nutritious side dish ready to go.
Low Carb Butternut Squash Lasagna – Did you ever think you'd see a recipe that combines a seasonal fall vegetable like butternut squash with an Italian comfort food like lasagna? Well, be glad that you did because this recipe is simply incredible! Hearty, delicious, and perfect for fall.
Keto Wild Mushroom Soup – Want a healthy soup recipe to make use of a fresh bunch of wild mushrooms? This one will definitely do the job! The end result is a rich, creamy, and savoury low carb mushroom soup that will warm you up on even the chilliest November day.
Low Carb & Gluten-Free Pear Custard Pie – Put something unique and unusual out for dessert with this mouthwatering pear custard pie. It's so easy to make, you won't believe it. The resulting flavour combination is complex, delicately sweet, and perfectly spiced. Enjoy!
Low Carb Creamy Mashed Parsnips – You'll never miss mashed potatoes again with this recipe! Using seasonal November parsnips, you can make a delicious mashed side dish that pairs perfectly with roasted meats for a hearty and fulfilling fall dinner the whole family will love.
Quick No-Sugar Pickled Beets – The flavour of fresh November beets shines through in each bite with this simple recipe for pickled beets. Using just a few ingredients, and by steaming instead of boiling, the end result is a fresh and vibrant flavour profile with a subtle sweetness.
Get Cooking & Enjoy the Flavours of Fall with Seasonal November Foods!
We hope that you've been inspired to add some new recipes and seasonal flavours to your upcoming low carb meal plans with this collection of meal ideas and ingredients. The time is now to take advantage of the wonderful taste combinations and nutritious fruits and vegetables that are at their best in November. Happy eating!
Don't forget to shop online for all the low carb products and cooking ingredients you need to prepare healthy and delicious meals. Browse our selection of Spices & Seasonings, Cooking & Baking ingredients, Bread & Bakery products, and more!
More Low Carb Lifestyle Articles