Mama Lupe's
Low Carb Flour Tortillas
Mama Lupe's low carb flour tortillas are a noteworthy favourite among our customers – just read numerous 5-star reviews! Many describe these tortillas as "indistinguishable" from regular store-bought flour tortillas, which makes them a perfect substitute for those following carb-restricted diets – especially those that crave tacos, burritos, and wraps!
With just 3g net carbs per tortilla,
Mama Lupe's tortillas
won't compromise your dietary needs or weight loss goals. They can be used to make lunch wraps, tacos, burritos, pizza crust, or even baked into homemade tortilla chips for dipping! Due to a specially formulated recipe that has been tried and tested by industry experts, these tortillas are very similar to regular flour tortillas in terms of texture and taste. Plus, they provide 5g of protein and 7g of fibre per tortilla for an extra satisfying and nutritious wrap!
The makers behind Mama Lupe's tortillas maintain their mission of being an honest, straightforward business. They pride themselves in being faithful to their customers and their employees, and have been recognized as one of the best-managed, best-qualified manufacturer of Hispanic food products in the Midwest region of America. What started as a small venture making tortilla chips in 1992 has now grown into one of the largest tortilla producers in the Midwest, using only top of the line technology for production to meet ever-increasing customer demands. With thousands of satisfied customers, they continue to set high standards for the company to ensure that people are always happy with their products.
Try Mama Lupe's tortillas today and join thousands of people who have enjoyed this standout product for years!
Featured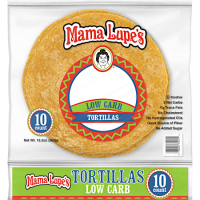 Add to Favourites
Mama Lupe's
$8.49
1 in Cart
Featured
$8.49
1 in Cart


$8.49

Load More...