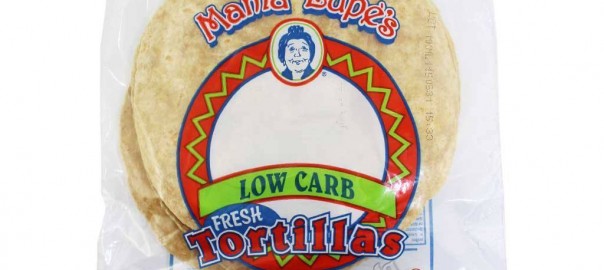 Introduction to Mama Lupe's Low Carb Products
Featured Product – Mama Lupe's Low Carb Tortillas
Tortilla shells are an extremely versatile bread product, and no low carb kitchen would be complete without them. For low carb dieters, finding a good quality tortilla that has a great taste and texture, along with a low carb count, can be a real struggle. Fortunately, Mama Lupe's tortillas check off all the essentials that low carb dieters need, with all the great characteristics that you want in a wrap.
What makes a good tortilla?
Flour tortillas are defined by a few common characteristics. They need to be soft, so that they can easily be shaped and wrapped around a variety of food. Tortillas should also not be too dry, as a wrap that is too dry will tend to rip and tear when you start to work with it. A fresh tortilla has just a little bit of flexibility to it, so that it won't fall apart once you wrap up your fillings and start to eat it. Tortillas also need to be big enough to fit your desired fillings in them, and still have enough overlap to effectively seal up the wrap and prevent it from making a big mess.
How are low carb tortillas different?
While many of the ingredients in a low carb tortilla are the same as their high carb counterparts, the biggest difference will be in the main ingredient, which is flour. Low carb tortillas typically use a reduced carb flour or other flour substitutes in order to reduce the total carb count without affecting the softness or flavour of the tortilla.
Tortilla Meals and Snacks
As you know, tortillas have dozens of different uses, and not just in Mexican or Southwest cuisine. Here are a couple of great uses for tortillas in the low carb diet that you've just got to try!
Low Carb Chicken Quesadillas
Quesadillas are one of the simplest of all Mexican dishes, but they're also one of the tastiest! Making a low carb quesadilla is really easy, and needs just a few essential ingredients. Start with some fresh grilled chicken, seasoned with your favourite Mexican spices. Thinly slice the chicken and layer on one side of a Mama Lupe's tortilla. Spread a cheese blend on top of the chicken, including shredded cheddar, Monterey Jack, and Colby cheeses. Fold over the tortilla to cover the chicken and cheese blend like you're closing a book, and place on a baking sheet. Place in the oven at 350° for about 10 minutes, or until the tortilla starts to brown and the cheese is melted. Remove from the oven and allow to cool for a few minutes before cutting in to quarters. Now all that's left to do is dip your hot chicken quesadilla in your favourite salsa, sour cream, and guacamole. Enjoy!
Warm Tortilla Chips
Making your own fresh, warm tortilla chips is so easy you'll wonder why you never did it before! Starting with a fresh pack of Mama Lupe's tortillas, cut them in to wedges about the same size as a standard tortilla chip, but you can make them as big or small as you want. Bigger chips will break easier, and smaller ones sometimes just don't hold enough dip, so experiment with sizing to find what you prefer. Spread the chips out on a large baking sheet and sprinkle with your favourite seasoning salt. Bake at 350° for about 5-7 minutes, and then flip the chips over using some kitchen tongs, and lightly sprinkle with a bit more seasoning. Bake for another 5-7 minutes or until the chips are just starting to brown. Remove and let cool, then dip in anything you'd like. Guacamole and salsa are always great, but don't be hesitant to try any of your favourite dips.
More Praise for Mama Lupe's
Our customers simply love Mama Lupe's tortillas. With over 100 stellar reviews, people just keep coming back to Mama Lupe's tortillas because they are simply the best low carb tortillas they've ever tried.
"All the great taste of a regular tortilla with almost no carbs." – Mary from Mississauga, ON
"Love these! I make wraps and pizzas with them with no impact on my low carb lifestyle!" – Barb from Bradford, ON
"These tortillas are amazing! We like them more than "regular" high-carb wraps or tortilla breads." – Darlene from Chateauguay, QC
We're sure that once you try Mama Lupe's tortillas, you'll be hooked! So, whether you're stocking up for the next Taco Tuesday, or planning your lunches and breakfasts, these tortillas will be extremely handy to have in your kitchen.
Pick up a fresh pack of Mama Lupe's Low Carb Tortillas here today at The Low Carb Grocery.