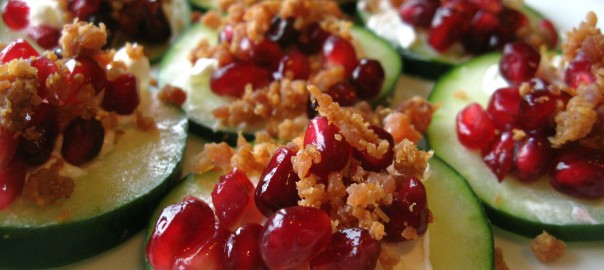 Tips for Great Low Carb Appetizers
Tips for Great Low Carb Appetizers
We love appetizers! Appetizers come in so many different varieties, you can find one that's perfect for any occasion, any season, and any reason. Whether you are a fan of something light, crisp and cold to nibble on, or if you prefer the savoury, warm and comforting tastes of a hot appetizer, these little bite sized delights are the perfect way to start off a big family holiday event, or a quiet evening with friends.
Many appetizers, however, can be high in carbs and might not be the best choice for low carb dieters. A lot of appetizers involve things like crackers, sweet dips, sauces, pastries, and breads. Fortunately, there are many simple ways to change up traditional appetizers to cut out the carbs while keeping all the delicious flavours that you love. Here, we will take a look at some tasty hot and cold low carb appetizers that you can try out at your next event. We're sure that you'll love to try them all!
Cold Low Carb Appetizers
These cold low carb appetizers are easy to make with just a few ingredients, and they are definitely delicious!
Antipasto
This appetizer is actually a traditional first course in Italian cuisine, but the simplicity of it, and the variety of tastes it delivers, makes it a perfect option for any occasion. Antipasto is simply a collection of various Italian cured meats, paired with vegetables, as well as soft and hard cheeses. Most antipasto plates consist of meats like capocollo, mortadella, prosciutto, and salami, sliced very thin. You may choose to opt for spicier versions if you feel in the mood for a bit of heat. Popular cheeses for antipasto include mozzarella and provolone, usually cut in to irregular chunks for variety. To complete the plate, add some artichoke hearts, olives, and mushrooms. Antipasto plates will often include an olive tapenade as well. Pretty much everything on an antipasto plate is low carb, but if you want to swap any of the main items for some others that you fancy, don't be afraid to mix it up with new combinations.
Spinach, Feta and Artichoke Dip
This dip is absolutely scrumptious! The combination of flavours from the three main ingredients play off each other and simply taste great together. Most recipes for spinach, feta, and artichoke dips are low carb already, but just be sure to review all the ingredients for any that might be sneaking carbs in. The basic components of this dip, aside from the obvious three, include sour cream, garlic, mayo, parmesan cheese, shallots, red wine vinegar, and salt & pepper. That's a pretty safe list for low carb dieters. Once you've found a dip recipe that you like, make sure you choose a selection of different low carb crackers for dipping to give your guests an extra bit of variety. Check out our wide range of low carb crackers, here.
Hot Low Carb Appetizers
Now that we've looked at fresh and cool low carb appetizers, let's look at a couple examples of hot low carb appetizers.
Dry Cajun Chicken Wings
Chicken wings are an absolutely essential appetizer for big game parties, and this version is a unique twist that is big on taste! Most of the time, chicken wings are usually prepared by frying them and then drenching them in a variety of sauces. This time, we're going to change things up a bit by baking instead of frying, and using a spicy Dry Cajun Rub from Hot Mamas. Simply toss the chicken wings in the rub, bake them up, and serve alongside a low calorie blue cheese or ranch dressing for dipping. The spicy Cajun flavour goes great with the cool taste of the dressing. Once you try these, you'll be coming back for more again and again!
Meatballs in Chili Sauce
This savoury appetizer is perfect for those occasions like potlucks or holiday parties where there is lots to choose from, but rest assured that these tasty little meatballs won't last long! These are very simple to make, and you can use your preferred meatball recipe or make it even easier and get some pre-made meatballs. Just make sure that the ones you buy don't have hidden carbs in them in the form of breadcrumbs or other extra ingredients. Try to select ones that are either pure beef or pure pork. Once you've got the meatballs cooked up, all you need to do is simmer them in your favourite low carb chili sauce, like this Chili Pepper Sauce from Jok'N'Al. Our customers love this sauce for its sweet and spicy flavour.
Conclusion
With this collection of appetizers, you'll have something new to try at your next family gathering or potluck party, and by keeping things low carb, you're also making sure that your diet stays on track. These are just a handful of suggestions, though. If you're excited to explore more options for tasty low carb appetizers, check out this excellent list of low carb appetizer recipes from the blog at lowcarbmaven.com. It's chock full of delicious recipes that are perfect for your next big sports game party! Don't be afraid to try a low carb version of any appetizer you might find. Half the fun is trying new things and getting creative!