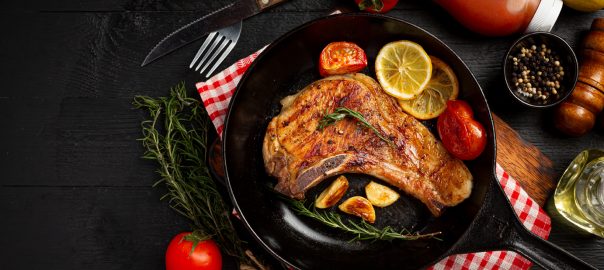 New Low Carb Pork Recipes
Pork is one of those kinds of meats that can be prepared in a million different ways, and works equally well for breakfast, lunch, and dinner meals. This makes it the perfect protein for the low carb lifestyle, and with the recipes we've gathered here to share with you, we are willing to bet you'll agree! Join us as we explore exciting new low carb flavour experiences and delicious family-friendly pork recipes you'll be eager to try.
Any time the new year rolls around, we here at The Low Carb Grocery start to think about what new recipes and cooking styles we're going to work into our meal plans to freshen things up. Sometimes we explore different world cuisines, while other times we get experimental with sauces and spices. This year we're changing up our selection of pork recipes with a delectable collection of meal ideas that we just can't wait to share with you! We've scoured the internet looking for the best of the best in pork, ham, and bacon creations that the entire family is sure to devour the next time you sit down for a meal together.
Before we get to the list of tasty recipes, we figured it might be helpful to have a quick little review of the different kinds of pork you'll find at the grocery store, along with a few handy tips for cooking pork for best results. 
Walk up to any butcher's counter, and you'll be presented with a wide array of different pork cuts to choose from. While they are all delicious, some are best suited to certain types of dishes and cooking styles. Depending on what kind of meal you're preparing, here are the essentials of what you need to know about the different cuts of pork.
Pork Chops – Let's start off with the most popular cut of pork. Pork chops can be grilled, baked, sautéed, or fried, making them a very versatile meat to work with. They can also be cut in a range of thicknesses, from about a half-inch up to two inches. One other option for pork chops is whether you choose boneless or bone-in. Usually, bone-in chops are considered to be more flavourful, and less likely to dry out than boneless pork chops.
Pork Loin Roast – A big cut of meat for the purpose of making a wide range of roast dinners, pork loin roasts are also available boneless or with bone-in. For carving, boneless is certainly easier, but like with pork chops, leaving the bone in tends to make the roast juicier and more flavourful. Pork loin roasts are often rubbed liberally with seasonings to give the meat a nice outer crust and added flavour.
Ham – Unlike most other cuts of pork, ham is usually smoked and cured. Ham can also come boneless or bone-in, and in a wide range of sizes. Ham can be baked, grilled, prepared in a slow cooker, and is often seasoned or glazed with things like mustard and honey to add some sweet and savoury flavours to the meat. Ham is also popular as a deli meat where it is sliced thin for sandwiches. 
Pork Tenderloin – One of the leanest cuts of pork, tenderloin is very flavourful and easy to prepare on the grill, in the oven, or fried in a pan. Although similar in name to pork loin roast, pork tenderloin are thinner and leaner, as they are cut from a different area of the pig. Pork tenderloin makes for an easy family meal any day of the week, and can be seasoned with a wide range of savoury herbs, or simmered with family-favourite sauces like honey garlic.
Bacon – Ah, bacon. That wonderful cut of pork that makes everything better. Bacon is a thin, fatty cut of pork that is salted and cured, and often smoked. Bacon can be pan fried or baked in the oven for breakfast or used on top of burgers and sandwiches, and is an amazing accompaniment to other cuts of meat when wrapped around for added flavour when cooking. Examples of this include bacon-wrapped beef tenderloin, bacon-wrapped turkey medallions, and bacon-wrapped sea scallops.
Pork Ribs – It's barbecue time! Sure, you can prepare pork ribs in lots of different ways, but they shine most brightly when grilled low and slow. Fall-off-the-bone ribs with a hearty coating of delicious barbecue sauce is one of the best meals you can ever have. Ribs come in several cuts, including back ribs, spare ribs, rib tips, country-style, and St. Louis style, depending on the meat/fat combo and the style of cooking the recipe calls for.
Pork Shoulder – If you've ever had delicious pulled pork, then chances are pretty good it was made from a pork shoulder cut. Like ribs, this is another 'low and slow' cut of meat that needs to be fall-apart tender for best results. Pork shoulders are often prepared by braising, slow roasting, grilling, or by using a slow cooker. Other names of pork shoulder include blade roast or pork butt, which is important to know when you're at the meat counter. 
Sausages – Like bacon, sausages are a super-delicious kind of pork that is easy to make. Made of ground pork and a variety of seasonings, sausages are great on their own or can be used to make other dishes even better. For example, like adding spicy chorizo to tacos, or Italian sausage to pasta sauces. Sausages are most often prepared by grilling, stewing, frying, or roasting.
General Tips for Cooking Pork Properly
Some cuts of pork are extremely simple to cook. For example, placing a pork shoulder in a slow cooker for 6-8 hrs is a foolproof way to get delicious pulled pork with almost no effort. However, pork loin roasts and pork tenderloin need a bit more attention to have them come out just right, juicy, and tender. Cooking it to the right internal temperature, and then allowing the recommended time to rest will produce the best results in flavour and texture, and prevent the meat from becoming too dry. 
One of the most common mistakes people make when cooking pork is not allowing for the meat to rest after it comes off the heat. The meat will continue to cook for a short period of time after it's removed from the grill or oven. Allowing it to rest for a short period of time will help allow the juices of the meat to re-distribute throughout the meat and provide a better overall flavour and texture. In short, don't cut into it right away! Let those juices do their thing, and you'll be glad you waited.
For a complete list on ideal internal temperatures and cooking times for all the different pork cuts, we recommend you review the comprehensive information on the Pork.org website. For example, here are temperature targets and rest times for some of the most popular cuts of pork.
 

Pork Loin Roast, Pork Chops, Pork Tenderloin

145° to 165° internal temperature, rest for about 3-5 minutes.
 

Pork Shoulder (for pulled pork)

170° internal temperature before shredding
 

Ham (pre-cooked)

140° internal temperature
 

Pork Sausages

160° internal temperature
Healthy and Delicious Low Carb Pork Recipes 
Now that we've covered the essentials on pork, let's get into the good stuff. Here are a handful of incredible pork recipes that will have your mouth watering and get you running to the grocery store for supplies!
Baked Smothered Low Carb Pork Chops with Onion Gravy
We love recipes that can be made in just one pot, and we love them even more when they come out as juicy and delicious as these pork chops! In this recipe, tender pork chops are sautéed to a golden brown and then smothered in rich, savoury onion gravy. Serve these with any of your favourite vegetable sides for a complete and hearty meal that the family will love any day of the week. 
Bacon-Wrapped Keto-Friendly Pork Tenderloin
Here comes bacon! Like we said earlier, wrapping anything in bacon makes it better. Here, you'll take a nice pork tenderloin and surround it with thin strips of bacon. The result is a crispy, salty outer shell that locks in all the flavour of the tenderloin, and infuses the subtle smokiness of the bacon throughout. This is ideally served with asparagus or other fragrant green vegetable, perhaps brussels sprouts.
Keto Sesame Pork and Green Beans
This Asian-inspired low carb pork dish is a fantastic meal for a busy weeknight, as it only takes about 20 minutes to prepare from start to finish. The mild sweetness is perfectly balanced with the flavours of garlic and ginger, with delightful sesame aromas permeating throughout. This meal is sure to be well received by kids and adults alike, and if you want to add a little more spice, a dash of sriracha will do the trick nicely. 
Easiest Ever Slow Cooker Pulled Pork 
Don't let the easy aspect of this recipe fool you into thinking the flavour will be basic. The simple combination of spices and seasonings, including smoked paprika, chili powder, garlic, and onion, produces the perfectly balanced blend of flavours that you want in a great pulled pork. All you need to do is take a nice pork shoulder and rub the spice blend all over it. Then, drop it in the slow cooker with some chicken broth and set it for 8-10 hours. Then, shred it up and get ready to eat!
Low Carb Spicy Ground Pork Stir Fry
Can't think of what to do with a pound of ground pork? Try this easy keto-friendly stir fry! In just 20 minutes, you'll have a robust stir fry packed with protein and vegetables that you can prepare in a single pan for easy clean up. The spice level can be adjusted to suit your heat preferences, or you can omit the spicy chilis altogether for a milder dish. This one is so easy, it might just become your default dinner when you're short on time.
Get Cooking with Pork and Liven up your Low Carb Lifestyle
If your family is getting tired of chicken, and ground beef just isn't doing it for you anymore, it's time to eat more pork. Just show them this list of recipes, and we'd be willing to bet you'll have everyone agreeing on what's for dinner tonight! If you're looking for more cooking inspiration for new low carb dishes, be sure to browse around here on our blog for even more healthy meal suggestions. There's plenty to discover!