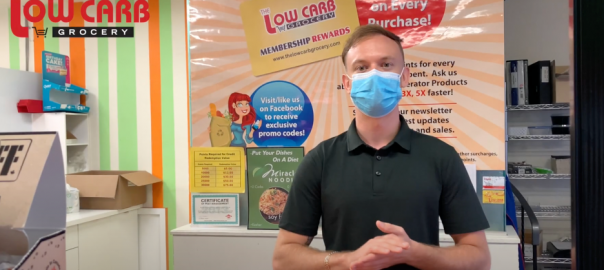 Before You Visit Our Stores | Covid-19 Safety Practices
In-store Covid-19 safety practices we're taking to help you feel more comfortable before visiting.
At The Low Carb Grocery, we want you to feel as safe as possible before, during and after visiting one of our grocery stores. So, we put together a safety video that highlights our new Covid-19 protection practices, with a light approach so we can all avoid that nasty pressure that sometimes comes with a Covid-19 discussion. To see the video, please watch "Before You Visit", otherwise read on to learn more about our safety practices.
Also, for the most up-to-date information on our Covid-19 safety practices and store hours, please visit our FAQ page.
The "New Normal"
Unfortunately, we're all in this battle against Covid-19 together – globally! And it's important that we all do our part in slowing the spread, so we can get back to a comfortable daily life. And to assist getting there sooner, we at The Low Carb Grocery, have set a list of safety rules that protect you and our staff so we can all feel safe and protected against the virus! At the minimum, here is our list of Covid-19 safety guidelines. We ask:
Customers must wear a face covering to enter the store.
Customers are asked to sanitize their hands upon entering the store (hand sanitizer is provided at store entrance – inside).
A limited number of customers in-store at a time (up to 6 people).
Limit 1 person per household to enter the store (to regulate the limit up to 6 people).
Customers are asked to practice physical distancing.
Customers are asked to follow the 6 ft markers in the checkout line.
Plexiglass sneeze guards are installed at checkouts.
Staff must also wear a face covering.
Staff disinfect the counter, payment terminals and baskets/carts after every use.
Washrooms are closed to the public.
Contactless method of payment (tap) is preferred.
We understand that some of these regulations may pose a challenge to your daily routine, but to ensure the safety of everyone who walks in our doors, we have decided to enforce these rules. So, let's break down why these guidelines are important to follow!
Face Covering to Enter Store
We recognize that face masks can be uncomfortable and inconvenient, and they're often not in our muscle memory to carry one with us. However, wearing a face-covering is one of the most effective ways to prevent the spread of this virus, especially in smaller indoor spaces like our stores. When wearing a face covering, you're protecting yourself, our staff, and slowing the rate of transmission to those who may suffer severely from the virus. Let's help Canada and our communities become a leading nation against the spread of Covid-19!
1 Person Per Household – Why?
We have a maximum capacity of customers allowed in each store at a time. Unfortunately, we reach that capacity very quickly when 2 or 3 – or more – people from the same household enter the store at once. Though we can allow exceptions if you're shopping with handicap needs, you are a senior citizen, parent with child, or any understandable reason – as long as you are prepared to kindly provide your reasoning before entering the store. It's just a simple practice that we ask so we can provide groceries to more households.
Physical Distancing
Physical distancing – remaining at least 2 metres apart from other customers and staff in the store. While it may not come naturally to us, or be possible in every instance, we ask that you do your best to remember this safety rule. And, to make it as effortless as possible, we placed markers around the store and at checkout to serve as a reminder.
Hand Sanitization Upon Entry – Look for the signs
We have hand sanitizer stations at all of our stores, and we ask that you please sanitize your hands before shopping. This prevents the spread of germs while you browse our shelves, in case you touch an item or surface that others may come in contact with. This also gives our staff and other customers peace of mind about shopping and working in our stores so everyone can comfortably return to shop around and work. If you have any issues finding the hand sanitizer – or are unsure of which rules we have in place – please look for the signs around our stores, or you can ask any of our staff for assistance!
A Final Word
If you don't feel comfortable shopping in-store or are more vulnerable or susceptible to the virus, we have a number of other shopping options that may work better for you.
You can shop from our inventory online with free delivery on orders above $99. We are doing our best to process online orders quickly, so they can reach you as soon as possible. If you live near one of our stores, we also now offer an in-store pickup option. You can select the items you wish to purchase on our website and choose this new option at checkout. We will inform you when your order is ready to be picked up. It's very easy!
Please do not visit our stores if you are experiencing any flu-like symptoms, have travelled outside the province within the last 14 days, or have been in physical contact with any person who has tested positive with Covid-19 in the last 14 days.
We are happy to see you again! And, we hope that our safety practices help you feel safe before, during and after your next visit to The Low Carb Grocery. If you have any other questions or concerns, please do not hesitate to reach us by email, phone or on Facebook or Instagram, and we will do our best to respond quickly. Let's stay safe, together!