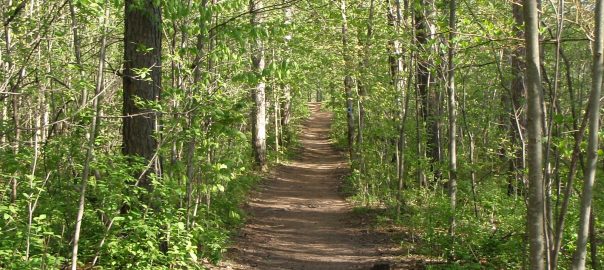 Start To Discover Trail Running
Get Fit this Summer with these Trail Running Tips
Running is renowned as one of the best aerobic exercises that there is, and provides many benefits including strengthening your bones and muscles, improving your cardiovascular health, and maintaining a healthy body weight. It's something that you can do with a partner, group, or just hit the road alone for some personal solitude.
When it comes to getting outside and adding more exercise to your lifestyle, there are few things simpler than running. You just need a decent pair of shoes, some comfortable clothes, and the desire to get out and start putting some miles in.
However, running the same old routes on the same old streets can become monotonous after a while, so it's important to change things up from time to time.
This summer you might want to give trail running a shot, it's a better workout than running on a sidewalk or street, and it gives you completely different surroundings to enjoy – so let's explore the basics of what trail running is all about.
What is Trail Running?
Trail running is quite simply using unpaved trails that wind through forests and up and down hills as your running track instead of sidewalks or roads. Think of it as the running equivalent of mountain biking.
Trail running is all about getting out in the natural environment and experiencing the twisty paths that lead you through beautiful scenery as you exercise.
Trail running can be done virtually anywhere, but it does require a slightly different approach than running on the roads does. Some basic familiarity with the trails is important, as there are often many side-trails that can branch off and head in different directions. Knowing your position and direction will help you avoid getting lost or turned around as you run, especially on new trails.
Aside from that, there are a few tips that we'd like to share that will get you started down the right path and help you make the most of your time on the trails.
Start with the Shoes
In any kind of running, the most important piece of equipment is a good quality pair of shoes. Trail running shoes are built a little differently than traditional road running shoes or cross-trainers in order to deal with the varied terrain and conditions that trail runners will encounter.
While all running shoes will generally feature shock absorption and lightweight materials, trail runners will have much more aggressive tread patterns on the soles to provide greater traction. They will also feature more durable materials in the uppers to better endure abrasion from rocks and other obstacles on the trails.
Getting your shoes to properly fit is essential to a good running experience, so do some online research and then go into your local sports store and have them show you the various styles that are out there.
Each manufacturer will have a slightly different shape and some will suit your feet better than others, so take the time to try on at least one from each manufacturer before you make a selection.
Your feet will thank you for the extra effort in choosing the right shoes.
Consider Taking a 'Learn to Run' Class
One of the biggest mistakes beginner runners make is heading out with the assumption that they already know how to run. What they may not realize is that the demands on your body that are experienced during brief runs while playing outdoor games are a lot different than those you'll endure by heading out for a brisk 3-5k jog.
Proper stride and pacing are extremely important to make sure that you avoid injury and don't over-exert yourself before your body is conditioned for longer runs. Just like any other exercise, it's best to start small and easy, and then gradually work your way up to more challenging routines, and trail running is no different.
The best thing beginner runners can do to avoid these potential pitfalls when just starting out is to take a 'learn to run' class. Many specialty fitness stores and running shops will have organized runs for their customers and often provide instruction and tips for beginners to help them learn the proper way to run safely.
We recommend that you check out running shops in your local area and inquire about their next learn to run class. It's a great way to learn the fundamentals quickly, as well as meet new people who could potentially become your new running friends and give you additional support and motivation to achieve your fitness goals.
Gear Up & Be Prepared
Although the essential gear for trail running is just shoes, you'll quickly find that there are a few other items that can make the experience more comfortable and enjoyable the more you do it.
For example, while sweatpants and a t-shirt are totally fine for running, there are many types of lightweight sportswear that are better at wicking away moisture and keeping you comfortable in a range of temperatures. Most trail runners will want to invest in a good set of running clothing including shorts, shirt, leggings, and long-sleeve top so that you have different combos to choose from depending on the weather, and the type of terrain your running through
You'll also want a good pair of light weight, sport sunglasses to help protect your eyes. Pick a pair of shades that breath well, to avoid discomfort. A runner's pack is also helpful to store your keys, phone, and trail map and keep them organized. You can also use the pack to hold your water or sports drink to keep you hydrated, and energy bars to stay powered up. For areas that are a bit more remote and when running further away from urban centers, you may want to carry a bear whistle and some bear spray. While the chances of encountering bears are generally small, as the old saying goes, it's better to have something and not need it than it is to need it and not have it.
Follow the Rules of the Trail
Whenever you head out on the trails, there are some habits and rules that are generally accepted as good manners and common sense that we recommend all trail runners keep in mind.
First, if possible, it's better to try to head out with a partner or a group. Aside from the obvious motivation and companionship benefits, being with a friend or group also provides a lot more safety in the event that something goes wrong.
Be respectful of other trail users, too. You'll be encountering cyclists, hikers, and walkers enjoying the trails too, so be sure to be aware of your surroundings at all times and don't startle others as you pass them. This is especially true with trail users who may be walking dogs that become startled easily or aggressive to strangers. Safety first.
Keeping with the 'safety first' mindset, it's also a good idea to lower the volume on your headphones if you prefer to listen to music while you run. Of course, you can safely crank up the tunes while working out in the gym, but when you're outside it's a good idea to keep the volume set  so you can still hear your surroundings and stay safe.
Lastly, if you pack it in, then pack it out. Any protein bar wrappers or empty bottles must be disposed of properly, which means bringing them with you until you find the appropriate bin for them. Leave only footprints!
Get Out & Get Fit
Now is the time to experience the simple pleasures of trail running, so get out your running shoes, call your friends, and head out for your next adventure! We're sure that you'll have a great time adding this exciting and fun activity in to your healthy living lifestyle that the whole family can enjoy. Get out there and explore!