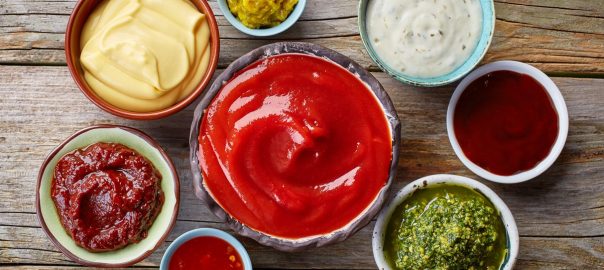 Gravies and Sauces – The Low Carb Way
Enjoy Low Carb High Fat Gravies & Sauces
In this article, we will explore how you can modify classic sauce recipes to fit a low carb high fat or ketogenic diet. The best way to do this is to remove the sugars and other carb sources that you would typically find in these sauces and replace them with low carb substitutes. It's easier than it sounds and there are a number of options, so let's dive in!
Making your own sauce at home is a great way to ensure that it not only fits your dietary needs, but also satisfies your own personal flavour preferences! Here are some tips and recipes we found for low carb spins on classic sauces:
Low Carb & Keto Friendly Gravy
Gravy is a given when you are roasting meat like beef, pork, chicken, or turkey. However, these gravies are usually thickened with wheat flour or cornstarch, which, of course, are not keto-friendly.
Luckily, you can substitute traditional thickeners with low carb versions that results in gravy that tastes every bit as good as traditional gravy, minus the carbs!
It is important that you choose the right kind of thickener, though. You don't want one that will impart too much of its own flavour in your gravy, such as almond or coconut flour. You want to let the pan drippings shine! Also, depending on the texture, these types of flours might not combine well into a smooth gravy.
Alternatively, you can try some of these thickeners:
These might sound a little scary from their names, but they are all natural and a little will go a long way. Here are some recipes we found online that use these thickeners:
You can also skip the thickener altogether and serve a lighter sauce that is more like au jus by simply mixing your pan drippings with a bit of water, broth and seasonings. This type of sauce naturally enhances the flavours of meats, without overwhelming the dish in a puddle of thick sauce. It is perfect for meats with less flavour, such as chicken, lamb or veal.
We also found this innovative recipe for gravy made with egg yolks and a bit of coconut oil!
Barbeque Sauce
Barbeque sauces are usually sweetened with sugar or molasses. These are both easy to substitute with a natural sweetener. Monk fruit sweetener or stevia (liquid or granular) are both good options for barbeque sauces. Monk fruit has a slightly fruity taste that can add a nice touch to your sauce and stevia, especially in liquid form, combines well.
Here's a simple recipe we put together:
Ingredients:
Preparation: Mix everything together in a bowl until it has an even consistency. Coat meat before grilling or set aside in a freezer bag to marinate before cooking.
You can also skip the sweetener altogether for a more savoury barbeque sauce and add more flavour with yellow or Dijon mustard, lots of spices, fresh onions and garlic, or liquid smoke.
Teriyaki Sauce
Teriyaki is a classic Asian sauce that makes just about anything taste good! However, its characteristic sweet flavour could mean that it's high in carbs.
Here are some keto-friendly teriyaki sauce recipes, made with natural zero carb sweeteners:
We also came up with our own recipe using some ingredients from The Low Carb Grocery:
Ingredients:
Preparation:
In a saucepan over medium heat, whisk all of the ingredients together until the mixture comes to a soft boil.
If you would like the sauce to be thicker, add Xanthan Gum 1 teaspoon at a time until you reach desired thickness.
Remove from heat and soak meat, fish, tofu or vegetables in the sauce for at least half an hour before cooking.
Bechamel Sauce
Bechamel, also known as white sauce, can be used to make decadent lasagna, gratins and even white pizzas! The roux (flour and fat cooked together) that is traditionally used in French cooking to make a bechamel sauce can easily be substituted with dairy for a similar creamy taste that is keto-friendly.
Here's a recipe we found for a keto-friendly bechamel sauce.
There are lots of ways to make the dishes mentioned above fit into a low carb diet, besides modifying the sauce.
Check out this recipe for Low Carb Keto Lasagna we found, it's basically traditional lasagna – minus the noodles.
When you think of gratin, potatoes are usually the first thing that come to mind. However, you could use other vegetables in place of potatoes, such as zucchini, cauliflower or turnips. Try one of these delicious recipes:
Finally, to satisfy those pizza cravings, try making pizza at home with one of our low carb pizza crusts. The great thing about pizzas is that you can top them with ingredients that will keep you on track of your low carb high fat diet, such as meat, cheese, and low carb vegetables. Try a white pizza with the bechamel sauce above, prosciutto ham, basil leaves or spinach and finish it with a drizzle of olive oil and Italian seasonings. Buon appetito!
Pre-Made Sauces 
If making your own sauces isn't your forte, The Low Carb Grocery carries a variety of low carb sauces that you can use at home. Check out some of our favourite brands below!
Mayacamas Gourmet Sauce Mixes
Mayacamas sauces are made for home chefs with limited time, or those who just want a tasty sauce ready in minutes. All of their products are made in a gluten-free and nut-free facility. They are always free from trans fats and contain no hydrogenated oils. Plus, these sauces are suitable for low carb diets with less than 5g net carbs per package, which makes 3-4 servings. Basic recipes are also included on the back of each package to give you some inspiration in the kitchen!
This line of products includes pasta sauces, gravy mixes, gourmet sauces and seasonings that can be added to your homemade sauces or marinades. These sauce mixes are versatile and easy to use, simply add water to rehydrate and they are ready. Explore the entire range, one sauce at a time!
Crazy Mooskies Sugar-Free BBQ Sauces and Ketchup
Crazy Mooskies no-sugar added barbeque sauces and ketchups are made in small batches from simple ingredients. Made with stevia, these sauces still have a classic slightly sweet taste minus the carbs! Plus, they come in a range of fun flavours such as Island Spice, Crazy Hot and Smok'N Garlic.
Use these sauces on their own, or incorporate the original flavours into homemade recipes to add your own flavourings.
Mr. Spice Low Sodium Sauces
Sometimes products that make health claims such as "sugar-free" or "low-carb" make up for a lack of flavour by adding in a ton of salt! Mr. Spice products don't use salt as a crutch – all of their delicious, wholesome sauces are not only salt-free, but they are also organic, gluten-free and cholesterol-free to meet a range of health and dietary needs.
These sauces are definitely low carb, but depending on your preferences, they may not be the best option for keto as they do contain some natural sugars. In small doses, a little natural sweetness adds a great balance to these gourmet-style sauces.
There are 8 delicious sauces to choose from in this line! Check out our top flavours: Ginger Stir-Fry, Indian Curry and Thai Peanut.
Stay Connected
If you tried any of these low carb sauces or have a recipe of your own, share it with us on Facebook or tag us on Instagram. We also love to stay connected with our Weekly Newsletters for updates on the latest products and special sales. Also, please leave us a Google Review with your Low Carb Grocery experiences!