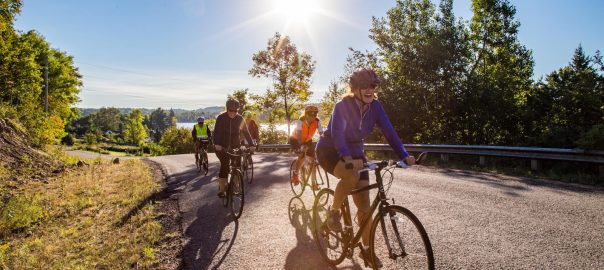 Fun Outdoor Summer Adventures in Ontario
Plan Fun Outdoor Adventures this Summer
To make your summer even more fun, plan some amazing adventures that are not only fun, but things that your friends and family will never forget. There's nothing about the summer that screams "let's stay indoors", so plan some outings that'll get you out in the sun.
In this article, we'll provide you with some adventurous ideas that are perfect for summertime fun. There are options that a whole group can enjoy or even a few options if you are looking for some solo exploration. Ontario is a wondrous province filled with sweeping vistas, pristine nature and compelling history. It's a great place to discover and build memories to get you through the winter.
Urban Hiking & Biking Trails
Let's start with some urban adventure right in the GTA. Most Torontonians don't realize that there are an abundance of hiking trails through the city, where you can see lots of great nature and experience the city in a different way.  You can hike along the Rouge River Trail, enjoying the meadows and wetlands. You can walk the trails that run along High Park in Toronto's west end, where many rare plant species exist. There's the six kilometer stretch of the Humber River Valley, but beware because some of this trail is unpaved. There are miles of biking trails in the Don Valley, with beautiful trees, rolling hills, and rivers – you'd never know you were in the center of a city with almost 6 million people.
There are about another dozen trails inside or near the city that are a lot of fun to explore in the summer. Set aside a few July weekends to test them out. It's great exercise and there's a lot to see along the way.
The Ottawa River
The Ottawa River is not only calm and beautiful; it is some of the most intense white water rafting you can experience in Canada. Adventure seekers can get their thrill by navigating extreme rapids while families and first-timers can enjoy gentler rapids. Most adventure companies operating out of the area offer weekend packages and there's a lot of great camping.
Prince Edward County: The Taste Trail
Not all adventures need to get the pulse racing. In Prince Edward County, an island on the north shore of Lake Ontario, you can fill a day or two with a combination of cuisine, waterfalls, beach activities and even stop by a cheese mill. This picturesque area offers upscale dining operated by noted chefs, wineries and antique shopping. It's a unique gem tucked within Ontario.
Prince Edward County is home to restaurants like Blumen Garden Bistro and East & Main. With a full stomach, you can end your afternoon relaxing on Ontario's only white sand beaches. Stay a day or spend the night, either way you can't go wrong!
Even though it might be more synonymous with winter pleasure, the Rideau Canal offers a ton of enjoyable summer activities. You can go boating, jogging, walking or even tour the region while on a bicycle or rollerblades. You can get exercise while enjoying Ottawa's natural beauty and a place that draws tourists from across Canada. You can tour different bridges, enjoy a light show and even end your day with a tour of Parliament Hill.
Enjoy a Picnic
Toronto is home to some ideal picnic spots. On Queen's Quay, you can head to the Toronto Music Garden to enjoy a picnic surrounded by compelling architecture and nice music. There's hiking trails, green space and picnic benches at Ashbridges Bay along Lake Shore Blvd. Or you can find a spot in Toronto's most popular picnic area, Trinity Bellwoods Park, and utilize their baseball diamonds, wading pool or tennis courts. In the east end, there's Riverdale Park where you can take in the Toronto skyline while enjoying some lunch sprawled across its lawn.
Learning can be Adventurous
Ontario is filled with nature and history. Consider visiting areas of the province that offer interesting and engaging learning opportunities. There are guided wildlife photography tours, Spirit Walks where you can learn about Indigenous history, foraging and bird watching. Art lovers can use work by the Group of Seven to plan adventures to explore Ontario's rugged scenery and landscape, which inspired these artists to create their iconic work.
There are group activities and tours for those who are new to nature, and want some help to better understand how to enjoy nature and where to go to truly experience all that it has to offer.
Scarborough Bluffs
A hidden treasure deep within Scarborough is the Scarborough Bluffs, which feels far removed from the hustle and bustle of Toronto. It's a place for fishing fans to head out onto the lake for a day of salmon fishing.
If fishing isn't your thing, there's bike trails, a swimming beach and splash pad for the kids, washroom and changeroom facilities, outdoor showers, picnic sites, plenty of parking and more. The Bluffs are a wonderful place for an outdoor adventure for a group of friends or an entire family.
Have you ever tried a paddle sport? If not, spend a summer day at Toronto Harbourfront. With a full range of canoes, kayaks, paddle boards and safety gear available to rent, water sports enthusiasts of all skill levels can enjoy a day out on the water canoeing, kayaking and paddleboarding, or simply hop into the lake to cool off.
It's a relaxing way to escape the city, find some peace and quiet or rev up your competitive engine in a water competition with other participants.
Collingwood
Collingwood is a fun place in every season, offering a ton of summer activities like mountain biking and spelunking. People flock to Collingwood all summer long to explore the caves of the Niagara Escarpment. Not for the claustrophobic but if you can deal with tight spaces, you'll get to experience underground freshwater springs. While in Collingwood, you can relax in one of the pubs or restaurants in the village. There's also tennis, golf and a rope course that's fun and adventurous for all ages.
Conclusion
Summer is the best time to get outdoors and discover something new. Adventure comes in all shapes and sizes, so be sure to try out some new activities. Whether you love good food, a pleasant hike or overcoming intense rapids, Ontario has a plethora of outdoor fun to make sure you are getting some sun and a bit of exercise.
We hope this article has given you some good ideas and that you spend the summer exploring new activities that might just become seasonal traditions.