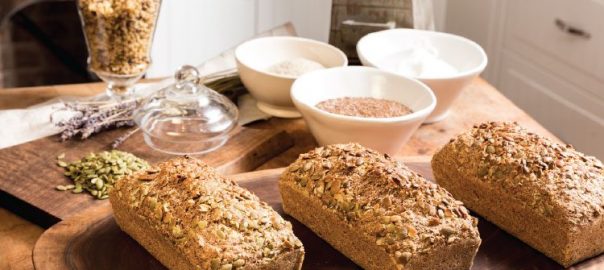 Low Carb Bread – Where To Buy?
Low Carb Bread: Where to Buy in Canada?
Low carb bread has become something of a white whale for people who are doing their best to remove as many carbs as possible from their diet. Bread is such an essential part of people's daily life, often a key component of breakfast, lunch, dinner and even snack time. Because of our reliance on bread, it's tough to simply say goodbye or settle for subpar substitutes like rice cakes. Making matters worse is that many grocery stores only carry a limited inventory or nothing at all.
After searching most grocery or big box stores for low carb bread, you might be shocked to discover how few carry even one brand for you to buy. It's frustrating and might make you feel like giving up is the only choice. Don't fret, we can help narrow your search and let you know where in Canada (and online) you can purchase low carb breads. This way, you can keep making some of your favourite meals or enjoy a crunchy piece of toast in the morning.
Let's start by reviewing the best low carb breads you should try and then look at where you can buy it in Canada. Additionally, we'll explore the health risks associated with white bread and why low carb is such a healthier alternative regardless of the diet you're on (or not on).
---
Exclusive Blog Reader Discount! $15 off sub-total $100.00* + Free Shipping!
Just enter the following code during checkout: ALZDTC
Minimum purchase of $100.00 required

To qualify for free shipping – orders subtotal must be greater than, or equal to $100 (up to 10Kg)

This offer may not be combined with other offers, limit 1 per customer
---
Popular Brands
Before learning what stores carry low carb breads you need to discover which brands are worth checking out. These brands are popular, even beloved, by people on strict low carb diets.
Here are some brands that we recommend for regular staples such as toast, croutons, for your favourite grilled cheese sandwich recipes, or with fried or poached eggs.
We recommend trying each to decide which one you like the best. You might be surprised to find that you like more than one brand, which is fine as bread freezes well, so go ahead and order several loaves of your favourites.
The Downside to "Regular" Bread
Pretty much everyone loves bread. Whether it's part of a peanut butter and jelly sandwich or a crostini on top of a French onion soup, it's become ingrained into most people's diets, for better or worse. The most popular type of bread is white bread, which is unfortunate because it has several very unhealthy properties.
First of all, white bread contains next to nothing with respect to nutritional value. It's primarily made with refined white flour. During the refining process, layers are removed, which strips away much of the fibre and protein leaving behind starch as a primary ingredient.
Some white breads contain enriched flour. This is a positive in the sense that vitamin B and iron have been added back into the bread but it still pales in comparison to the nutrition of other breads, including most low carb bread options.
A lack of fibre and protein makes white bread rapidly absorbed during digestion. This can spike blood sugar levels and lead to sudden crashes. A side effect of this is irritability and digestive issues.
There are some severe health risks associated with white bread, mainly that it can increase someone's odds of developing type-2 diabetes. This is due to white bread's ability to increase blood sugar levels. When this happens, excess insulin is released, pushing sugar into the cells. If this happens regularly, cells can grow a resistance to insulin, which potentially make it more difficult for the body to control blood sugar levels.
White bread should be avoided and replaced with brands who use nutritious oats, grains, seeds or a blend of all three.
Where to Buy Low Carb Bread
Large grocery and big box stores are not doing enough to meet the health needs of bread consumers. The next time you're shopping for groceries go through the bread section and try to find low carb bread. We've visited them all recently and couldn't find a single low carb bread brand at any of the most popular grocery or big box stores in Ontario.
Every store has their own unique inventory, so you should call or check out individual stores to see if they carry low carb bread. If you live in a rural area that only has one or two grocery stores, your options are to order your low carb bread online, or ask the store manager if ordering low carb bread is a possibility.
When all else fails, it's time to start browsing virtual shelves.
The Low Carb Grocery Inventory
At the Low Carb Grocery, we carry many of the low carb breads including Bakers Deluxe, Chompie's, Dimpflmeier Bakery and Slice of Life. And if you're looking for bagels or buns, there's UnBun (Keto Buns), Smart Bun. There's also Mama Lupe's, Joseph's, Flatout and Nuco (Coconut wraps) for wrap lovers. These bread products allow people on low carb diets to enjoy tacos, burritos or their favourite flatbread concoctions.
People love these low carb brands not only because they fit seamlessly into their diets but because they taste great and offer other nutritional value like fibre and protein. Often, people choose them over regular bread because the difference in taste is minimal, while the health benefits are huge. Additionally, many of these breads are gluten free.
We also carry an extensive stock of crispbreads, pitas, and tortilla chips. The goal is to make it easy for you to find and enjoy bread products without the guilt and unhealthy properties of carbs.
Shop our Store Today!
If you are new to low carb eating or a seasoned pro, you should be provided with bread options that won't make you miss carbs.  The Low Carb Grocery helps close the gap in the market created by grocery or big box stores that don't offer low carb bread products.
Browse our great selection of low carb bread, bagels and wraps. We're sure you'll find something that you'll fall in love with!
---
Exclusive Blog Reader Discount! $15 off sub-total $100.00* + Free Shipping!
Just enter the following code during checkout: ALZDTC
Minimum purchase of $100.00 required

To qualify for free shipping – orders subtotal must be greater than, or equal to $100 (up to 10Kg)

This offer may not be combined with other offers, limit 1 per customer
---