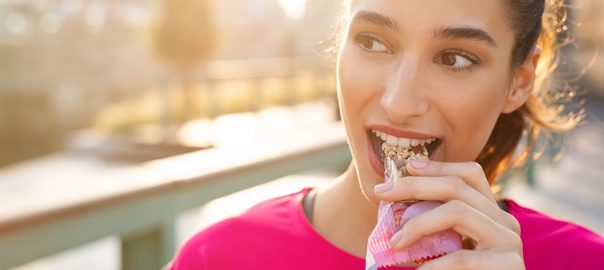 The Low Carb Guide to Snacking
Discover Low Carb Snack Foods
Having one to two small, healthy snacks during the day can help you feel energized and improve digestion when compared to hunkering down for three hefty meals a day. Even the toughest low carb dieters need a snack every now and then, and there are many options that fit a low carb or keto diet perfectly!
Low carb snack products have come a long way, offering several crave-worthy options that won't ruin your diet progress. You'll be surprised how much you can enjoy a sweet or salty treat every now and then with low carb snack foods!
In this article we will explore some popular low carb chips and other snacks. We'll provide tips for healthy snacking so you can stay on track of your goals. The aim is to illustrate that snacking doesn't have to have a negative impact on your low carb diet and can still be fun and enjoyable!
Tips for Healthy Snacking
Plan ahead.
There is nothing worse than realizing you are hungry and grabbing the first thing you see to satisfy your hunger – especially if what's in your cupboard isn't exactly diet-friendly. It can make a world of a difference if you plan your snacks in advance, knowing when and where hunger may strike. When grocery shopping, be sure to pick up a few healthy snack items that you know you can rely on when you feel peckish.
Choose snacks high in protein.
Protein helps keep you satiated, which is why it is the best option for a snack to hold you over between meals. This will also help prevent you from overeating at snack time, so you don't sabotage your next healthy meal.
Listen to your body. 
Be mindful of when you actually feel hungry, and avoid eating due to boredom, stress or other feelings. If you're not sure if you are hungry or just in the mood for a snack, try drinking a glass of water or distracting yourself with an activity and see if your hunger fades. If not, it's a good sign it's time to fuel up!
Choose snacks that boost your nutrient intake.
Sometimes we can be lacking in certain nutrients from our regular diet. Functional snacking a great way to ensure you are getting your daily recommended intake of important nutrients such as fibre, potassium, calcium, magnesium and vitamins. Read the nutrition labels and be aware of what you are eating to make healthy choices.
Now let's get into some of the great options for low carb snacks available at the Low Carb Grocery. Whether you're a sweet or salty lover, there's something for everyone to enjoy!
Sweet Snacks 
SmartCakes are delicious low carb cakes made from healthy ingredients like flaxseed, olive oil and oat fiber. They are spongy, sweet and decadent just like traditional cakes, but can still be rightfully enjoyed on a low carb or keto diet!
SmartCakes are also gluten-free, aligning with their mission to make snack and dessert food healthy and enjoyable for all. Additionally, they are low in calories and cholesterol and are naturally sweetened with erythritol making them low glycemic and safe for those with diabetes.
Available in Chocolate, Vanilla Latte, Lemon, Cinnamon and Raspberry flavours!
Chocolate peanut butter cups are a great snack – in theory – but many big-name brands contain loads of added sugars that make them unsuitable for a low carb diet.
ChocoRite Peanut Butter Cups prioritize nutritional value and making snacks safe for those watching their carb and sugar intake. These snacks not only offer a low carb version of these popular peanut butter treats, but they are also high in fibre and low in calories. For every two ChocoRite's Peanut Butter Cups, there are 100 calories, 7g of fat, 5g of net carbs, 20g of fibre and 2g of protein.
Chocolate nut butter cups are also super easy to make at home! All you'll need is a few ingredients:
You can follow this recipe as a guide and customize it with different ingredients to your liking.
These low carb snack bars contain healthy fats from plant-based sources, which is important to look for on a low carb high fat diet. Healthy fats can increase your energy, metabolism and brain function while improving cholesterol, eyesight and even mood.
Love Good Fats bars are low in sugar, gluten-free and non-GMO. Each bar contains 4-5g of net carbs and are a good source of protein, making them a great choice for a post-workout snack or to stave off hunger as you wait for your next meal. They come in a wide range of mouth-watering flavours from rich chocolatey almond to mint chocolate chip to lemon mousse!
GluteNull Bakery Low Carb Gluten-Free Cookies
GluteNull Bakery prides itself in using high quality, natural, gluten-free ingredients in all of their baked goods. Their line of keto-friendly cookies is great for keto dieters wanting to enjoy a sweet yet nutritious treat! They are sweetened with erythritol and made with ingredients that provide added health benefits such as nuts, unsweetened dried fruits and coconuts rich in healthy fats.
Check out GluteNull Bakery's full line of products including other low carb cookies, energy bars and granolas! Their cookies and energy bars are great for taking to work or school or on the go. Granola can also be a delicious and nutritious snack, just keep in mind portion sizes. You can top your yogurt with it, eat it with milk or just grab a handful (or two) out of the bag!
Check out the other low carb granolas carried at The Low Carb Grocery – find your favourite blend!
HoldTheCarbs Low Carb Bake Mixes
There is nothing better than a homemade fresh-baked snack! HoldTheCarbs offers a line of low carb, gluten-free bake mixes that are high in protein. Formulated by the owner, who wanted to enjoy things like muffins and brownies while sticking to her low carb high protein diet, these wonderful bake mixes were made for health-conscious home cooks!
Choose from low carb muffins, brownies or pancakes. All of the HoldTheCarbs bake mixes are easy to prepare – simply add an egg or oil and milk to the dry mixture to form a batter. These are great for making in big batches and taking to school, work or on the go. They are designed for a healthy lifestyle centred around fitness and convenience.
Salty Snacks
Chips and Crackers
Quest Low Carb Tortilla Protein Chips
If you are a fan of Dorito chips but they no longer fit into your diet, try replacing them with Quest Tortilla Protein Chips. These chips are gluten-free, low carb, and contain 18-21g of protein per serving! Enjoy the satisfying crunch and taste of nacho chips without artificial ingredients, excessive sodium or unhealthy trans fats.
KZ Clean Eating High Fibre Crackers & Crispbreads
Made from a hearty blend of nuts and seeds, these large and crispy rounds can be eaten like toast or broken into small pieces like crackers. They are extremely versatile and provide the added benefits of being high in fibre and protein. Try this Swedish-style cracker with your favourite toppings, dips and spreads!
Cheese Snacks
The Low Carb Grocery carries several crunchy, shelf-stable cheese snacks that are perfect for on the go and are high in protein, vitamins and minerals! Check out some of our favourite brands below.
Moon Cheese Natural Crunchy Cheese Snacks
Moon Cheese is available in three wonderful flavours and is a healthy alternative to potato chips or crackers. Each serving contains 0-1g of net carbs and 4-5g of protein! Plus, all the nutritional benefits of real cheese.
Made with 100% real Canadian cheese, Ivanhoe Nothing But Cheese snacks are a true delight! Available in snack-sized pouches that are great for taking to work or school or on the go. Each serving contains 2g of net carbs and 6-7g of protein.
Cello Whisps Protein Cheese Crisps
Cello Whisps are baked to perfection and made with Cello's award-winning cheeses! They are shaped more like crackers, so they're perfect for dipping, topping and adding to charcuterie boards. Available in 5 fun and versatile flavours: Parmesan Cheese, Bacon BBQ, Cheddar, Tomato Basil and Asiago & Pepper Jack. Each serving contains 1-2g of net carbs and 10-13g of protein!
Meat Snacks
Snacking on jerky is a great way to satisfy hunger and keep you energized. The Low Carb Grocery is mindful about the types of jerky we carry, because they can often be filled with low quality meat, excess sodium and artificial preservatives.
We are proud to carry Nick's Sticks 100% Grass-Fed Beef Sticks and BUFF Artisan Bison & Beef Snack Sticks – two great examples of clean, all-natural meat snacks.
What's Your Favourite Snacks?
Share your experience with these and other low carb healthy snack foods on Facebook or tag us on Instagram!
Stay connected with Weekly Newsletters for updates on the latest sales and new products, and don't forget to leave us a Google Review!