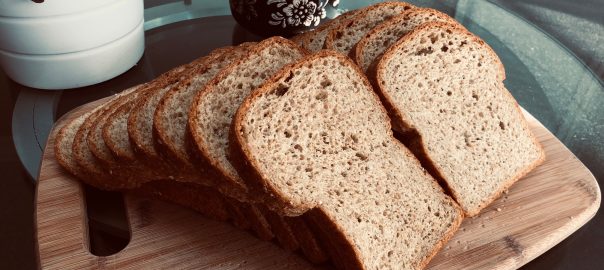 Top 5 Healthy Low Carb Breads
Low Carb Bread for ALL Bread Lovers! 
A low carb lifestyle doesn't have to mean sacrificing the toast, sandwiches or your other favourites that feature bread. With the right product, you can commit to your diet, lose weight while still enjoying crusty bread with a soft centre.
If you've been trying to eat less carbs for a while now, you've probably noticed that a lot of low carb bread doesn't really taste like "regular" bread. They can be flavourless, too dense or even chewy. At the Low Carb Grocery, there are five low carb breads that are so popular, we have trouble keeping them in stock.
Let's introduce you to these five breads that will become your go-to for breakfast, lunch and dinner, or for when you're craving a crunchy piece of toast between meals. We'll start by looking at each of Superflax, SuperAwesome, Chompie's Breads, Dream Bread – Rye (with caraway seeds) and Bakers Deluxe Cinnamon Raisin Bread. We'll also offer a few bread-forward recipes that go great with one of these low carb breads.
Low Carb Breads
The market is flooded with low carb breads or recipes for things like cloud bread. What's important is to know which are worth your time with respect to taste and nutrition.
Here are five types that we think you'll love.
Bakers Deluxe is beloved among people on a low carb diet because of its ability to keep you full for hours like traditional breads because of its 5g of fibre. Bakers Deluxe can help keep your blood glucose level stable whereas traditional breads can cause it to spike, potentially resulting in several health issues.
Superflax has a delicious flavour, which in addition to containing flax oil, is also a good source of protein. Most importantly, this bread features none of the "bad carbs" that should be avoided. The crust is perfect for a grilled cheese or a sandwich consisting of your favourite low carb meats and vegetables.
Also from Bakers Deluxe, is their SuperAwesome! Bread. While flax is still a prominent ingredient, its flavour is minimized for something that tastes a touch saltier, reminiscent of sourdough bread.
Per slice, it contains 10g of carbs, 2g of fat and 10g of protein. It's perfect to make a low carb version of French toast and it also pairs nicely with any of these low carb spreads.
RYE DREAM BREAD – (WITH CARAWAY SEEDS)
This is another great option from Bakers Deluxe. This one tastes like the rye breads you love and pack a powerful flavour because it's made with caraway seeds. It's wonderful when toasted with butter or as breadcrumbs if you have access to a food processor.
This bread can be kept at room temperature for roughly 10 days or for roughly three months if frozen. Per two slices, it has 2g of net carbs, 14g of protein, 16g of fibre and you don't have to worry about added preservatives because there are none.
If you're not a fan of rye bread with caraway seeds, consider trying their pumpernickel bread.
Bakers Deluxe Cinnamon Raisin Bread
If you like bread with a touch of sweetness and a punch of cinnamon than check out Bakers Deluxe Cinnamon Raisin Bread. It fills your bread box and your kitchen with the aroma of warm spices.
You'll love this bread that features per slice only 70 calories, 1g of net carbs and 7g of protein.
Chompie's offers two types of bread featuring classic flavours: multigrain and sesame. It's fluffy and soft and tastes great when toasted or as part of your favourite sandwiches. It has the familiar consistency of regular bread and the slices are cut thick.
These breads ship from frozen and needs to be re-frozen post-delivery. If stored at room temperature, they can last roughly 10 days. If stored in a freezer, they should keep for roughly three months.
Recipes Featuring Low Carb Bread
Now that you've been introduced to five amazing low carb bread, it's time to learn how to use them besides popping one in the toaster and spreading some butter on it.
Each of these recipes includes a bread featured in this article. Remember that including any additional ingredients or not using low carb versions of certain ingredients can up the carb count.
The measure of bread should be how well it holds up as delicious French toast. This low carb recipe tastes great and is even better if you replace 90 second bread with Bakers Deluxe Cinnamon Raisin Bread, which adds even more cinnamon flavour to the dish.
The ingredients you will need are one egg, 1 tbsp. of almond milk, 1 tbsp. of heavy cream (or more almond milk if you are worried about calories), ½ tsp. of vanilla extract, a small amount of kosher salt, 1 tbsp. of golden erythritol, ½ tsp. of cinnamon, 1 tbsp. of unsalted butter and as many slices of low carb cinnamon raisin bread that you want to make. For serving, you can include zero calorie maple flavoured syrup or chocolate syrup like the one from ChocZero.
Get started with a flat dish and whisk together egg, almond milk, heavy cream, vanilla extract and salt. In a bowl, combine the sweetener with the cinnamon and set aside for the time being. In a saucepan, melt the butter over medium heat, careful not to burn it. Soak the bread in the cream mixture. You can also cut it into sticks if that's makes it easier to fit in the dish.
Shake off the excess liquid and fry on each side until it's golden brown and has some nice crunchy bits. Sprinkle with cinnamon and then serve while it's warm with your favourite low carb toppings.
Garlic Croutons
We mentioned croutons earlier and would be remised if we didn't offer a recipe featuring either Chompie's multigrain or sesame. These croutons are perfect on top of a garden or Caesar salad or you can make smaller croutons and drop them into one of your favourite fall or winter soups.
In addition to bread, you will need two cloves of garlic minced, one sprig of parsley, ½ tsp. of salt, 2 tbsp. of butter and 2 tbsp. of parmesan.
Cube a few slices of Chompie's, basing the amount on how big of a batch you want to make. Place them in a bowl. Next, melt the butter and then season it with the parsley, salt and the minced garlic. Pour the butter mixture on top of the bread. Here is the tricky part: you want to coat the cubed bread with a spoon but not crush them. Proceed very carefully.
Move the croutons to an oven tray and spread them out evenly. Bake at 350F for 12-15 minutes. Be sure to keep a watchful eye and to remove from the oven as soon as they are golden brown. Sprinkle them with some parmesan while they're still hot. let them cool completely before adding them to your salad or soup.
Shop for Low Carb Bread Today!
You can still enjoy bread even if you're on a low carb diet. And today's low carb breads actually taste like soft, delicious bread!
Stock up on all your low carb breads at The Low Carb Grocery. If you order today, you can enjoy free shipping on orders over $100.