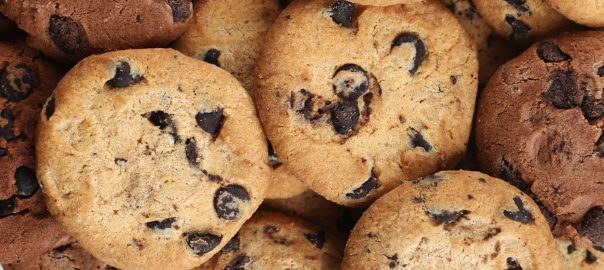 Keto Alternatives to Cookies
Low Carb and Keto Alternatives to Cookies
Looking for sweet snacks and treats that you can still enjoy on a low carb diet? Check out these sugar-free and keto-friendly cookie alternatives!
Cookies can make their way back into your diet after all, you just need the right low carb and keto-friendly alternatives! Even if you don't follow a specific diet, sugar-free cookies are a great swap for regular store-bought brands of cookies that are high glycemic, high in refined carbohydrates, and overloaded with sugar. Substituting these for sugar-free cookies made from alternative flours is a great choice for your health and your diet!
Shop all kinds of low carb cookies including vegan, gluten-free, nut-free, and keto-friendly options on our website. If you're having trouble deciding amongst so many terrific options, check out some of our favourites below!
Disclaimer: The information in this article is not intended to replace personalized medical advice. A low carb diet may not be suitable for you. Consult your health care provider before making any changes to your lifestyle or use this information at your own risk.
Sweetwell Cookies with Collagen
Sweetwell cookies are made using patented Belgian recipes with a keto-friendly twist. These low carb cookies are gluten-free, sugar-free, and starch-free with just 1g of net carbs per serving. They are also formulated with a low carb, moderate protein, high fat macronutrient profile making them compatible with ketogenic diets and most other reduced carb diets. They contain some of the healthiest fats found in nature, including coconut oil and almond butter, and zero unhealthy trans fats. Instead of sugar, they are sweetened with distilled stevia extract, which has zero calories and no bitter aftertaste. Enjoy Sweetwell cookies as a quick yet delicious afternoon pick-me-up, post workout snack, or a little treat on the go!
Browse flavour options including chocolate chunk, peanut butter, coconut with collagen, double chocolate with collagen. If you aren't familiar with collagen, it is the most abundant protein found in the human body! Collagen peptides make up everything from our hair, skin, nails, and teeth to our muscles, bones, blood vessels, and connective tissues.
Collagen can get damaged by consuming too many refined carbohydrates and too much sugar, which both interfere with collagen's ability to repair itself. It is a good idea to limit these foods in your diet, as well as consume foods that promote collagen production. These include foods that are rich in essential amino acids (especially proline and glycine found in things like eggs, cabbage, asparagus, mushrooms, and bone broth), vitamin C (found in most fruits and vegetables, especially ones that are red and orange), and copper (found in sesame seeds, cocoa powder, cashews, and lentils).
Hydrolyzed collagen, found in Sweetwell cookies, is collagen that has already been broken down into smaller peptides so that they can be easily absorbed by the body. Supplementing collagen in the diet this way has been shown to increase muscle mass, improve arthritis, increase skin elasticity and improve skin appearance in some studies. It is also a great protein source for keto dieters, since it provides key amino acids that can be lacking in a ketogenic diet due to limited protein intake.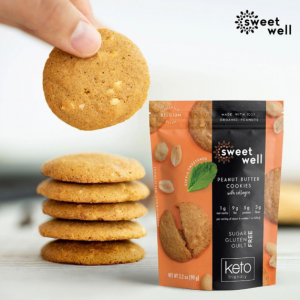 Pictured: Sweetwell Peanut Butter Cookies
Organika FÄV Keto Mini Cookies
Organika FÄV Keto Mini Cookies are a superfood snack that feel like an indulgence! These bite-sized cookies are made with simple ingredients including almond flour, coconut oil, dried egg whites and hydrolyzed collagen. They are sweetened with erythritol and xylitol and flavoured with natural spices and flavours. With no artificial preservatives, colours, wheat, gluten, soy, or GMO ingredients, these cookies are not only diet-friendly but a smart choice for anyone looking for a clean yet delicious snack.
Each 30g serving (about 7 cookies) of FÄV Keto Mini Cookies contains just 150-160 calories, 15g of healthy fats, 3g of net carbs (including 1g of naturally occurring sugar), and 4g of clean protein. This nutrient profile fits even the strictest diet plans so you can enjoy a delicious treat that also provides a number of health benefits! Perfectly crumbly, full of flavour and best of all – made with truly clean ingredients you can feel good about. Try them in double chocolate, chocolate chip and snickerdoodle flavours!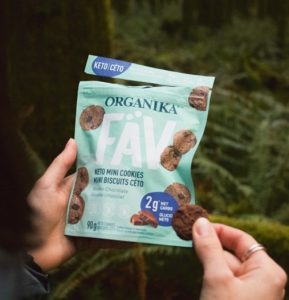 Pictured: Organika FÄV Keto Mini Double Chocolate Cookies
HighKey Foods Mini Cookies
Who says you can't enjoy a delicious treat even if you are trying to reduce or eliminate sugar from your diet? Not HighKey Foods, that's for sure! HighKey Foods Mini Cookies were created to satisfy insatiable cravings without the sugar. They are sweetened with natural sweeteners including stevia extract and erythritol and contain no added sugars. They are also completely grain and gluten-free since they are made with a base of almond flour, which provides a delicious nutty taste and soft, crumbly texture! Plus, they also contain hydrolyzed collagen, making them an ideal choice for keto dieters.
Try snickerdoodle, chocolate chip or double chocolate brownie bite flavours!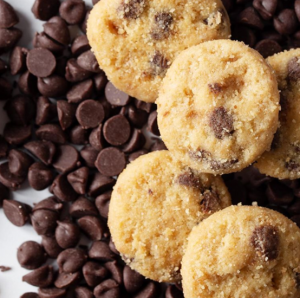 Pictured: HighKey Foods Mini Chocolate Chip Cookies
Sweet Nutrition Soft Baked Cookies 
The name says it all! Sweet Nutrition cookies are satisfyingly sweet and made with nutritious ingredients to help fuel your day. These plant-based, keto-friendly cookies contain added MCT oil for a boost of fats that are easily absorbed and converted into ketones in the body. Other wholesome ingredients include almond flour and organic virgin coconut oil and natural sweeteners including erythritol, stevia, and xylitol. Choose from four classic and crave-worthy flavours including snickerdoodle, chocolate chip, peanut butter and double chocolate.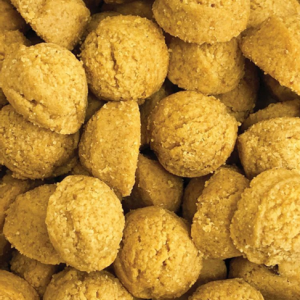 Pictured (from left to right): Sweet Nutrition peanut butter and double chocolate soft baked cookies
Unlike many other varieties of keto-friendly cookies, Sweet Nutrition cookies are completely made from plant-based ingredients! So, if you were thinking of trying a "ketotarian" (plant-based keto) diet, these are definitely going to be a pantry staple. Plant-based fats are free from unhealthy saturated and trans fats and are rich in polyunsaturated fats (AKA the "good" kind of fats). Plus, they are often an additional source of vitamins, minerals, and antioxidants, too. Want to learn more about how to choose the right kinds of fats? Head over to our blog to find lots of resources on clean low carb and ketogenic diets!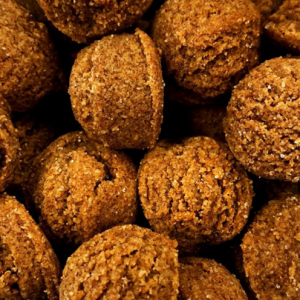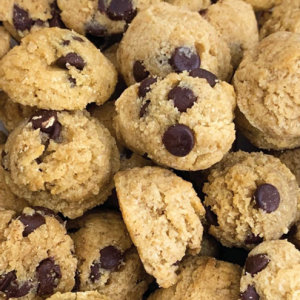 Pictured (from left to right): Sweet Nutrition snickerdoodle and chocolate chip soft baked cookies
Low Carb Cookie Mixes
If you prefer the taste and smell of freshly baked cookies, try one of our low carb cookie mixes instead! These pre-made mixes are super convenient and easy to make, just add the wet ingredients. In just a few minutes, you can have a warm batch of perfectly sweet sugar-free cookies with none of the prep work involved or long, confusing shopping lists. Check out some of our favourite low carb and keto-friendly cookie mixes below.
Good Dee's Gluten-Free Sugar-Free Cookie Mix
Good Dee's bake mixes are great for all kinds of diets, including ketogenic, gluten-free, low carb high fat (LCHF), diabetic and other reduced carb diets. Their line of sugar-free cookie mixes are perfect for those looking for a cookie mix with clean ingredients that meet a variety of dietary needs and preferences. These mixes are free from maltitol and other artificial sweeteners as well as gluten, grains and wheat. So, not only will these cookies taste great, but you'll also feel great after eating one (or a few) since they don't contain any ingredients that cause digestive discomfort – just all-natural goodness!
Bake a batch of soft and chewy sugar-free chocolate chip cookies, double chocolate cookies, or snickerdoodle cookies to recreate any of these nostalgic treats! Good Dee's Sugar-Free Cookie Mix is a sugar-free version of a classic sugar cookie that can easily be customized with added ingredients. In fact, all of these cookie mixes can be customized by adding other delicious low carb ingredients such as sugar-free chocolate chips, lemon zest, dried fruits, crunchy nuts, or additional spices such as cinnamon and nutmeg. Grab a mix and get creative!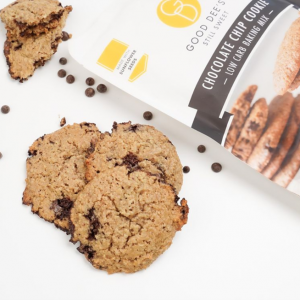 Pictured: Good Dee's Chocolate Chip Cookie Mix (prepared)
Home Grown Living Foods Keto U Bake Cookies
Home Grown Living Foods, based on Vancouver Island, provides hand crafted small batch snacks for plant-based, gluten-free, and ketogenic lifestyles. All of their products are made from nutrient-dense, organic, raw sprouted foods to provide the highest amount of nutrients possible! Cooking and refining practices destroy many of the nutrients naturally found in foods, so consuming raw foods is the best way to absorb the vitamins and minerals from foods that we need to feel healthy, energized, and alive!
Home Grown Living Foods Keto U Bake Cookie Mixes are made with all natural, exceptionally clean ingredients and formulated to meet the macronutrient requirements of an active keto lifestyle! These mixes contain just nine ingredients, and you only add two more (water and oil). No unpronounceable junk, just simple ingredients you can feel great about such as raw cacao nibs, sprouted flax and chia seeds, psyllium husk fibre, sunflower seeds and absolutely no added sugar! Plus, they are also nut-free (unlike many other keto cookies, which use almond flour), making them school-friendly and a great alternative for those with allergies. Sweetened with erythritol, a keto-friendly zero carb sweetener, they still taste like a sweet treat but have no impact on blood sugar levels and contain just 2g of net carbs per serving. available in double chocolate, chocolate chip, and pumpkin spice flavours!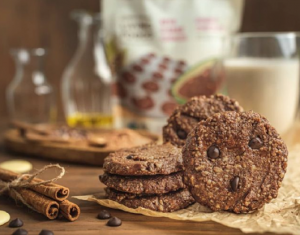 Pictured: Home Grown Living Foods Keto Double Chocolate Cookie Mix (prepared)
More Low Carb Cookie Ingredients… 
If you want to completely customize your own cookie recipe according to your exact dietary requirements and preferences, you can also find alternative baking ingredients on our website! We carry a variety of alternative flours and meals, sugar-free flavours, low carb toppings, fillings and more!
Anthony's Goods carries a wide variety of premium and organic single ingredient products including coconut flour and premium blanched almond flour. These are great options to use in place of traditional wheat flour, since they are low in carbs, low glycemic, high in fibre and even provide some healthy fats, too. You will also find additional baking ingredients such as organic cocoa powder (perfect for making low carb brownies!) and organic flaxseed meal, which you can add to smoothies, baked goods, cereals and more for an added boost of fibre and omega-3 fatty acids. Explore more low carb cooking tips with Anthony's Goods on our blog!
Good Dee's not only offers pre-made bake mixes, but they also make sugar-free versions of traditional baking ingredients that you can use to make your own homemade confections! Shop sugar-free frosting mix, sugar-free sprinkles, and more from Good Dee's!
Plus, you'll definitely need a sugar substitute if you're making a batch of low carb cookies. Shop flavoured sweeteners and unflavoured sweeteners on our website. Choose from zero calorie and zero carb options such as stevia, erythritol, xylitol and monk fruit sweeteners. All of these are low or zero glycemic and all-natural, meaning they won't cause digestive discomfort like some artificial sweeteners. And, if chocolate chip cookies are your favourite, you can find a wide selection of sugar-free chocolate chips and baking chocolate under our chocolate category.
Stay Connected
We hope that you discovered an exciting new low carb or keto-friendly alternative to your favourite type of cookie in this article! If you would like to share your thoughts or experiences, be sure to head over to our Facebook and Instagram pages and tag us @lowcarbgrocery!
And remember to sign up to our free newsletters to get the best savings on Canada's best selection of low carb and sugar-free products. We'd also love to hear your feedback with a Google Review!