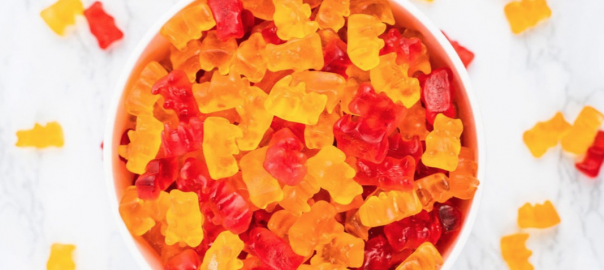 Keto Low Carb Candy & Soda Options
Low Carb Alternatives to Candy, Soda & Sweets
Discover the best low carb, keto-friendly and sugar-free alternatives to your favourite types of candy, soda, chocolate, ice cream and other sweet treats.
Got a sweet tooth but want to start a low carb or ketogenic diet? Don't worry, there are lots of ways to enjoy your favourite candies, sodas, and other sweet treats while following a carb restricted diet – all you need is the right low carb and sugar-free alternatives! Keep reading to learn how you can indulge in your favourite snacks and stay on track of your health and weight loss goals. Plus, shop our entire collection of low carb sweet treats on our website – we're sure you'll find a healthier alternative to your favourite treat to satisfy your cravings!
Disclaimer: The information in this article is not intended to replace personalized medical advice. A low carb diet may not be suitable for you. Consult your health care provider before making any changes to your lifestyle or use this information at your own risk.
Low Carb and Keto-Friendly Candy
Despite the many shapes, sizes, and flavours of candy out there – they are all pretty much made from one common ingredient: sugar. The good news is, there are lots of zero carb sugar substitutes out there that make sugar-free candy possible! Many sugar-free candies are sweetened with stevia, erythritol, or xylitol sweeteners instead of sugar, which do not spike blood sugar levels or count towards net carbs. The options are vast when it comes to low carb and keto-friendly candy alternatives, so let's dive into some of our favourites…
Sugar-Free Jelly Beans
Can't decide if you're in the mood for something fruity, sour, or sweet? Why not have them all! With Jelly Belly's new sugar-free jellybeans, you can enjoy all of the classic Jelly Belly flavours such as Very Cherry, Buttered Popcorn, and Juicy Pear without any of the added sugar. Sweetened with Splenda brand sweetener (maltitol), each package contains 40% less calories than the original version and just 3g of net carbs per serving (about 27 pieces). Choose from original assorted flavours, or the sours collection!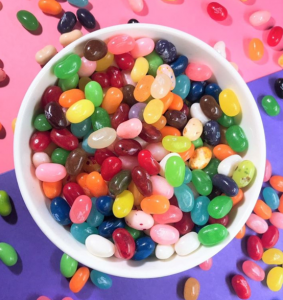 Pictured: Jelly Belly Assorted Flavours
Keto-Friendly Gummy Bears
Cute, tasty, and addictively chewy, gummy bears aren't just for the kids anymore. Now you can enjoy gummy bear candies that won't kick you out of ketosis!
SmartSweets was one of the first brands to innovate a line of candy that kicks sugar naturally. Their low sugar gummy candies are free from artificial sweeteners and sugar alcohols that can cause digestive discomfort. They are also free from artificial flavours and colours, using non-GMO natural fruit extracts instead. Each package of SmartSweets gummy candies contains 5g or less of sugar, 120-130 calories, and 17g or more of added fibre! Choose from a variety of nostalgic candy flavours including fruity gummy bears, plant-based sweet fish, plant-based sour blast buddies, plant based peach rings, or new sourmelon bites!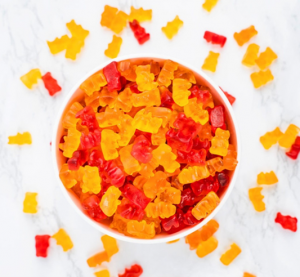 Pictured: SmartSweets Fruity Gummy Bears
Kiss My Keto also offers keto-approved gummy bear candies made with MCT oil, a type of fat derived from coconuts that is easily absorbed and converted into ketones. These pre-portioned treats are perfect for busy days when you're in the mood for something sweet but don't want any of the guesswork involved in finding healthy, keto-friendly snacks. These gummies are sweetened with erythritol, a zero-carb natural sweetener that won't spike blood glucose levels or knock you out of ketosis. They also contain prebiotic fibre from chicory root to keep you feeling full and promote healthy digestion. With just 3g of net carbs (including 2g of naturally occurring sugars), 12g of fibre, and 54 calories, enjoy these guilt-free gummies any time cravings strike!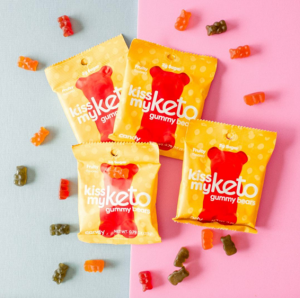 Pictured: Kiss My Keto Gummy Bears
Low Carb Marshmallows & More!
Aside from jelly beans and gummy bears, The Low Carb Grocery carries several other kinds of low carb and sugar-free candy! Find everything from sugar-free licorice and hard candies to Atkins diet candy and more! Browse sugar-free selections from classic candy brands including Russell Stover, LifeSavers, and Hershey's and check out diet-friendly selections from low carb brands including no sugar added lollipops from KooChiKoo and low carb marshmallows from La Nouba. Jollies Sugar-Free Confectionery also offers a variety of low carb candies including sugar-free cola jelly, citrus chews, berry chews and marshmallows. Jollies candies are sweetened with maltitol syrup, which contains zero net carbs and half as many calories as regular sugar. Jollies citrus chews and berry chews also contain added fats from coconut oil, making them a keto-friendly snack choice.
Sugar-Free Soda
Soda-drinking habits can be pretty hard to break. A sweet, bubbly beverage is the perfect accompaniment to any meal and all too easy to grab as an afternoon pick-me-up. Luckily, there are sugar-free sodas available that are a great alternative to regular sugar-laden soft drinks! They won't spike blood sugar levels – the reason behind sugar crashes – and are a great choice for low carb, ketogenic, or diabetic diets. Check out our favourite low carb and keto-friendly cold drinks below!
No matter what your favourite type of soda is – ginger ale, cola, root beer, grape soda, or orange pop – Zevia has a sugar-free version that you'll love! All Zevia drinks are sweetened with stevia, which provides a delicious, sweet taste just like regular soda, but without the added carbs or calories from sugar. So, go ahead, and enjoy a can of zero calorie, zero carb soda whenever you feel like it!

Pictured: Root beer float made with Zevia Root Beer
Browse more sugar-free beverage alternatives from Zevia, including no sugar added energy drinks and iced tea drinks.
Sugar-Free Chocolate
A low carb or ketogenic diet can't stop chocolate lovers from indulging in their favourite treat! There are lots of sugar-free and keto-friendly chocolate alternatives available that can easily replace your favourite candy bars. Here are a few of our favourites:
Cocoalicious Xylitol-Sweetened Chocolate Bars
Cocoalicious offers a line of organic, fair trade chocolate bars sweetened with xylitol instead of sugar. Xylitol is a low calorie, zero carb natural sweetener derived from birch sap that can even improve dental health, making it the ideal sugar alternative.
Cocoalicious chocolate bars are made with some of the cleanest ingredients out there. They are vegan, gluten-free, keto-friendly and free from added fillers such as soy and carrageenan, which are commonly used ingredients in other packaged snacks and treats. With 4g of net carbs or less, 15g of fat, and around 200 calories per serving (1/2 bar), these are the perfect snack or dessert for keto dieters. Choose from three decadent flavours including antioxidant-rich 80% dark chocolate, orange and almond, or mint and hazelnut.
Lily's No Sugar Added Chocolates 
Lily's keto-friendly chocolates have rightfully earned a huge cult following! These stevia- and erythritol-sweetened chocolates are made with premium cocoa and contain just 2-3g net carbs per serving. Plus, Lily's also adds inulin to their chocolate bars, providing 10g of fibre per serving, too! Fibre promotes stable blood sugar levels, digestive regularity, and keeps you feeling full longer. Who knew a chocolate bar could have so many benefits?
Shop a variety of delicious flavours including blood orange, salted caramel, birthday cake, cookies and crème and more! Lily's chocolates are also available in delectable chocolate snacks, such as chocolate peanut butter cups, and baking chocolate. Shop more low carb and keto-friendly baking ingredients on our website that you might need to make your own baked goods at home.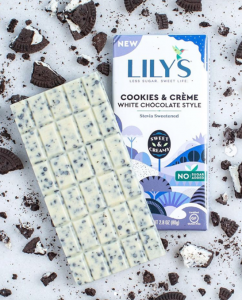 Pictured: Lily's White Chocolate Style Cookies & Crème
Ross Stevia Sweetened Chocolates 
Ross Chocolates are made by chocolate lovers for chocolate lovers. When the founder of Ross Chocolates was diagnosed with diabetes, he was determined to find a way to still enjoy his favourite sweet treat. And so, Ross stevia-sweetened chocolate bars were born!
Ross Chocolates taste like decadent, rich chocolate without any of the harmful effects that sugar can have for diabetics such as spiking blood sugar levels, exacerbating insulin resistance, and causing excessive weight gain. Plus, they also contain added fibre to help promote healthy blood sugar levels and reduce appetite. Choose from premium flavours including dark chocolate with sea salt, dark chocolate with hazelnut, milk chocolate with lemon and coconut, or milk chocolate with crunchy puffed quinoa or go classic with plain dark or milk chocolate!
JOJO's Guilt-Free Chocolate Bark
Kick your chocolate cravings with guilt-free chocolate bars from JOJO's. Somewhere between a snack and a treat, these better-for-you chocolate alternatives satisfy cravings without any health compromises. Enjoy JOJO's chocolates whenever you feel like it – they contain only natural ingredients and zero added sugars. They are also vegan, gluten-free, soy-free and free from artificial ingredients and fillers. And, of course, they are made with love (which makes everything taste better). With added hemp protein, a clean source of protein and omega 3 and 6 fatty acids, you can truly feel good about indulging yourself in these chocolates!
Savour the delicious taste of sugar-free chocolate sweetened with erythritol and stevia paired with macadamia nuts and coconut flakes in JOJO's Goes Hawaiian, natural peanut butter and crunchy peanuts in Peanut Buter Delight, or pistachios, almonds and freeze-dried raspberries in Raspberry Dream.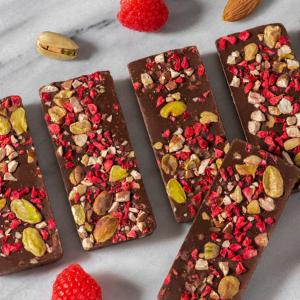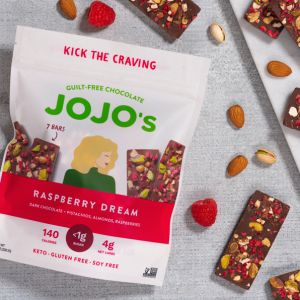 Pictured: JOJO's Raspberry Dream Chocolate
Sugar-Free Caramel & Toffee
Caramel and toffee are traditionally pretty high in carbohydrates, made by slow cooking sugar with butter and sometimes flour. Luckily, there are sugar-free caramel and toffee alternatives that anyone following a carb-restricted diet can enjoy. Find sugar-free versions of your favourite brands of caramel and toffee including Werther's Original and Russell Stover. Plus, check out these decadent sugar-free and gluten-free caramel and toffee brittles from Sugar-Free Please, a Canadian-owned confectionery taking the sugar-free, gluten-free, and keto-friendly sweets categories by storm.
Sugar Free Please Brittles & Bark
Sugar Free Please products are crafted with high-quality natural ingredients and 0 glycemic sweeteners such as stevia, erythritol, and inulin (which also adds fibre!). All of their products are made in a dedicated gluten- and peanut-free facility in Kelowna, B.C., so you can feel safe sharing these treats with the whole family.
Explore a range of low carb and keto-friendly snacks from Sugar Free Please including macadamia brittle, coconut cravings, sesame snacks, everything bark, salted caramel clusters and choffee – a Sugar Free Please original confection made from decadent chocolate and toffee. All of these delicious treats contain just 4-6g of net carbs and 9-12g of fats per serving, and, of course, 0g of sugar.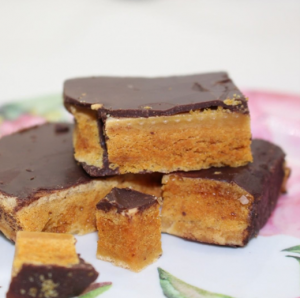 Pictured: Sugar-Free Please Choffee
Keto-Friendly Ice Cream
Who would have thought that creamy low carb ice creams that also deliver on flavour and nutrition were possible? Enlightened keto-friendly ice creams contain zero added sugars and are formulated to meet ketogenic macronutrient targets. With just 1g of net carbs and 15-16g of fat per ½ cup serving, you can indulge in ice cream even on a carb-restricted diet! Unlike many other low carb or sugar-free ice creams, Enlightened keto-friendly ice creams are made with real cream, giving them the same delicious creaminess as regular ice cream. They are sweetened with natural sugar substitutes including erythritol and xylitol, which will not cause digestive upset like some artificial sweeteners. The best part? They come in all of the best ice cream parlor flavours! Choose from classic vanilla bean or chocolate, or go for something more indulgent like glazed donut, caramel fudge, mint chocolate or coffee chip!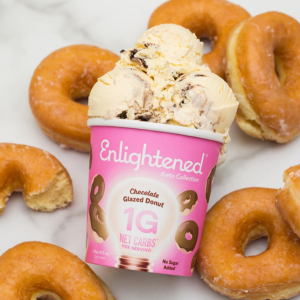 Pictured: Enlighted Keto-Friendly Glazed Donut Ice Cream
Stay Connected
That rounds up our favourite low carb and keto-friendly sweet treat alternatives! We hope that you discovered some new alternatives to your favourite snacks and desserts and are ready to swap out your old favourites. If you enjoyed reading this article or would like to share your thoughts or experiences with our online community, join us on Facebook and Instagram.
Please also let us know about your experiences with The Low Carb Grocery by leaving us a Google Review, and remember to sign up to our free email newsletter to receive weekly sales and stay up to date with top keto, low-carb, and sugar-free news and trends!