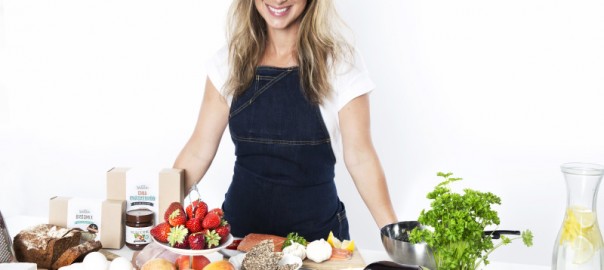 Product Insights: KZ Clean Eating Low Carb Products
Product Insights: KZ Clean Eating
As a Real Food Advocate, I prefer to avoid processed foods. When I do purchase packaged food products, I opt for those with clean and simple ingredients, and preferably low carb. It's difficult to find packaged products that meet these criteria. So when I came across the line of KZ Clean Eating products, I was impressed and very pleased. I recently had the opportunity to chat with Louisa, the Managing Director of KZ Clean Eating here in Toronto, and I'd love to share it with you.
Erin: Like many of us, I grew up eating lots of bread, cereal, crackers, and especially chocolate. But most of those that I used to eat are full of additives and preservatives and, basically, chemical fillers. There is not much to them nutrient-wise. If I had the time, I'd make them myself so that I know exactly what is in them, but I don't have that kind of time.
Louisa: Sounds familiar! That is one of the reasons that KZ Clean Eating came about: we wanted to create clean, great-tasting versions of those products for people who enjoy them but don't want to eat the processed ones that are on the market.
Erin: Tell me more about the story.
Louisa: It all started in the kitchen when a team of health food nerds got together! We started selling the products in our own retail store and online. When we started getting demand from other retail stores we knew we had something unique that people wanted.
Erin: No surprise there was such demand! I know that I love all of the products, and especially the Grain-Free Protein Bread Mix. I really don't know of any other low-carb breads or bread mixes on the market that have such clean ingredients. It's so easy that all you need to do is to add water and mix. And I love that it even comes with the foil pan to bake it in.
Louisa: We wanted to make it foolproof! Have you tried spreading the KZ Nougatcreme on the bread? I do it all the time….
Erin: Foolproof it is! And Yes, I do spread the Nougatcreme on the bread! I also really love using the Parmesan crackers as a pizza crust – I melt cheese on top in the broiler until it bubbles, and eat it like that.
Louisa: Oh yes, the crackers and crisp bread are great when used as a pizza crust.
Erin: What other ways can the products be used that are not necessarily so obvious?
Louisa: The cereal can be used as a baking ingredient, for example to add some crunch to chocolate brownies, or sprinkled on top of healthy desserts such as a healthy mousse. The bread mix makes great bread sticks, buns or garlic bread. The chocolate bars can be melted and used for hot chocolate. Or broken up and used as chocolate chunks in chocolate chunk cookies. Our Nougatcreme is lovely to mix in with yogurt for a delicious treat and, of course, in baking; like a Nougat Cheesecake!
Erin: That all sounds delicious! I can't wait to try some of those ideas. And because of the ingredient profile, there's no guilt! All of the ingredients are clean and real. I love it.
Louisa: Yes! All of our products are great for those who are watching what they eat in order to lose some weight, or for those who have diabetes, or are on a gluten free/low sugar diet or simply just enjoy good, clean food.
Erin: I've been putting a few squares of the chocolates in my kids' school lunches for a snack; their favorite is the white chocolate vanilla bar, and they are thrilled to find the chocolate surprises. I'm happy that it has no sugar and again that the ingredients are so clean!  How else are the KZ Clean Eating products different from similar products on the market?
Louisa: Our products are handmade in our own production facility. We carefully choose ingredients with the highest quality possible. The ingredients are very clean and naturally low in carbohydrates. And there is no sugar added.
Erin: What is the criteria in selecting the ingredients?
Louisa: Our ingredients are always non-GMO, organic as much as possible, without any added sugars and gluten free (except for the wheat bran we use in our crisp bread, which will soon be replaced).
Erin: That is all so amazing. Thank you, Louisa, for being part of an amazing team, and for taking the time to talk to me today.
Louisa: You're welcome. Enjoy!
About the Author: A Holistic Wellness Practitioner, Erin is a proponent for holistic and natural living. Her passion is guiding people to live healthier, happier lives: physically, emotionally, mentally and spiritually.