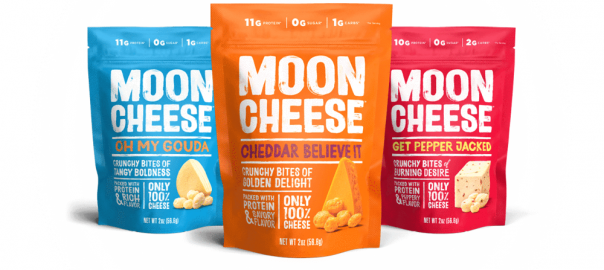 Low Carb, Sugar-Free Snacks You'll Fall in Love With
Moon Cheese has revolutionized the way we snack, turning a perishable item like cheese into fun, crunchy finger food.
Cheese doesn't have to be reserved for charcuterie boards or a topping on sandwiches and pizza – it is now available as a light, crunchy snack that won't go bad in your lunch bag. Moon Cheese was one of the first to do it: turn cheese into a shelf stable crunchy snack that can be enjoyed whenever, wherever. Plus, it is low in carbs and naturally high in protein!
How is Moon Cheese Different?
Although its concept is similar to other snack foods you may have eaten in the past – cheese puffs and cheesy potato chips – Moon Cheese is not loaded with unhealthy fats, excessive sodium or hidden sugars. Each serving contains 0-1g of net carbs, 5g of protein and 14% of the daily recommended intake of calcium, making it a great choice for low carb or keto dieters. Still, this crunchy cheese snack is just as satisfying and crave-worthy as non-diet foods!
The Story Behind Moon Cheese
Created by NutraDried Food Company, a leader in food innovation committed to providing healthy snack solutions, Moon Cheese was made by experimenting with a new proprietary technology that would help them meet the evolving dietary needs of consumers. Moon Cheese is not baked, fried, or freeze dried and the result is neither a crisp nor an air-filled puff. Instead, you get little chunks of real cheese that have been removed of almost all of their moisture content but still retain their true flavour and nutrients.
Moon Cheese's texture and flavour doesn't feel like your typical boring, bland diet snack food. This is because it is crafted through this special process that adds crunchiness and intensifies the naturally delicious flavour of cheese. Plus, it accommodates a variety of allergen and dietary needs because it is made from a single ingredient: cheese!
How Moon Cheese is Made
Moon Cheese is made using a patented dehydrating process that combines radiant heat and vacuum drying technology – which can be best described as "crunchifying"! It works by placing fresh cheese into a large cylinder that slowly rotates and dries the cheese at a low temperature for 90 minutes. During this time, close to 100% of the moisture is removed – this is what makes Moon Cheese shelf stable. Plus, most of the nutrients remain intact, which is what makes Moon Cheese a great source of protein and essential nutrients such as potassium and calcium. Other methods of dehydrating require food to be dried at such a high temperature that the process ends up removing more than half the nutrients while also retaining much more moisture that can cause it to spoil more easily.
As a result of removing the moisture, this process completely changes the texture of the cheese – turning it into something you never imagined cheese could be! Moon Cheese is crunchy and light, and it resembles little pieces of the moon (hence the name). However, you still get the true flavour of the cheese due to the gentle drying process and lack of unnecessary chemical preservatives that can alter the flavour.
Nutrition and Ingredients
Moon Cheese is a nutritious snack that is gluten-free, high in protein and fats and low in carbs.  The only ingredient is 100% natural cheese! There are no additives or preservatives, because they are simply not necessary. The "crunchifying" technique does not require these or any other added chemicals or sugars. Moon Cheese is completely shelf stable on its own and it already tastes great from the natural flavour of cheese. Plus, it is naturally high in a number of vitamins and minerals such as Vitamin A, potassium and calcium. You get all of these benefits and none of the garbage from these delicious, crunchy bite-size pieces!
Moon Cheese is available at The Low Carb Grocery in three classic flavours:
Let us know if you would like to see any of these new flavours at The Low Carb Grocery:
White Cheddar and Black Pepper
Cheddar Bacon
Garlic Parmesan
Other Uses for Moon Cheese
Moon Cheese is not only great on its own, but it can also be incorporated into other dishes to elevate the flavours and textures!
Moon Cheese Breadcrumbs
Moon Cheese makes the perfect breadcrumbs that can be added to pastas, casseroles, meat and anything else you would normally add breadcrumbs to! All you have to do is put Moon Cheese in a sealable plastic bag and break down into crumb-size pieces. You could use them on their own as a breading or add them to a pre-made low carb bread crumb mix!
Here is a recipe for making your own cheese-y low carb breadcrumbs at home with things you might already have on hand.
What you'll need:
Preparation:
In a food processor or blender, combine all of the dry ingredients and the egg together. You should get a dough-like consistency.
Line a baking sheet with parchment paper and lightly grease it with safe cooking oil.
Lay the dough (this might have to be done in 2 batches) onto the baking sheet and cover with another piece of parchment paper.
Roll out the dough underneath the parchment paper until it is very thin.
Remove the top layer of parchment paper and place in the oven to bake at 350˚F for 10-15 minutes or until golden brown.
Let the cooked dough rest for 10 minutes before popping it back into the food processor or blender. Blend until you get breadcrumb consistency.
Moon Cheese Croutons
Sprinkle Moon Cheese on top of salads to add a bit more protein, fat and crunchy texture that feels just like a crouton – minus the carbs!
Moon Cheese Party Mix
Moon Cheese is great for sharing with friends and family. Next time you have a get together, put out a bowl of this party mix and watch how quickly it disappears!
Ingredients:
Preparation:
In a bowl, combine the mixed nuts, coconut chips and pork rinds with the spice seasoning, coconut oil and sweetener. Add salt to taste if desired. Mix everything together until the flavours are evenly distributed.
Lay the mixture on a flat baking sheet lined with parchment paper.
Bake in the oven at 350˚F for 10-15 minutes to lightly roast and let the flavours settle.
Let the mixture cool down for 10 minutes then transfer to a large bowl. Add in 1 package of Moon Cheese and mix everything together.
Serve and enjoy!
Here are some other recipes we found on the web that use Moon Cheese or can be made with Moon Cheese:
Stay Connected
If you want to share your thoughts on Moon Cheese, let us know on Facebook. Or, if you tried any of the recipes we suggested, tag us in your post on Instagram! We also love to stay connected with our Weekly Newsletters for updates on the latest products and special sales. And please leave us a Google Review with your Low Carb Grocery experiences!