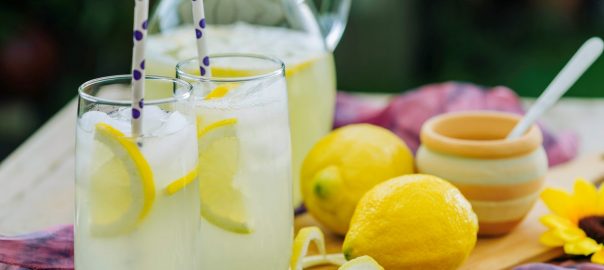 Great Sugar-Free Summer Drink Ideas
Stay Cool with these Fun Sugar-Free Summertime Drinks!
As the weather starts to warm up, you may be feeling a craving for fruity, refreshing summertime drinks. While we all love to sip on something cool and delicious, it can be hard to find drinks that aren't loaded with sugars. So, we have come up with a list of recipes and tips for low carb dieters on how to stay quenched during the summer months.
Even if you are not following a low carb diet, sugar-free drinks are a great way to help manage your health and your weight. Avoid drinking your calories and instead enjoy refreshing and naturally sweetened drinks that won't rot your teeth and your gut! Ditch the soda and sugar-y drink mixes and say hello to a new way to maintain that summer bod.
Simple and Easy
Infused Water
It's no secret that the healthiest drink you can choose when you're thirsty is water. But if you want a bit more flavour, try infusing your water with fresh ingredients for a more satisfying sip. The best part is, infused water is perfectly low carb – fresh fruit and herbs impart a subtle flavour without jacking up the calories and sugars in your water. Here are some great flavour combinations:
Cucumber and mint
Orange, lemon, and lime
Grapefruit, pomegranate and rosemary
Strawberry, basil and lemon
Blackberries, orange and ginger
Pineapple, coconut water and lime
The combinations are truly endless! Get creative with any fresh fruits and herbs you have at home or from the garden.
Sugar Free Sodas from Zevia
This one requires no work at all! For those of us who like something fun and fizzy to sip on in the heat, Zevia makes a wide variety of carbonated sugar-free sodas, mixers, iced teas and energy drinks. Choose from classic soda flavours like root beer, ginger ale, and grape, or try something new with taste sensations like black cherry, cucumber lemon, and mandarin orange.
Check out the full range of Zevia Naturally Flavoured Sugar-Free Drinks available at The Low Carb Grocery.
Caffeine Lovers
Iced Matcha Latte (recipe)
Matcha has been gaining popularity around the world for its fantastic health benefits. Matcha powder is loaded with antioxidants, boosts your metabolism and it can help regulate blood sugar levels. Although the caffeine content is about ¼ that of coffee, the release is slower and more sustained, helping you feel energized for hours without the caffeine crash you get from coffee. This recipe is blended with coconut oil, vanilla bean (you could use vanilla extract instead), and cashew milk – a perfect sip for keto dieters!
Iced Coffee 
For coffee-lovers, iced coffee is the way to go during those hot summer months. There are many ways to make your iced coffee keto-friendly. Just skip the sugar and opt for a sweetener instead, and use a high-fat milk or creamer. You could also blend your coffee with MCT oil for extra healthy fats. Try adding a little flavour with vanilla extract, cinnamon or flavoured liquid stevia. You could also use one of these Keto Coffee Boosters for an added dose of vitamins and minerals to your morning brew!
If you want to practice your barista skills, try this recipe for Cold Brew Coffee or this Keto Coffee Frappuccino.
Fruity and Delicious
Strawberry Lemon Iced Tea (recipe)
Iced tea is pretty much synonymous with summertime and hot weather. This recipe adds some extra fruity flavours to classic iced tea, and it is sweetened with stevia. Plus, it is packed with antioxidants! This recipe uses hot brewed tea that can be chilled afterwards, but you could also cold brew your tea. This takes a little bit longer (steep 2-3 tea bags in a pitcher of water in the fridge overnight) but you get 2-3 times the amount of antioxidants from brewing the tea this way!
Keto Strawberry Colada Milkshake (recipe)
This recipe might just bring you back to childhood memories of chasing down the ice cream truck! Plus, it's another great way to incorporate fresh strawberries at the peak of their growing season in the summer months. If you like this, there are tons of other keto smoothie and milkshake recipes online. These are a great choice for breakfast or as a snack because you can load them with nutrients and get the right macros for a low carb high fat diet. Blend them with a little ice for a cool and refreshing sip!
Oh, and if you're not a fan of strawberry milkshakes, try one of these other classic flavours: Chocolate or Vanilla! Or, mix a few ingredients from each for a fantastic Neapolitan milkshake!
Alcoholic Beverages
Low Carb Margarita (recipe)
What drink goes better with a hot summer patio than a tasty, fresh margarita? The only problem is that traditional margarita recipes can contain a lot of sugar – but not this version! It is sweetened with Powdered Swerve Sweetener, which contains zero calories and zero sugars. For a fast and easy margarita alternative, check out Baja Bob's Sugar Free Margarita Mix to make a great margarita in minutes (plus other fun, sugar-free drink mixes in this product line!).
Sugar-Free Sangria
Sangria is a classic summertime beverage that's great for sharing with friends. However, most sangrias tend to be overly sweet. All you'll need to make your own sangria at home is the following simple ingredients:
Dry red or white wine
Citrus flavoured vodka
Tonic water, unsweetened
Fresh lime juice
Handful of berries (low carb)
A few slices of peaches or mangoes for flavour
Fresh mint leaves
You could leave it at that, but if you want a little extra sweetness you could add a couple tablespoons of monk fruit sweetener, liquid stevia or a sugar-free syrup.
Functional Beverages
Keto Electrolyte Drink (recipe)
If you follow a keto diet, it is especially important to make sure you are getting enough electrolytes. Ketosis can cause frequent urination that removes a lot of important minerals such as sodium, potassium and magnesium from your body – so always make sure you are getting enough of these in your diet, especially in warmer summer months when we tend to sweat more. This drink is also great if you are active but want to avoid store-bought electrolyte drinks that can be loaded with sugars. Making this drink at home is an easy, health-conscious and cost-effective way to support your body.
Keto Kombucha Alternative
Kombucha is a fruity beverage made from fermented tea. However, sugar is required for the fermentation process to happen so this is often a no-go for keto-dieters! If you tried kombucha before you started a low carb diet and are wondering how to get it back into your daily regimen, try out the recipe below for a beverage alternative that comes very close to kombucha! Plus, you don't have to grow a scoby, and it still offers many functional benefits.
Ingredients:
1 ½ cups of fruit-flavoured tea of your choice, brewed and chilled
1 tablespoon of apple cider vinegar
½ tablespoon of grated ginger or 1 tablespoon of juiced ginger root
1 ½ tablespoons monk fruit sweetener
¼ cup of berry puree
½ cup sparkling water, unsweetened
2 tablespoons of lemon or lime juice
You could buy berry puree from the store or make it at home to avoid any sugars or other additives. Simply heat ½ cup of fresh or frozen berries on the stove with a bit of lemon juice and 1-2 tablespoons of sweetener. Stir and mash the berries until the mixtures becomes like a thick paste. Let it cool and it's ready to use!
Mix all of the ingredients together in a shaker bottle. Pour through a fine strainer to get rid of any chunks or berry seeds and serve over ice!
For the Kids (and Adults, too!)
Naturally Sweetened Sugar-Free Lemonade (recipe)
What list of summer drinks would be complete without a lemonade recipe? This fantastic version of lemonade that is naturally sweetened with Stevia and contains no added sugars. You could use pure liquid stevia or choose one that's naturally flavoured to elevate the flavours in your drink. Flavorall carries a wide range of naturally flavoured liquid stevia drops. Here are some options that would work great in your lemonade:
For an even cooler version of this drink, you could blend this recipe with ice and make frosted lemonade! You could also add vodka to a separate batch to make homemade hard lemonade – perfect for backyard barbecues with friends.
Homemade Sugar-Free Kool-Aid (recipe)
This recipe only requires three simple ingredients! It's a clever blend of fruity teas and flavoured stevia sweeteners that really tastes like Kool-Aid. You can choose from different flavours of liquid stevia to customize this recipe according to your kids' preferences. You could even freeze the mixture to make popsicles or freezies. Just be sure to make lots of it because this stuff goes fast!
Start Experimenting with New Drink Ideas!
If you tried any of the recipes featured in this article, we'd love to know! Tag us on Facebook or Instagram with your photos and let us know what you liked (and what you didn't).
We love to stay connected with fellow low carbers with our Weekly Newsletters – sharing updates on the latest products and current specials and sales.
Please leave us a Google Review with your Low Carb Grocery experiences!