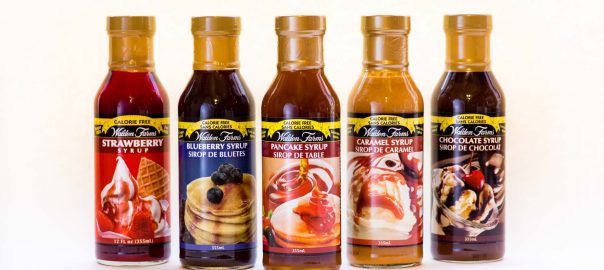 Explore Walden Farms Popular Products
Walden Farms Products – What Makes Them So Popular?
Despite low carb dieters have more breakfast, lunch and dinner options than ever before, a healthy meal can still be undermined by a sauce or dressing that's full of carbs. Luckily, people now have a host of intriguing options to accompany their favourite foods and thus ensuring better odds of maintaining their diet.
Walden Farms is an industry leader that produces low carb sauces, syrups, dips and salad dressings. These products can elevate and innovate meals to make sure they remain as low carb as possible. They are a must-try for anyone looking to expand their diet or for those wanting to take the first step toward a healthier lifestyle.
It's time to get to know Walden Farms. We'll look at five of their product lines and delve into a few of the individual flavours to give you an idea of the selection and what's popular. The aim is to help you decide which are worth your time and money.
About Walden Farms
For close to 50 years, Walden Farms has been a name synonymous with delicious low carb products. Made with the most stringent standards and with high-quality ingredients, they are delicious and designed to help people maintain a healthy lifestyle.
These products contain no calories, carbs, gluten, fat or sugar and cover these categories:
BBQ sauces
Coffee creamers
Fruit jams and jellies
Salad dressings
Syrups
Dips for fruit
Veggie and chip dip
Coleslaw dressing
Peanut spread
Mayonnaise
Pasta sauces
Ketchup
Seafood sauce
Additionally, they offer single serve packets making it easy for people to enjoy their products on the go, at work or at the gym.
The simple substitution of a Walden Farms ketchup on a hamburger or their BBQ on a steak or one of their jams on a piece toast can make sticking to your low carb diet much easier while making sure your food tastes anything but ordinary.
Syrups
Walden Farms Pancake Syrup might be their most popular product that we carry. By drizzling only a couple of tablespoons of this syrup, you can transform dry pancakes into a moist and flavourful treat without compromising the carb intake. This is a perfect replacement for traditional pancake syrup that is loaded with sugar and preservatives. You can even add it to ice cream instead of fudge or butterscotch. The taste is out-of-this-world.
Maple and walnut go great together and work really well when poured over a hot stack of pancakes. Walnuts add a hint of nuttiness and the maple flavour is sweet without being overpowering.
Consider using this product to sweeten up low carb desserts that typically call for maple syrup or refined sugar. It also pairs well with oatmeal to replace sugar or brown sugar.
Low Carb Pasta Sauces
Pastas don't have to be the bane of a low carb diet. With Walden Farms Alfredo Sauce, you can enjoy hearty fettucine or linguine dishes without cheating on your diet. It combines the intensity of parmesan and Romano cheeses with rich sour cream flavours. It is made with minced garlic, chopped onion, sea salt, freshly cracked black pepper and parsley.
If you enjoy tomato-based pasta sauces, then Walden Farms has a delectable one that's made from a traditional Italian recipe. It bursts with the genuine flavour of sun-ripened tomatoes and consists of minced garlic, chopped onion, salt, spices and freshly ground aromatic herbs like oregano, parsley, basil and rosemary.
Low Calorie/Carb Dressings
Thousand Islands is one of the most beloved salad dressings in the world. It's creamy with just the right amount of vinegar. Walden Farms' version is made with the finest aged vinegar, triple filtered water, natural flavouring and fresh herb and spices. A perfect complement to any garden salad and an amazing addition to any low carb diet.
This product is also available as part of a dressing sampler in single serving packets so you can add it to your lunch or takeout salad.
This dressing has nice tartness and a slight heat that makes it truly delicious. It's made with chipotle, chipotle flavouring, distilled white vinegar, apple cider vinegar, tomato paste, dijon mustard, chili powder, cumin, lemon, cayenne pepper and white pepper, among other ingredients.
Since it contains no carbs or calories, you can enjoy it guilt-free as part of a healthy lunch or dinner.
Vinaigrettes are a light alternative to creamy dressings. This product tastes like "regular" vinaigrettes and adds a nice bite to run-of-the-mill garden salads. This balsamic vinegar features a rich concentrated flavour, dark colour and the right amount of acid to cut through other salad ingredients. The rich balsamic taste makes it a memorable dressing and is a big reason for its popularity.
In addition to being low carb, balsamic vinegars contain several health properties including the promotion of digestion and it can potentially lower cholesterol.
Low Carb/Calorie Sauces
BBQ sauces are a great way to marinate chicken, beef or pork—even if they're not grilled. They can also be used to dip your favourite low carb protein into.
Walden Farms adds honey to the usual ingredients that make up a flavourful BBQ sauce like dijon mustard, apple cider vinegar and Worcestershire sauce. The result is a sweet and tangy sauce that is lip-smacking good.
Hickory smoked BBQ is simply traditional BBQ that's cooked or infused with the flavour of hickory wood. This healthy BBQ sauce adds a smoky and tangy twist and will elevate any low carb roasted chicken recipe.
Replace the sugary element of most store-bought BBQ sauces with one that has a nice level of spice. This thick and spicy sauce pairs nicely with thick-cut proteins and is typically good for people who prefer spice in addition to some acid to cut through the heaviness and sweetness of traditional BBQ sauces.
Low Calorie/Carb Spreads
This sweet spread transforms any boring old piece of dry toast. It tastes like real raspberries and doesn't contain any of the unhealthy ingredients commonly found in most jams and preservatives.
We recommend adding a dollop or two to plain yogurt or oatmeal.
Consider using this chocolate peanut spread on your pancakes, waffles or if you want to enjoy a sweet sandwich reminiscent of Nutella or classic peanut butter and jelly. This spread, which expertly combines the sweetness of chocolate with savoury peanut butter, also makes a great ingredient for low carb muffins or cakes.
Surprisingly, most mayonnaises are not especially high in carbs. This one, though, contains zero carbs so you can spread it on top of low carb cold cuts or burger patties. This product also has zero calories so you can include it in your diet to help achieve your weight loss goals.
It's super creamy and can also be the key to an amazing egg or tuna salad.
Discover Walden Farms Today!
Walden Farms is sure to have a product that can fit into your low carb diet while ensuring you can continue to enjoy pancakes, salads, toast, pasta or a variety of other meals. They're healthy, delicious and offer a variety of tantalizing flavours.
Check out our selection of Walden Farms products to find the flavours that light up your tastebuds!