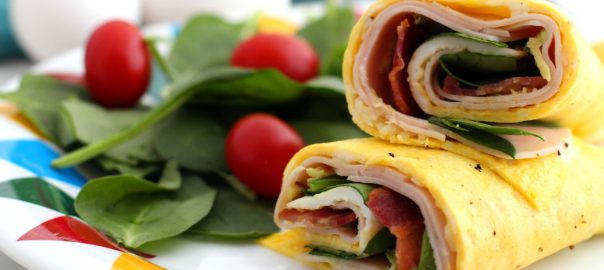 Breads & Wraps – The Low Carb Way
Low Carb Wraps and Breads for Lunches 
Sandwich lovers are always reluctant to give up sandwiches in their quest to enjoy the benefits of a low carb diet. After all, sandwiches and wraps are a popular and portable lunch staple—they're filling, satisfying, tasty, versatile and easy to prepare.
At The Low Carb Grocery, we carry a wide selection of breads, bagels and tortilla wraps that can make you forget your eating low carbs and help you feel satisfied. Bread or tortillas can make or break a sandwich or wrap but, if you choose wisely, you'll be looking forward to lunchtime every day.
To help make your low carb lunches memorable, we'll introduce you to some of the best breads, bagels and wraps on the market. Next, we'll review a few low carb condiments that will make your sandwich sing, your mouth water and have you counting the minutes until it's time to dig in.
Best Low Carb Breads
Bread is often the target of much derision among low carb fans. While much of it is warranted, low carb bread and bagel options have come a long way and are no longer something you should avoid while meal planning.
Here are some of the more popular low carb bread brands we carry. If paired with the right ingredients, you can enjoy delicious sandwiches every day. We recommend trying a few different brands, types and flavours to find the ones you like best for your favourite sandwiches.
This crusty bread has a pleasant texture and nice flavour provided by flax oil. In addition, it's filled with protein and fibre to help keep you feeling full for hours.
SuperFlax is a Bakers Deluxe product and it has the ability to not cause your blood glucose level to spike or dip too dramatically. Furthermore, this bread can help keep you regular.
People with allergies should note that this bread contains soy and wheat and was made in a facility that process peanuts, seed and other nuts. With respect to nutrition, each slice contains 3g of fat, 6g of carbs, 5g of fibre and 12g of protein.
If you are a fan of peanut butter and jelly sandwiches or egg salad, then try SuperFlax as it wonderfully complements these ingredients.
This product by Dream Bread might be plain bread, but its flavour is anything but plain. It tastes like traditional bread with a soft centre and it makes wonderful sandwiches. Additionally, it tastes so good that you can even use it with simple sandwiches that feature only a couple of slices of low carb deli meat.
Per two slices, there are 4g of fat, 18g of carbs (only 2 net carbs), 16g of fibre and 14g of protein.
Rye bread is a delight that has a slight sour taste and more depth of flavour than other types of breads. It's also somewhat denser and earthier helping elevate any run-of-the-mill sandwich. It's a perfect vessel for turkey sandwiches.
Per two slices, there are 4g of fat, 18g of carbs (only 2 net carbs), 16g of fibre and 14g of protein.
If you're looking to mix things up, then try using a bagel to make your favourite sandwiches. This low carb product lets you indulge in a savoury baked good without any of the guilt. We even recommend using these bagels to make delightful open face sandwiches with a combination of meat and veggies.
Per bagel, there is 3.5g of fat, 18g of carbs (1g of net carbs) and 14g of proteins.
Fans of multigrain will love this version from Chompie's, which has become a favourite among low carb fanatics. Multigrain bread lends itself to hearty sandwiches. It's delectable and healthy and its natural flavour doesn't overpower most ingredients.
Per slice, there is 2g of fat, 3g of carbs (1g of net carbs) and 8g of protein.
To replace sesame bread for your sandwiches, try Chompie's light and fluffy version. It offers a wonderful sesame taste with the consistency and thick-cut slices of regular store-bought bread. It goes great with various low carb cheeses and deli meats.
Per slice, there is 3g of fat, 3g of carbs (1g of net carbs) and 8g of proteins.
Best Low Carb Wraps
Mama Lupe's tortillas are perfect to make a lunch wrap that will be every bit as satisfying as any sandwich. They taste so good that you won't be able to tell them apart from the "regular" tortillas you find at your favourite Mexican restaurant.
Per tortilla, there is 3g of fat, 7g of carbs (3g of net carbs) and 5g of protein.
La Tortilla Whole Wheat Tortilla
With no saturated fat, hydrogenated oils, dairy and with no sugar added, these tortillas offer a good amount of protein and promote healthy living. They can also help you keep lunchtime more interesting by letting you make fun quesadillas in addition to wraps.
Per tortilla, there are 2g of fat, 11g of carbs (3g of net carbs) and 5g of protein.
If you are more a fan of pita bread than tortillas, then check out Toufayan. Made from a Middle Eastern recipe, these pitas are soft and versatile, letting you enjoy them as the foundation for your favourite low carb toppings.
Furthermore, you can cut them into triangles or strips and enjoy them with a delicious low carb dip.
Per pita, there is 3.5g of fat, 16g of carbs (9g of net carbs) and 8g of protein.
Low Carb Condiments
Sandwiches and wraps need a tasty condiment to bring them together and elevate their taste. Here are some that our customers seem to love.
Max & Marcus make a line of mustard's that add a nice tangy touch to any sandwich or wrap. They especially go well with deli meats like turkey or chicken.
They offer Country Style Dijon, Honey Dijon, Traditional Dijon and Whole Grain Dijon. Each has a rich mustard taste that's creamy in texture.
For those who enjoy ketchup or barbecue sauce on certain sandwiches, Crazy Mooskies offers a variety of flavours that will do justice to a sandwich or wrap.
Their ketchup is sweetened by Stevia and come in two flavours: original and spicy. Their Barbecue sauces are available in the following flavours: Original, Crazy Hot, Island Spice, Smoke'N Garlic and Smokehouse. There is no sugar added to any of these wonderful condiments.
Walden Farms is renowned for their low carb sauces, dips and condiments. Their mayo is the perfect accent for many sandwiches or wraps. It's light and creamy and low in calories.
Other flavours include Chipotle, Honey Mustard, Pomegranate and Ranch.
Shop for Bread and Tortilla Wraps Today!
Are you excited to test out some of these breads, bagels, wraps or pitas in some amazing sandwiches? You are sure to find one or more that you'll want to turn into a pantry regular.
Check out our inventory to find some amazing ingredients for your low carb meals. In addition to an impressive selection of breads, bagels and tortillas, you'll find an assortment of sauces, spreads and other items that will spruce up any meal.