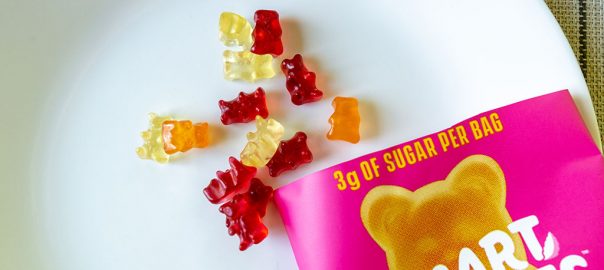 Tasty Low Carb Sweet Treats From SmartSweets
SmartSweets Candies Sweetened with Stevia
Among low carb enthusiasts, candies get a bad rap. They are viewed as a frivolous source of calories with little nutritional value to redeem them. Most people, though, enjoy having something sweet throughout the day. The trick is to keep the right kind of treat on hand to overcome the mid-day doldrums.
Meet SmartSweets, a U.S. company devoted to creating candy that can be indulgent without being unhealthy. These products tend to fly off our shelves as people search far and wide for gummy candies that can be included in their low carb diets.
It's time to get to know SmartSweets! We'll explore who they are as a company and their various product lines. We'll also look at one of their main ingredients, Stevia, and why it is such a wonderful sugar substitute.
SmartSweets Background and Product Facts
Started by Tara Bosch with the mandate to help people kick sugar and to innovate the candy industry. Their products have gained an enormous following in North America and they are certified by the Women's Business Enterprise Council in the U.S. and globally by WEConnect International.
SmartSweet products are sweetened by plant-based, non-GMO Stevia. Additionally, they do not use sugar alcohols or artificial sweeteners. Their gummy products are typically made from chicory root and tapioca, giving it that desired consistency and a natural taste. These ingredients can slow the digestion of the candies so you can enjoy feeling fuller for longer.
Furthermore, these gummies are coated with carnauba wax. This is a renewable resource that is harvested from carnauba palm without damaging the trees. In fact, the use of carnauba helps protect the trees by creating an economic need for their preservation.
All products are made in a facility that is free from gluten, peanut, tree-nut, dairy and soy making them friendly to those with allergies. Because there are no preservatives or additives, SmartSweets can harden once exposed to air. That means that if you open a pack, you should finish it or even share it with others. Incidentally, when sealed, they can last up to a year.
SmarSweet Products
SmartSweets offers a variety of products that candy lovers should check out, including:
Each taste like your favourite chewy candy and is either deliciously sweet or a delightful combination of sweet and sour.
The ingredients for these candies include, but are not limited to, gelatin, citric acid, fruit and vegetable juice (for colour), natural fruit flavour, coconut oil, stevia leaf extract and carnauba wax.
At the Low Carb Grocery, we carry single packs and packs of 12 of the above listed types.
SmartSweets Nutrition Facts
To understand the benefits and appeal of this brand, look no further than the nutritional information for some of their products. Comparing it to traditional candy that is high in carbs and calories is a testament to why it has garnered such a large and loyal legion of fans.
Gummy Bears – Fruity – Per bag (50g): 0g of fat, 36g of carbs (15g of net carbs) and 4g of protein.
Sourmelon Bites – Per bag (50g): 0g of fat, 40g of carbs (23g of net carbs).
Peach Rings – Per bag (50g): 0g of fat and 40 of carbs (23g of net carbs).
Sour Blast Buddies – Per bag (50g): 0g of fat, 40g of carbs (23g of net carbs).
Sweet Fish – Per bag (50g): 0g of fat, 40g of carbs (23g of net carbs).
Of course, candy will always be limited in its nutritional value but SmartSweets allows people to quench their snack craving guilt-free especially if portion control is exercised.
Why Stevia?
Stevia is a sweetener that has gained popularity as an alternative to refined sugars and other chemically laden sweeteners. Stevia is a plant that belongs to the same family as ragweed and daisies. Most stevia plants are primarily native to New Mexico, Arizona and Texas.
Once extracted, stevia leaves contain high purity steviol glycosides, which is generally considered to be safe for use in food and drinks. It is widely considered to be a positive addition to any low carb diet or healthy lifestyle.
Some of the more common ways to use stevia include:
Coffee or tea
Homemade juices like orange juice or lemonade
As part of hot or cold cereals or oatmeal.
As part of unsweetened yogurt.
Stevia has been able to separate itself from the pack because it doesn't have any calories, something that has eluded other sugar substitutes. Interestingly, it is believed to be roughly 200 times sweeter than sugar regardless of the concentration level. While more research needs to be completed, there is a belief among medical communities that stevia could potentially help curb diabetes, obesity and hypertension.
With respect to diabetes, stevia is considered a viable option for those with one of the two types. Keep in mind that people with diabetes should always check the ingredients list to see if dextrose or maltodextrin are included as this combination may result in side effects like bloating.
People with diabetes who are looking to try these products or start a low carb diet should always consult their doctor prior to commencing.
Plant-Based Sweets
You've probably noticed the term "plant-based" on a lot of food packaging or menus these days. Often, something like this might feel like a fad but, in this case, it seems as if it will have lasting power as the health and environmental implications are based in scientific evidence. As the world moves toward conscientious eating and living, plant-based foods, including candy, should continue to garner fans and replace more traditional products on grocery store shelves.
Several SmartSweets products—Sweet Fish, Sour Blast Buddies and Peach Rings—are 100% plant-based making them a truly guilt-free pleasure. Even if you're not adhering to a strict plant-based diet, including some in your regular diet can be a good idea.
While research is ongoing, there is some evidence to suggest that a plant-based diet can reduce the risk of heart disease and Type-2 diabetes. Furthermore, many people who solely eat plant-based foods claim to experience more energy and positive results from exercise and physical activity.
The most stringent version of this diet is the whole-food, plant-based version. Whole food refers to foods that are not heavily processed or where the ingredients have endured only minor processing. Plant-based, of course, means foods that are derived from plants or plant-based material. That means they contain no animal products or by-products.
Our Selection of Candy
We carry a variety of candy that can fit nicely into most, if not all, low carb diets. Most tend to feature natural ingredients or do not contain many of the unhealthy properties commonly found in most candy.
Our inventory includes brands like:
Peruse our entire stock of candy to find the ones that can make your sweet tooth sing with joy.
Try Smart Sweets Today!
SmartSweets give you the option of adding candy to your low carb diet. You can enjoy them as part of your lunch or feel good giving them to your kids instead of traditional snacks that are usually processed and filled with sugar and chemicals.
Check out our selection of SmartSweets today and be sure to browse our website to discover what other low carb foods we have on hand.