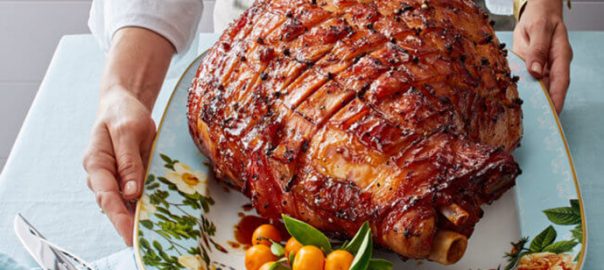 Low Carb Recipes to Serve at Easter
5 Delicious Low Carb Recipes to Serve at Easter
While the kids are thinking of nothing but chocolate bunnies and jelly beans, you can easily plan a fantastic low carb Easter meal that everyone will love, and we're here to help. There are plenty of ways that you can put on a delicious low carb meal this holiday and still check off all of the classic Easter essentials. In this article, we've gathered up five of our absolute favourite low carb recipes that are perfectly suited to your Easter feast, including an amazing baked ham, delicious side dishes, warm hot cross buns, and even a sweet treat that is completely sugar free. Let's get right to these wonderful recipes!
What would Easter be without some fun egg-based recipes to keep things festive? This Deviled Egg recipe from Irena at EatDrinkPaleo.com.au is actually three recipes in one! Serve up a colourful and vibrant platter of deviled eggs featuring three different fillings, including Bacon & Guacamole, Ginger & Carrot, and Pumpkin Seed & Dried Tomatoes. Each style has a unique flavour, and they make the perfect appetizer to kick off your big Easter feast.
Skip the potatoes this Easter and go for this creamy turnip side dish instead. This delicious recipe comes from Anne and Emma who shared it on DietDoctor.com. It is easy to prepare and has a wonderful flavour that perfectly complements ham, salmon, or any other savoury meat dish. It can easily be made dairy-free for those guests who may have a lactose sensitivity. You're definitely going to want to serve this side dish up as part of your Easter spread every year.
Rosemary & Mustard Crusted Baked Ham
For many of us, the traditional Easter meal wouldn't be complete without a nice baked ham at the center. While many ham glazes are loaded with sugar, this recipe from Melissa at IBreatheImHungry.com uses a unique blend of rosemary and mustard to create a perfect low carb alternative ham seasoning that works amazingly well. It may seem like a very simple recipe to follow, but the results are simply delicious! This method of making an Easter ham is definitely a winner, and we're sure your guests will all agree.
When you're talking about traditional Easter foods, Hot Cross Buns definitely need to be on the list. They're a favourite all around the world, and for many low carb dieters they are the thing that's been missing from their Easter holidays. Fortunately, they are back on the menu with this amazing low carb recipe for Hot Cross Buns! Libby from DitchTheCarbs.com hit a home run with this recipe, and having a fresh batch of these ready on Easter morning will certainly start a new tradition in your house. Enjoy!
No Bake Coconut Butter Easter Bunnies
Sugar and Easter are virtually synonymous, with chocolate and candies hiding around every corner. Fortunately for low carb dieters, there are many ways to keep the sweet treats and skip all the sugar. We've already covered how to make your own sugar free Easter treats in this previous article, but this recipe for Easter bunny treats made from coconut butter was way too good and we just had to share it, too! Brenda at SugarFreeMom.com has discovered this fast and easy way to make delectable little bunny treats made from a simple combination of coconut butter, coconut oil, vanilla, and liquid stevia that can be ready in just 10 minutes. Hop to it!
Other Great Easter Treats
In addition to those great recipes, we've simply got to share some links to the most popular low-sugar and sugar-free treats that are awesome alternatives to traditional Easter candy that you can use to keep smiles on the kids' faces all weekend long.
These soft little bears are made with Stevia for a delicious sweet taste without a ton of added sugars. Flavoured with a variety of fruity tastes to try, these bite-sized gummies are always a fun favourite of kids everywhere.
Jelly Belly Gourmet Sugar Free Jelly Beans
Jelly beans are an essential Easter treat that no basket would be complete without, and Jelly Belly beans are simply the best. These sugar-free candies come in a wide range of fun flavours, and you can't help but smile when you pop in a handful.
Conclusion
Easter is a time to be with family and enjoy each other's company, and a great meal is one of the best ways to bring everyone together. With these tasty recipes, you'll not only put on a delicious feast that will bring smiles and warm feelings to everyone, but you'll do it knowing that it's all healthy and low in carbs. We certainly hope that these recipes have inspired you to try something new at your Easter celebrations, and that you have a lovely Easter holiday with your family.