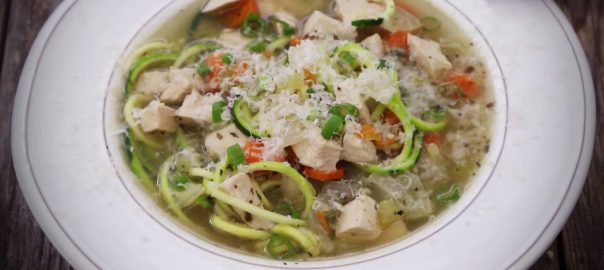 Tips for Easy & Delicious Low Carb Soups
Low Carb Soup – Tips & Ideas
Soups come in such a wide array of styles and flavours, it's easy to find a great recipe to suit any occasion. Some are light and fresh, others are thick and hearty, and many more that fall somewhere in between. Preparing great soups can be as easy or complicated as you want it to be, with some recipes requiring incredible attention to detail, and others that need nothing more than some time to simmer. Regardless of how you like your soup, one thing is for sure; soup is a perfect part of the low carb diet. Many soups use simple ingredients, vegetables, meats, broths, and more, in combinations that make them taste completely different from other recipes. It's easy to make delicious soups the low carb way, and these tips will help you save time and get creative in the kitchen. Now, let's get right to it!
It all starts with the broth.
Most soups start with a base broth, and then build from there. As the foundation of your soup, it's critical to have a great broth to make a great soup. As you may suspect, making a homemade broth from scratch will always give the best results, if you have the time to do it. There are several types of base broths that are the most common in soup recipes. These are vegetable, chicken, beef, turkey, and seafood broths. Most are fairly simple to prepare, and we've found a handy reference guide that you can use to craft all five types of base broths for your soups. This article from Brandi at SheKnows.com features 5 DIY Broths that make great foundations for a huge variety of different soups.
If time is of the essence and making a broth from scratch just isn't feasible, there are many broths and bouillon cubes available that you can use to speed things up and make your soup quickly and easily. These bouillon cubes from GoBio are a nice low-sodium option, and they make great vegetable or chicken broths fast.
Clear Soup or Thick soup?
Generally, most soups can be broken down in to two main categories based on their most obvious characteristic. Is the soup mostly clear, or is the soup thick and rich? Soups such as a consommé or minestrone fall on the clear side of the spectrum, while soups like a bisque or chowder are thick and hearty soups.
Interestingly, you'll find soups all over the spectrum that use similar additional ingredients like chicken or carrots regardless of whether they are a clear or thick soup. Soups are very flexible in that way, since you can create a wide variety of them that all focus on one main ingredient. It's nice to have so many different ways to use a particular main ingredient, as it helps to keep your soup selection from getting boring.
Focus on the Veggies, or choose a Variety
There are differing opinions on whether it's best to focus on only one or two supporting vegetables in your soup, or if it's ok to go a little crazy and throw in a wider variety. Ultimately, there are two things you need to decide when it comes to veggies. First, do you want your soup to accentuate a couple of specific flavours, or do you want many different flavours all mixing together? If you want to keep the focus, then perhaps choose only one or two vegetables to minimize the overlap of tastes. Second, what is your personal preference for vegetables? For example, if a recipe calls for asparagus, but you've never really enjoyed the taste of it, don't feel locked in. You can easily substitute a vegetable that you prefer in place of any that you may not want to use. The choice is yours and adding a bit of personal flair to your soup can make it truly special.
When it Comes to Spices & Seasoning, Choose Wisely
Unlike vegetables, which are more of a freestyle option, choosing spices and seasonings should be done cautiously and with moderation. It may be tempting to try out some unusual spices in your soup, but if you use too much too fast, you can end up with a Frankenstein soup that isn't what you had envisioned. Remember this simple rule of thumb; you can always add more spice later, but you can never take it out once it's in there.
Inspiring New Recipes for Low Carb Soups
Now that we've talked about some essential tips for making your own delicious soups, we thought we would share some amazing recipes for healthy and nutritious soups for you to try. Check these out!
Starting this list off right is this amazing, hearty soup that will warm you up from head to toe. The spiciness of the jalapenos is a nice aspect for those of us who enjoy a little extra heat in our hot soups, and the creamy, cheesy texture of this soup complements the crisp bacon perfectly.
Crock Pot Andouille Sausage Cabbage Soup
We love our crock pots, and this recipe will definitely get you digging through your cupboards to find your slow cooker and get it warmed up. This soup is definitely fantastic during the chilly winter months, and makes for a deliciously easy meal at the end of a long, tiring day.
Spicy Sriracha Lime Chicken Zoodle Soup
Now here's something different! This unusual creation features spiraled zucchini as a fun twist to replace traditional noodles. The broth is savoury, the spicy chili taste of the sriracha gives it a kick, and the lime wedges add a nice citrusy flair to the whole thing. If you're looking for a soup recipe that is sure to get people talking, then this is definitely the one!
Conclusion
Well, we expect that you're probably ready to run to the kitchen and dig out your stock pot to start cooking up a big batch of low carb soup with these tips! We certainly hope that you've found this article helpful and interesting. Making delicious and healthy soups can be fun and are a great way to add some variety to your weekly meal plan. Give those recipes a try, and don't be afraid to customize them to suit your tastes. We're sure that before long, you'll be a true soup connoisseur. Happy souping!