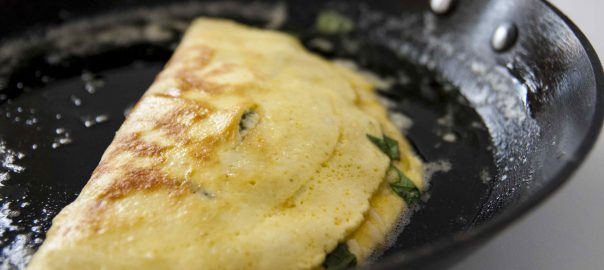 5 New & Unusual Omelette Recipes
5 New and Unusual Omelette Recipes to Try
Eggs are an amazingly versatile food, and can be prepared in what seems to be a thousand different ways. One of the most popular ways to use eggs is to craft a delicious and healthy omelette. In this article, we've gathered a selection of the most unusual and delicious omelette recipes that we can find that are sure to add some flair and variety to your weekly meal plans.
Omelettes have many advantages as part of the low carb diet. The most basic omelette uses just a handful of ingredients, such as eggs, milk, cheese, and vegetables, all of which are low in carbs. In addition, omelettes are one of the easiest foods to customize, since you can essentially leave out or swap in any ingredient that you choose, except for the eggs of course, and you still end up with a healthy and delicious dish that makes a great meal at any time of day.
There are hundreds of different takes on how to prepare omelettes, from the simple and classic Western to the most complex creations you can think of. However, these particular omelette recipes were selected for a couple of reasons. First, they feature a wide range of healthy and low carb ingredients. Second, they are simple to prepare, and don't take a lot of time to get them on the table. So, with that said, let's start exploring this list of 5 exciting omelette recipes you can try!
Chicken Omelette with Sautéed Mushrooms
Even though the most common meat to include in an omelette is some sort of ham or bacon, that doesn't mean that there aren't other proteins you can include to change things up. This amazing recipe uses savoury sautéed chicken and mushrooms, and a handful of other fresh ingredients as the filling for the omelette, and the results are simply scrumptious! This recipe is quite easy to prepare, and is very low in carbs. This would make a fantastic lunch or dinner option that the whole family would devour.
Heading across to the Mediterranean for some inspiration for this recipe, and the results are simply delicious! This omelette uses a variety of traditional Greek flavours including olives, feta cheese, and tzatziki, just to name a few. The ingredient list is long, but the end result is totally worth the effort. This is an omelette with a taste that is robust, and yet still fresh and light. Although the recipe calls this a 'dinner' omelette, we'd wager that it would work perfect for a fancy lunch, too. It's important to be careful with the amount quinoa in this recipe, since too much can easily add to the carb count. It's not really essential to the flavour of the recipe, so don't be afraid to simply leave it out to bring the carbs down.
Pesto & Roasted Tomato Omelette
This omelette recipe incorporates some Italian elements to make a breakfast that you will want to serve over and over again. From just a few simple ingredients, the end result is an omelette unlike any you've ever had. The pesto and roasted tomatoes complement each other perfectly, and the light and fluffy eggs complete the whole experience. This recipe can easily be customized to use whatever your favourite pesto may be, like this Sweet Basil Pesto mix from Simply Organic. And if tomatoes aren't your preference, those can easily be changed out for roasted red peppers in a pinch. Either way, the results are definitely delicious!
Breakfast Egg White Spinach Enchilada Omelette
Now it's time to head to the Southwest for this breakfast omelette, but you don't worry about carbs from tortillas this time. In this unique spin, the chef uses egg whites to create a zero-carb enchilada wrap that gets loaded with spinach, cheese, avocado, and topped with enchilada sauce. For added convenience, try this Enchilada Sauce from Frontera. The final product is a hearty, comforting breakfast that is extremely low in carbs, and perfect for a big family breakfast. For those of us who like things a bit spicier, try working in a little chipotle pepper for an added zing, without risking the recipe getting too flaming hot.
Don't put that waffle iron away, yet! You'll need it for this fun omelette recipe. While the ingredients might all be the traditional omelette fare, the preparation method is what gives this recipe it's place on this list. Making omelettes in your waffle maker will definitely get the whole family smiling in the morning. And since it's so fast and easy to prepare and cook using this method, you'll have full tummies in almost no time. Give it a shot, and don't be afraid to customize the ingredients to whatever you'd like to include in your omelettes. We're sure you'll be sold on this technique!
Conclusion
Not only are these recipes inspirational for a great low carb breakfast, but we're sure that you're now considering working omelettes in to your meal plan for lunch and dinners, too! Omelettes provide a lot of benefits as part of a low carb meal plan, including plenty of protein and nutrients, ease of preparation, and so many different flavour combinations that you'll definitely never get bored of them. We hope that you've enjoyed reading about these recipes, and that your next omelette creation is just as fantastic as these.