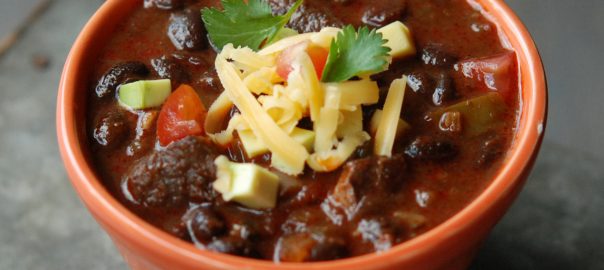 3 Low Carb Beef & Pork Chili Recipes
3 Ultimate Chili Recipes
We're going to let you in on a huge chili secret: the best chili has absolutely nothing to do with carbs. There, we said it! You can check all the carbs at the door when you make chili, because you won't need them, and here's why. When is the last time you heard someone raving about how great the beans were in a chili recipe? Or how amazingly sweet the sauce was? We'd be willing to be the answer is never. Beans don't make the chili, and neither does sugar. It's all about the spices, seasonings, vegetables and of course, the meat.
This is why chili is such a fantastic option for low carb dieters. You can make tons of different amazing chili types that have almost no carbs in them, and that's why you're reading this article. We've gathered together three of the best low carb chili recipes we've found and want to share them with you. This list has recipes for beef chili, chicken chili, and pork chili, that are easy to make and taste absolutely wonderful. So, without further delay, let's get right to it!
Ultimate Chipotle Beef Chili
This recipe is a simple modification of a classic no-bean beef chili recipe to bring the carb counts down and adds in some smoky Chipotle flavour to distinguish it from a typical beef chili. It's colouful and hearty, with lots of vegetables and just the right amount of heat. We're sure you'll love it! Here's what you'll need:
1lb ground beef
1 large onion, diced
3 large bell peppers, chopped – one each of green, yellow, red
1 can of crushed tomatoes
1 can of diced tomatoes
2 garlic cloves, crushed
½ cup sugar-free ketchup
1 ½ tbsp chili powder
1 tbsp sea salt
½ tbsp cumin
½ tbsp paprika
½ tbsp onion powder
½ tbsp garlic powder
1 tsp Chipotle chili powder
1 tsp red pepper flakes
½ tsp black pepper
½ tsp dried basil
½ tsp dried oregano
The recipe to prepare is quite simple, and only involves a few steps:
1 – Brown the ground beef, adding the diced onions to soften for the last 5 minutes of cooking
2 – Add all ingredients to your slow cooker / crock pot, and mix thoroughly.
3 – Set timer to high heat for 4-6 hours, stirring occasionally.
4 – Serve topped with some shredded cheddar cheese, a scoop of sour cream, and a scoop of guacamole.
Some additional tips for this recipe:
If you like your chili to be thicker, swap out the can of diced tomatoes for a second can of crushed tomatoes to help thicken it up even more.
If you find the heat from the Chipotle pepper to be a bit too much, or perhaps not enough, you can easily adjust the amount to your taste. Or, if you prefer a different flavour of chili, you can replace it with one of your preference.
This recipe uses a trio of bell peppers to add colour, but if you want to choose a different variety of vegetables, you can easily do so. Some people use zucchini or carrots in their chili to boost the amount of veggies and add a different taste and texture. It's up to you!
This recipe is one we found while searching for a chicken chili that also qualified as keto-friendly. While many chicken chili recipes out there call for ground chicken to be used, we tend to prefer how shredded chicken tastes, and how it gives a different kind of texture and appearance to the chili. This recipe can be ready in as few as 30 minutes, making it a quick and easy dinner you can prepare on a cold winter weeknight, and it will definitely warm up the whole family! Alternatively, this recipe can be done in a slow cooker, too. Give both methods a try and find out which one you prefer.
Creamy Spicy Pulled Pork Keto Chili
You don't normally think of the word 'creamy' to describe chili, but this recipe is definitely going to change that! Much like the shredded chicken recipe above, we love how pulled pork adds a different feel to the chili when compared to ground meats. This recipe takes things a step further by using coconut milk to give it a creaminess that definitely sets it apart from other kinds of chili. In addition, this particular recipe doesn't use veggies, so you can easily pile it on a low carb bun or wrap it up in a low carb tortilla if you prefer. Of course, if you want to add veggies in to round it out, you can easily do so with the vegetables of your choice.
Conclusion
Well, now that we all have huge cravings for chili, it's time to adjourn this article. As you can see, chili is a great fit for the low carb lifestyle, and we're sure you'll find that even these three amazing recipes are just the tip of the iceberg. For a fast and easy way to kickstart your own chili creation, or to simplify the seasoning process, try this tasty Chili Sauce Mix from Frontera as a great way to save time.  We love to play around with chili recipes to find new flavours and twists to try, and you will, too. Chili is a fun kind of food to play with, and we always look forward to discovering the latest and greatest combinations!