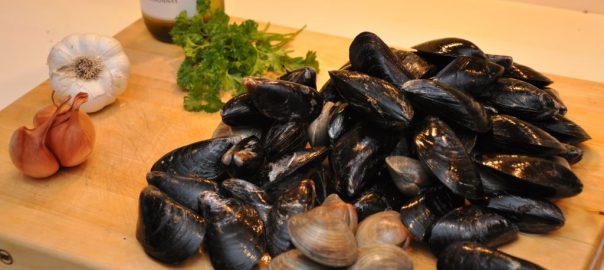 Low Carb Cooking with Clams & Mussels
Break Out of Your Shell with these Tips for Low Carb Cooking with Clams and Mussels
This article is for all the seafood lovers out there who want to add some variety in to their low carb lifestyle. We are big fans of all kinds of seafood, including clams and mussels. That's why we've put together this collection of cooking tips and amazing recipes to share with you, so you can make delicious low carb meals featuring clams and mussels right at home.
What are clams and mussels?
Seafood comes in many varieties, but they all fall in to one of three main categories: fish, crustacean, or mollusk. The fish category is pretty self-explanatory, while the crustacean category covers seafood such as crabs, lobster, prawns, shrimp, crawfish. The mollusk category is where you'll find an interesting array of seafood, such as octopus, squid, snails, oysters, and the topic of this article, clams and mussels.
Clams and mussels are part of the group of mollusks known as bivalves. Bivalves are simple to describe, as they consist of a shell, which is usually hinged and can open and close, and the soft inner body.
Clams and mussels are a popular part of seafood cuisine in many parts of the world and are used to prepare a very diverse range of dishes, including soups and pasta, as well as simply being delicious on their own.
How do you cook clams and mussels?
While there are dozens of different ways to prepare clams and mussels, the simplest method is to steam them. This brings out the natural flavours of the clams and mussels and allows you to lightly season them to your preference. Here is an easy method for steaming clams and mussels that you can use to prepare them at home.
Recipe for Basic Steamed Clams or Mussels
In general, steamed clams or mussels can be ready in about 20 to 25 minutes. One thing in particular to look for when you are cooking with clams or mussels is whether or not the shells open when they are cooked. This is a sign of freshness, and any clams or mussels that do not open while cooking should not be eaten and need to be discarded.
Steaming clams and mussels is a fast and easy way to prepare a tasty meal, but there are so many other ways to cook with these delicious ingredients, we just had to pull together a few of our favourite recipes for you to try.
Fantastic Low Carb Recipes for Clams and Mussels
Slow Cooker Low Carb Clam Chowder with Bacon
One of the most famous ways to prepare clams is in a hearty chowder. These delicious soups are rich in flavours and definitely qualify as comfort food, especially for anyone who grew up on the east coast. This recipe makes clam chowder even easier by using the slow cooker and accentuates the flavour with the wonderful saltiness of bacon. A bowl of this will most certainly warm the heart of anyone at your kitchen table.
Keto Steamed Clams with Basil Garlic Butter
Ok, even though we already covered the basics of making steamed clams, this recipe takes things up a notch by making sure everything is keto-friendly and features a decadent basil garlic butter that will have your mouth watering. It's also gluten-free, so it's a perfect fit for a wide range of dietary needs and is ready in just 25 minutes.
Mussels in White Wine and Cream
This light and fresh dish combines the wonderful flavours of white wine with the richness of cream, which perfectly pairs with the taste of mussels. This recipe is amazingly simple, and very quick to prepare. If you're new to mussels, this is the perfect dish to get you to fall in love with them.
Ok, we're getting serious now! This recipe is perfect for seafood lovers who also want things to be a little spicy. In just 20 minutes, you can have a beautiful meal of fresh mussels in a zesty chilli sauce that will make your taste buds stand up and shout. You won't be disappointed if you give this one a shot the next time you're craving seafood.
Try Something New on your Next Low Carb Meal Plan
If your family is starting to get a bit bored with your recent meal plans, switch things up next week and serve up some fresh clams or mussels and discover a wider world of delicious seafood. We're sure that once you try some of these creations, you'll be a fan of mussels and clams and how wonderfully they work as part of the low carb lifestyle.