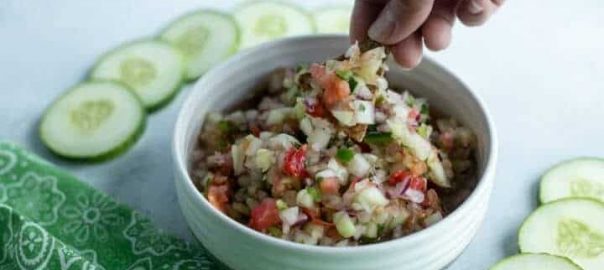 Great Low Carb Dips & Salsas
Delectable Dips & Spectacular Salsas – Low Carb Style
There are very few things that can define a gathering, dinner party or a fun night in front of the TV more than a delicious dip or salsa. It helps keep the conversation flowing and tends to become the place where people congregate.
Dips and salsas look complicated to make but they are actually quite simple. Some recipes only involve a few fresh ingredients and you don't need to cook anything. Best of all, there are a ton of low carb options that don't sacrifice quality, taste or creativity.
What are we waiting for? Let's get started by looking at what makes dips and salsas so universally beloved. Then we'll introduce you to low carb recipes that you'll love and will have your friends and family salivating for more.
What Should You Dip With?
Before we get into the recipes, you need to pick the right vessel to soak up all that delicious dip or salsa. People use low carb chips, crackers or pita bread, but you need to pair these recipes with something that won't undermine the carb intake.
Whatever option you go with, make sure it's either plain—so it won't overpower or mask the flavour—or a complementary flavour like a lime chili tortilla chip to go with an authentic Mexican salsa verde.
Here are some low carb brands that go with the recipes provided below:
Whatever you choose, keep it low carb and make sure you enjoy its taste.
Salsa Recipes
With your favourite chip or pita in hand, it's time to learn about some amazing salsa recipes.
Traditional Salsa
Everyone should have a traditional low carb salsa recipe in their repertoire. It's perfect to whip up as a snack or when guests unexpectedly show up at your doorstep. Also, making a big batch is much cheaper than buying a container of one of the most popular brands.
You only need five ingredients to make this salsa:
8 tomatoes
2-3 chili peppers (choose which kind based on your heat preference)
4 garlic cloves
1 tbsp of salt
2 limes
To make your salsa, start by roasting your tomatoes, chili pepper and garlic on high heat for 5-8 minutes in either a pan or on a grill. You can also broil for 8-10 minutes. You know it's done when the skin of the tomatoes blister and brown (don't burn them!).
Next, cool the vegetables for 5 minutes.
Toss it all in a blender with salt and the freshly squeezed lime juice. Pulse 5-6 times and enjoy once it's reached the consistency that you like.
Cucumber Salsa
This cucumber salsa is refreshing and a nice departure from the usual tomato based recipes. One bite will make you wonder why cucumbers aren't the number one choice for salsa.
Gather these ingredients to get started:
2 medium cucumbers (peeled, seeded and chopped)
2 medium tomatoes (see they aren't totally forgotten)
4 medium jalapeno peppers (seeded and chopped—remember seeds contain the heat)
½ medium onion
1 garlic clove
2 tbsp of lime juice
2 tsp each of fresh parsley and cilantro (both finely chopped)
In only 10 minutes you can have 4 ½ cups of delicious salsa by combining all the ingredients in a large bowl and mixing with a spoon.
Dip Recipes
If salsas aren't your thing or you need to switch it up after eating it every day for a week, then try one of these low carb dips. Each recipe offers a savoury alternative to a fresh salsa.
Cold Crab with Cream Cheese
Crab and cream cheese are staples of classic dip recipes. This one combines the two flavours to give people something salty, creamy and wholeheartedly satisfying. If you're not comfortable working with seafood, don't worry because cold crab is super easy. And the secret to that unique crab flavour is old bay seasoning.
Place 4 oz of cream cheese (already softened), 3 tbsp of sour cream, 1 tsp of lemon juice and old bay season (use your judgement) in a blender. Add 8 oz of lump crab meat (drain as much moisture as possible) and 2 tbsp of chives with a rubber spatula. Mix but careful not to overdo it. You don't want to lose the lumpiness of the crab, which can make every bite that much better.
Lastly, cover in plastic wrap and chill until it's time to serve.
Creamy Bacon Horseradish Dip
Bacon and horseradish is a duo that belong together more than peanut butter and jelly.
This recipe requires some unique ingredients but it is still simple to make.
Crisp 4 slices of bacon in a pan for roughly 6 minutes and then chop into smaller pieces. Mince 1 tbsp of green onions and then blend 1 tbsp of prepared horseradish (while tempting don't grate your own), 1 tsp of Swerve sweetener, ¼ tsp of Worcestershire sauce, ¼ tsp of dried dill weed, ¼ granulated garlic, 1/8 tsp of cayenne pepper and a pinch of salt.
This dip is best after being refrigerated overnight, so plan ahead!

Some Out of the Box Recipes
If you want to really wow your guests, then give one of these recipes a shot. Both pair well with roasted pita bread or vegetables or as part of your favourite Mexican dish.
Mango Habanero Summer Salsa
A habanero pepper is the hottest variety of small chili peppers available. It pairs well with a fruit like mango as their contrasting flavours play nicely off one another. If you want something more acidic, you can replace mango in this recipe with pineapple.
To make this summer salsa, you need:
1 cup each of diced mango and red onion
½ cup of fresh cilantro
1 habanero pepper
1 lime
Salt and pepper
Combine all the ingredients in a bowl and give them a good stir. Add salt and pepper to taste but we recommend going a bit heavy on the salt. Chill for a few hours or overnight.
A good tip is that whenever you're working with chili or hot peppers, use a glove or wash your hands thoroughly after preparation – and be very careful touching yourself before thoroughly washing your hands, especially around your eyes.
Green Goddess Dip
Green Goddess is something of a well-kept secret among foodies. It's a salad dressing that contains a form of mayo, garlic, anchovy paste and is given a striking green colour with either parsley or green onions.
Here are the ingredients you need to make this amazing drip:
½ cup of parsley
2 cloves of garlic
2 tsp of anchovy paste
¼ cup each of chives and basil
1 tbsp of tarragon
2 tbsp of cream cheese
2 tbsp of lemon juice
½ cup of mayo
½ cup of sour cream
In a food processor, pulse all the herbs with the garlic until they're thoroughly minced. Add the remaining ingredients and incorporate into the herb mixture.
This dip pairs perfectly with asparagus. While it's chilling in the fridge, steam the asparagus in boiling water for a few minutes, ensuring they are cooked but not soggy.

Shop Our Low Carb Foods Today!
Enjoy these low carb dips and salsas. We promise they can make your next gathering or dinner party a huge hit!
Be sure to browse our low carb food store and discover amazing low carb products and ingredients that will have you excited about your next meal!