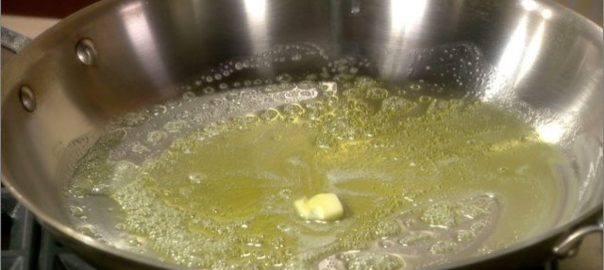 Saute Cooking – The Low Carb Way
Super Sautés – The Ultimate Guide to Low Carb Sautés
Sautéing is a common cooking technique. By understanding how to properly sauté, you can enjoy proteins and vegetables and make delicious meals that don't rely on carbs. Additionally, recognizing which sauces can elevate your meal without impacting its nutrition can go a long way toward achieving your health and weight loss goals.
Let's start by reviewing the basics of sautéing and introduce you to some delicious low carb sauces that you can use in a variety of meals. Furthermore, we'll offer some tips on how to execute this method and share some delectable recipes.
What is Sautéing?
Sautéing involves quickly frying food in a pan with a little bit of fat (typically oil or butter) on high heat. It's a proven way to cook everything from a filet mignon to a chicken breast or even broccoli rabe. The term is derived from the French word "sauter", which means "to jump", referring to how some ingredients seemingly jump in the pan while cooking.
Because only a little bit of fat is used, sautéing is a relatively healthy technique. If you do it right, it browns proteins and helps them quickly reach the right temperature without overcooking. You can achieve meats and vegetables that are both crispy and tender.
Some of the best low carb foods to sauté are:
Beef tenderloin
Asparagus
Fish fillets
Chicken breasts
Mushrooms
Bell peppers
Look for meats that aren't too dense like pork shoulder and vegetables that aren't too tough. These can still be sautéed but they will take longer and are easy to overcook. Remember that certain vegetables might have to be blanched before hitting the sauté pan.
Cooking Tips
Follow these tips to improve your skills and to get closer to becoming a sauté master:
Use the right skillet or sauté pan. You want something with a spacious surface area and thick bottom that can evenly distribute heat. It's recommended to invest in a set that is non-stick and stainless steel.
Cut all your ingredients into the same shape and size to ensure that everything cooks at the same rate.
It's usually a good idea to heat the pan over medium-high heat before cooking. This can take a few minutes but is worth the wait.
Don't overcrowd the pan or skillet. You want to cook everything in a single layer with roughly a half-inch between them. If you overcrowd, food will steam instead of brown.
Be sure to practice this technique to refine your skills and to create meals that are simple, easy to make and delicious.
Sauces for Sautéing
If a recipe calls for a sauce, make sure you choose the right one. Here are a few low carb options that are delicious when paired with the right ingredients.
Hoisin Sauce is like a Korean barbecue sauce. It's a nice way to elevate Asian dishes and can add a punch of umami to vegetarian meals.
You can use this Alfredo Sauce to sauté chicken and/or vegetables to then add to low carb pasta. It adds richness and a creamy texture.
Mr. Spice Ginger Stir Fry Sauce is a gourmet sauce that turns generic stir-fry recipes into something hearty and delicious. If ginger isn't your thing, Mr. Spice offers a variety of flavours including Indian curry, honey mustard and Thai peanut.
Making a memorable stir-fry teriyaki is easy with the right sauce. Seal Sama's Sugar-Free Teriyaki Sauce is thick, flavourful and great for low carb dieters and diabetics. A perfect accent for when you sauté chicken with either broccoli, kale or asparagus.
Recipes Featuring Sautéing
Enjoy these low carb recipes that use sautéing as its main cooking method. Please note that some adjustments have been made to ensure each recipe is as low in carbs as possible.
Sautéing gives you a ton of opportunities to make healthy substitutions like using daikon radishes instead of carrots or scallions instead of onions. We recommend adjusting the ingredients or the measurements to fit your dietary needs.
Steak Stir-fry
Every meal plan should include a hearty steak stir-fry. It's great to create a big batch on Sunday or Monday so you can enjoy the leftovers all week.
To make, you will need 1 lb. of sirloin steak cubed, 1 tbsp. of olive oil, 2 cups of broccoli florets, two bell peppers cut into strips, ¼ cup of low carb soy sauce, ¼ cup of vinegar, ¼ cup of honey substitute, 1 tsp. of garlic minced, 1 tsp. of ginger minced and 1 tsp. of chili paste.
Heat your sauté pan over high heat and add the oil. Once the oil is hot, toss in the steak and cook for 3 minutes, stirring every so often. Next, add the vegetables and let everything cook for 5 minutes. Make sure you keep everything stirring.
Make the sauce by combining the soy sauce, vinegar, honey substitute, garlic, ginger and chili paste in a bowl. Pour into the pan and cook for another 3 minutes, ensuring that everything gets coated.
Garlic Ginger Vegetable Stir-Fry
This tasty veggie stir fry dish pops with strong notes of garlic and ginger and lets you use your favourite low carb vegetables.
Gather these ingredients: 1 tbsp. of sesame oil, 1 cup of broccoli chopped, ½ of a green pepper chopped, ½ of a red pepper chopped, a bunch of asparagus, two garlic cloves minced, 1 tbsp. of ginger and 1/8 cup of low-sodium soy sauce or low carb hoisin sauce.
Making this dish is super simple. Add the oil to a skillet and heat on medium-high. Next, add the vegetables, garlic and ginger and stir vigorously. They should take 4-5 minutes to soften. Pour in the sauce and stir so that everything mixes. Let it cool before serving.
Lemon Fish
This fish dish is low carb and features a golden crust and a bold lemon flavour.
This recipe requires the following ingredients: 7 oz. of fresh gurnard fish fillets, 3 tbsp. of butter, 1 tbsp. of lemon juice, ¼ cup of fine almond flour, 1 tsp. of dried dill, 1 tsp. of dried chives, 1 tsp. of onion powder, ½ tsp. of garlic powder and salt and pepper.
Mix the almond flour, dill, chives, onion powder, garlic powder and salt and pepper on a large plate and then spread it out so that it's a thin layer.
One at a time, add a fillet to the flour mix and coat both sides. Once a fillet is coated, place it on a different plate. Next, take a large pan and melt half the butter with the lemon juice over medium-high heat. Temperature is key for this stage as you need the pan hot enough to crust the flour onto the fish without burning it. Additionally, if the pan is too hot, the lemon juice could turn bitter.
Let the fillets cook for 2-3 minutes, shaking the pan every so often so the lemon butter makes contact with the fish. You don't want the pan to dry out so add more lemon juice or a little more butter as needed but careful not to go overboard.
Flip the fish and cook for another 3 minutes. You should notice that the coating has browned and the fish is starting to cook through. Use a fork to see if the fish is done cooking. You want to remove it from the pan before it is completely done as it will continue to cook away from the heat, and leaving it in the pan can result in overcooking.
Pair with a side of steamed broccoli or kale and enjoy!
Get Cooking Today!
Before you can start sautéing, you need to find the right ingredients. Shop our store to find some of the best low carb products that will help you lose weight, improve your health and feel more energetic.