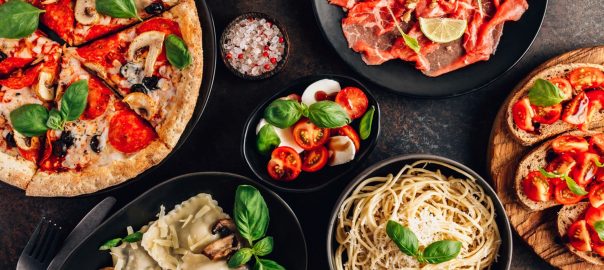 New Delicious Low Carb Italian Recipes
Low Carb and Keto Italian Food Recipes
Carbs don't have to be synonymous with Italian food – try these low carb and keto Italian recipes that can be enjoyed regardless of your reduced carb diet!
Low carb Italian food – it sounds paradoxical, but it is possible! When we think of Italian food, we generally think of carbs – pizza, pasta, you name it. However, there are actually several traditional Italian dishes that are low in carbohydrates, and many other recipes that can easily be modified with a few low carb substitutions.
In this article, we will take you through each course in a traditional Italian meal – from aperitivo to dolce – with recipes that are easy to prepare and suitable for low carb, ketogenic, gluten-free, Paleo, and diabetic diets. While a full course Italian meal may not be so practical for busy North American lifestyles, we can still draw inspiration from any of these courses to prepare a simple and delicious one-course meal or snack. Plus, we could all learn a thing or two from the Italian way of eating; to slow down and enjoy a meal in the company of friends and family is good for the body, mind, and soul! Buon appetito!
Disclaimer: The information in this article is not intended to replace personalized medical advice. A low carb diet may not be suitable for you. Consult your health care provider before making any changes to your lifestyle or use this information at your own risk.
Aperitivo
In Italian culture, aperitivo begins the meal and is an opportunity to open your appetite. As the Italians say, l'appetito vien magiando – the appetite comes while you are eating!
Aperitivo often consists of carbonated, low alcohol beverages and small dishes of olives, nuts, and cheeses that can be nibbled on between courses. Check out our selection of low carb cold drinks and cocktail mixers to sip on while the rest of your food is being prepared.
The lowest carb nuts include almonds, pecans, macadamia nuts, hazelnuts, and walnuts, while pistachios and cashews are higher in carbohydrates. Plus, read our article about the best cheeses for a low carb diet to choose the lowest carb cheeses to serve during this course.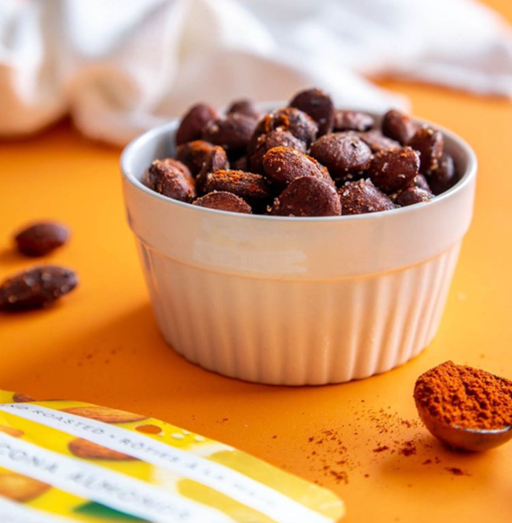 Pictured: Handfuel Dry Roasted Lemon Marcona Almonds (note: actual product does not contain added spices shown)
Antipasti
Antipasti, meaning "before food", typically consists of a spread of meats, cheeses, olives and anchovies, similar to a charcuterie board. Once again, all of the traditional ingredients in this course are suitable for low carb diets, so no modifications are required. Anchovies, especially, are great for low carb diets because they are loaded with healthy fats including omega-3 fatty acids. You could also serve smoked salmon or flaked tuna if anchovies aren't your favourite.
When choosing deli meats for your antipasti spread, be sure to check the ingredients to avoid anything with added sugars that can rack up your carb count. Traditional antipasti meat selections include salami, mortadella, and prosciutto, which are all low in carbohydrates and high in fat and protein.
Primi
Primi is the first entrée course in an Italian meal, consisting of hot foods that are the quickest to prepare such as pasta, soup, and pizza. Meat isn't usually served in this course, although sometimes seafood or other luxurious ingredients such as truffle mushrooms are added to make these dishes a little heartier.
While pasta may not be low carb or keto-friendly, there are tons of low carb pasta alternatives out there, so all you have to do is make a simple substitution and otherwise follow traditional recipes.
Here are some of our favourite low carb and keto-friendly pasta, soup and pizza recipes:
Similar to a lasagna, this recipe features layers of crispy baked eggplant between tangy marinara sauce and stretchy mozzarella cheese – yum! Traditionally, the eggplant is coated in breadcrumbs. Instead, you can use these low-carb high-fat Nut Crumbs (the Italian flavour is perfect for this recipe!), or a blend of almond flour, coconut flour and crushed pork rinds, as this recipe suggests.
If you plan to enjoy just a one-course Italian meal, you can add cooked ground beef, turkey or pork between the layers to make this dish more filling.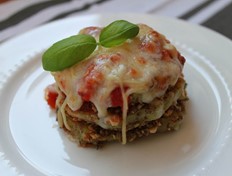 Pictured: Italian Nut Crumbs Encrusted Eggplant Parmagiana
Low Carb Minestrone Soup
A classic Italian vegetable soup, minestrone is a delicious way to get more fibre and nutrients in your diet. Traditional minestrone soup might feature some high carb ingredients such as beans, root vegetables, or pasta shells, but these can easily be omitted or substituted to lower the carbohydrate content. To make this dish more keto-friendly, serve with a generous helping of grated parmesan cheese over top!
Here are the ingredients you'll need to make low carb Minestrone Soup:
2 tablespoons olive oil
1 large onion, diced
4-5 gloves of garlic, minced
3-4 stalks of celery, diced
2 carrots, diced (optional, omit to reduce the carb count)
1 head of kale, de-stemmed and chopped
2x 796ml cans of diced tomatoes
2 tablespoons of tomato paste
2-3 medium zucchinis, diced
1 bell pepper, diced
4 cups of broth (vegetable, chicken, beef or bone broth works)
2 tablespoons Italian seasoning
Salt and pepper to taste
Parmesan cheese, grated (for serving)
Follow these steps to make the soup:
Add the olive oil to a large pot and turn the heat to medium-high.
Add the onion, garlic, celery, and carrots (if using) to the pan and sauté for a few minutes until the onions are translucent.
Add the broth, canned tomatoes, and tomato paste to the pot and stir everything together.
Add the kale next, as it takes a while to become tender. Cover and simmer over low heat for about 20 minutes.
Add the remaining veggies and the seasonings last and let the soup simmer for an additional 10-15 minutes.
Serve with grated Parmesan cheese and enjoy!
This recipe makes several servings, so you can enjoy this soup as a quick lunch or dinner for days to follow. For an easy single-course meal, add cooked pieces of beef, chicken, or pork to make a heartier soup.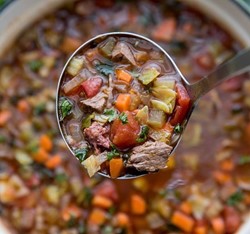 Pictured: Vegetable and Beef Soup made with Bone Brewhouse Bone Broth
Low Carb & Keto Pizza
Pizza and flatbread are also typically served during the primi course, and with the right low carb crust, even low carb dieters can enjoy these classic Italian foods. Browse our selection of low carb pizza crusts, flatbreads, ready-to-heat pizzas with toppings included, and low carb pizza crust mixes that allow you to make fresh pizza dough at home. Don't forget to grab a jar of Rao's famous Pizza Sauce, too!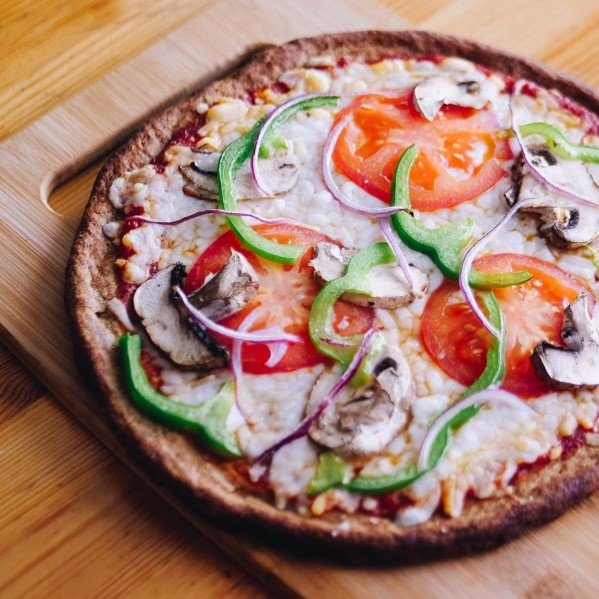 Pictured: Unbun Uncrust (toppings not included)
Secondi
This next course is typically when cooked meat dishes are served since, they take a bit longer to prepare. There is a wide range of traditional secondi dishes featuring chicken, beef, veal, pork, lamb, turkey and seafood – the possibilities are pretty much endless!
Here are a few of our favourite recipes that you can use for flavour inspiration, but feel free to substitute any kind of meat or meat alternative that you like.
Mushroom Sausage Ragu
This simple secondi dish is both hearty and wholesome! Mushrooms are one of the lowest carb vegetables and they are packed with prebiotic fibre, vitamin D, and other nutrients. When shopping for Italian sausages, look for ones without any added sugars, sodium, nitrates, or other artificial preservatives.
For 1 serving of Mushroom Sausage Ragu, you'll need the following ingredients:
1 cup mushrooms, sliced (cremini, shiitake and portobello are all good options)
2 Italian sausages
1-2 garlic cloves, minced
½ shallot, diced
2 tablespoons tomato paste
1 tablespoon olive oil or butter
Fresh basil or parsley, chopped (for serving)
To make your Mushroom Sausage Ragu, follow these steps:
Add olive oil or butter to a large skillet over medium heat.
Add the garlic, shallot, mushrooms, sausages, and tomato paste to the skillet, stirring frequently until the sausages are cooked through and the mushrooms are tender. If necessary, add a few splashes of water to the pan to loosen the sauce.
Season with salt and pepper to taste and finish with chopped fresh basil or parsley!
You can serve this Mushroom Sausage Ragu over mashed cauliflower, or another low carb potato substitute. It's also perfectly delectable on its own!
Grilled Fish with Vegetable Caponata
A caponata is a popular Sicilian dish similar to a relish that complements grilled fish perfectly in this dish. Made from diced summer vegetables cooked in tomatoes, red or white wine vinegar, and spices, caponata reflects the bold and vibrant flavours of this southern Italian island!
To make your caponata, dice about 4 cups of low carb vegetables such as eggplant, celery, bell peppers, onions, artichoke hearts, olives, zucchini, or yellow summer squash.
Add the vegetables to a large skillet heated over medium with some extra virgin olive oil, stirring frequently. Once the veggies are almost tender, add ½ a can of diced tomatoes (350mL), ¼ cup of vinegar, and salt and pepper to taste. Turn the heat down a simmer for another 7-10 minutes, until the veggies are completely tender. Finish with crushed red pepper flakes, toasted pine nuts, and fresh basil or parsley.
Serve your vegetable caponata alongside grilled fish of your choice to complete this dish. Cod, halibut, snapper, and sea bass are all common Mediterranean fish, but you can use any type of wild-caught fish that you prefer for this recipe.
One-Pan Chicken Arrabbiata
Transport your tastebuds to the heart of Italy with this Chicken Arrabbiata! Arrabbiata – meaning "angry" in Italian – is a spicy tomato-based sauce traditionally made with olive oil, garlic, and red chili peppers that originates from Rome, Italy.
This one-pan recipe is super simple to make and doesn't require much effort, just a little bit of time to let all the flavours infuse. Here are the ingredients you'll need:
6 chicken legs or 4 thighs (whole)
1 large red onion, diced
6 garlic cloves, minced
1 tablespoon tomato paste
350ml (1/2 a large can) of diced tomatoes
1 bell pepper, diced
2 red chili peppers, sliced (or 1.5 tablespoons of crushed red chili flakes)
1 cup chicken broth
1 tablespoon olive oil
1 teaspoon of Italian seasoning
Salt and pepper to taste
Fresh basil or parsley, chopped (for serving)
Follow these steps to make your Chicken Arrabbiata:
Heat a large heavy-bottomed pan (make sure it has some depth) or a large stew pot over medium-high heat. Add 1 tablespoon of olive oil, onions, and garlic to the pan and stir frequently for 2-3 minutes until the onions are translucent.
Add your red chili peppers next, stirring for an additional 2-3 minutes.
Pour the stock, tomatoes, and tomato paste into the pan. Add salt, pepper, and Italian seasoning and let everything simmer for a few minutes. Meanwhile, prepare the chicken.
Add the chicken legs/thighs to the pan, making sure they are submerged in the liquid. Turn the heat down to low-medium, cover, and let everything simmer for 45 minutes.
Remove the lid and simmer for a final 15 minutes, until the chicken is tender.
Serve with fresh basil or parsley on top.
This recipe can also be made in a slow cooker if you have one. Simply add all of the ingredients (except for the basil and parsley) to your slow cooker and cook on high for 3 hours or on low for 4-5 hours. The slow cooker will yield more tender, fall-apart chicken that can be served over a low carb pasta substitute (penne is traditionally paired with arrabbiata sauce) or cauliflower mash.
Contorni/Insalata
A vegetable dish (contorni) or salad (insalata) usually bridges the gap between the main meal and dessert. This helps cleanse the palate and provides some extra fibre to help digest all of the delicious food from the previous courses!
For this course, you can make anything from sauteed greens in garlic and olive oil, to a Caprese Salad (Tomato and Mozzarella Salad) or a classic Caesar Salad. Browse our selection of salad dressings, featuring options that are zero calorie, low calorie, and low carb and keto-friendly.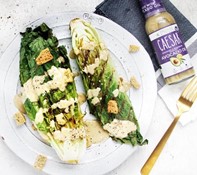 Pictured: Grilled Caesar Salad made with Primal Kitchen Caesar Dressing & Marinade
Dolce
Last, but definitely not least, the best way to round out your Italian feast is with something sweet! With a few substitutions, even low carb dieters can enjoy a decadent Italian dessert such as Keto Tiramisu, Sugar-Free Lemon Sorbetto, or Keto Biscotti. Don't forget to pour yourself a little caffe (coffee or espresso) or digestif as well – the perfect way to end a big meal and help with digestion!
Browse our inventory for ingredients you may need to make low carb and keto-friendly desserts including low carb flours, unsweetened cocoa powder, sugar substitutes, flavoured sugar-free syrups and sugar-free chocolate!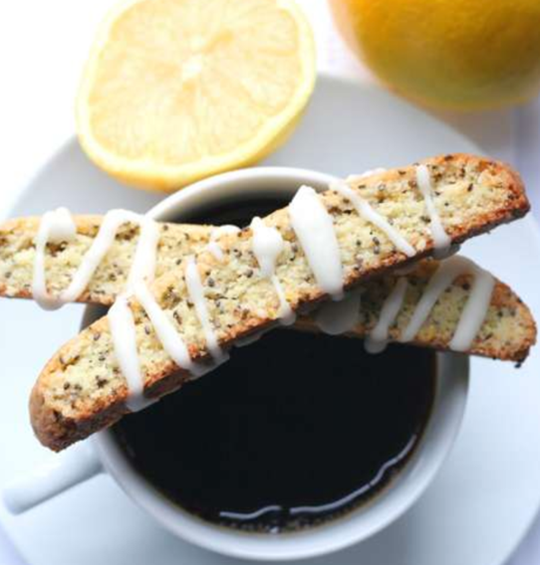 Pictured: Keto Lemon Poppyseed Biscotti made with Swerve Sweeteners (recipe above)
Stay Connected
We hope that you enjoyed learning about the traditional way to prepare and enjoy an Italian meal and that you found some inspiration from these recipes! If you try any of these recipes, please share your thoughts with us on Facebook and Instagram, and don't forget to tag us @lowcarbgrocery if you post any photos!
We'd also love for you to leave us a Google Review, so we can learn what it takes to improve! And remember to sign up for our free email newsletter, where you can find the best low-carb and keto deals, as well as new blogs and trends!