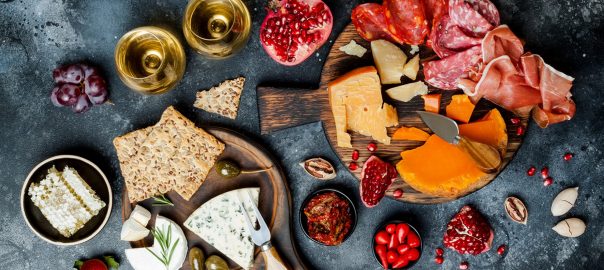 Charcuterie Boards – Low Carb Options
Guide to Low Carb Charcuterie Boards
Learn how to make crowd-pleasing charcuterie boards with low carb and keto-friendly crackers, bread, fruit spreads, dips and other pairings!
Charcuterie boards are perfect for sharing with friends and family, especially around the holidays. They are simple and easy to throw together, yet one of the most impressive appetizers you can bring to a social gathering to impress and delight others' taste buds! Plus, they can easily be low carb and keto-friendly with a few of the right ingredients. You can even make a mini charcuterie board for the perfect take-to-work lunch or snack on the go.
In this article, we cover fun and easy ways to transform your charcuterie board to fit the needs of a low carb or ketogenic diet. Discover low carb crackers, dips and spreads and other snack toppings for your board. The possibilities are truly endless!
And just for fun, if there was any doubt as to how to pronounce charcuterie, check out this short video (PS – some of the charcuterie boards shown will make you drool!)
Disclaimer: The information in this article is not medical advice. A low carb diet may not be suitable for you. Consult your health care provider before making any changes to your lifestyle or use at your own risk.
The Basics 
A charcuterie board, by definition, is an array of cured meats and cheeses, usually paired with something briny (like preserved vegetables) and often something sweet (such as grapes, figs or fruit preserves). In addition, small slices of bread or baguette and crackers are usually served to use for dipping, topping and scooping. While most of these ingredients are low carb and keto-friendly, some substitutions are required for a fully compliant charcuterie board.
Below, we'll make our way around the charcuterie board and provide substitution ideas for those not-so-keto-friendly components.
Meat
Cured meats are generally safe for low carb and keto dieters. Just be sure to avoid anything with sweet glazes as these can sneak in some extra carbs.
Prosciutto, salami, soppressata (dry salami), spicy calabrese, mortadella, sausages, smoky chorizo and pepperoni are some great meat choices to add to your board! You can also use small pieces of beef jerky, which are kid-friendly and provide another option besides pork. Check out Nick's Sticks 100% Grass-Fed Beef Jerkies or BUFF Bison Jerky for something more unusual (bison meat is also higher protein and has a richer taste)! You might also be able to find plant-based deli slices at your local grocery store if there will be vegetarians or vegans enjoying your board. These are often made from tofu or soy, which are also low carb, keto-friendly and high protein.
Cheeses 
Cheese is another charcuterie board topping that is generally safe for low carb and keto dieters, so feel free to choose any of your favourites. Just be mindful of cheeses that contain added sugars, like cream cheese and processed cheeses. Always check the ingredients and choose full fat cheeses. It is best to avoid anything advertised as "low fat" because these cheeses not only detract from your desired fat intake, but they are also more likely to contain sugars, modified milk ingredients (rather than real milk), have been stripped of many of their original nutrients, and they lack flavour.
Parmesan cheese has the highest protein content of all cheeses, making it a healthy choice. Brie, smoked gouda, aged cheddar, blue cheese, burrata, crumbly goat cheese, and salty gorgonzola are also great choices that will add some more flavour and depth to your board.
You can also add vegan cheeses, which are often made from nuts or tofu to provide some extra healthy plant-based fats to your board and options for different dietary preferences. Alternatively, you can throw on some raw nuts, which are a great addition to charcuterie boards, anyways. Check out Handfuel naturally flavoured nuts – practically made for charcuterie boards. Try Dry Roasted Lemon Marcona Almonds or Pink Himalayan Salt Pistachios. They are SO good!
Crackers
This is where it gets tricky to make a low carb or keto-friendly charcuterie board! Luckily, The Low Carb Grocery has tons of cracker options made with low carb dieters in mind. Check out some of our favourites below!
KZ Clean Eating High Fibre Crackers and Crispbreads
These Swedish-style crackers are low in carbs and perfect for dipping and topping. They are made from a blend of different seeds and psyllium husk fibre, making them high in fibre and protein. They come in 5 delicious varieties, including Cinnamon, Parmesan, Tomato Onion, Organic (plain) and Organic Chia. They are made with only natural, wholesome ingredients to provide clean flavours and just 1-2g net carbs per serving (half cracker). However, they are quite large rounds that can be broken into smaller bite-size pieces or used instead of toast for topping.
Rawnata Flax Crackers and Hemp Snackers
Rawnata products are made with the belief that powerful plant-based foods like flax and hemp seeds should be celebrated in their natural form. Rawnata Flax Crackers are gluten-free and flourless and provide omega-3 fatty acids that support brain and heart health. Rawnata soaks their flax seeds to soften the outer shell, making all of the wonderful nutrients inside readily available when you bite into these crackers! They are available in 4 unique and delicious flavours, including Mexican Fiesta, Italian, Cinnamon Goji and Sunflower Sesame! With just 2g net carbs per package, these are a great addition to any low carb charcuterie board!
Rawnata also makes Hemp Snackers, which are more of a cookie-like snack! But don't let this fool you, they are still packed with raw nutrition and could be a great sweet addition to a charcuterie board. Made with hemp seeds that provide fibre, protein, omega 3's and 6's, and healthy fats. These Snackers are available in Matcha Coconut and Goji Berry flavours.
Liberated Paleo, Keto, Low Carb Crackers
Liberated Specialty Foods Crackers are perfect for paleo, keto and low carb dieters. They are made with high quality ingredients such as almond flour, cheddar cheese and eggs providing only 2g net carbs per serving! These tasty crackers are the perfect complement to other elements of your charcuterie board and are compliant with many diets. They are also gluten-free and peanut-free to accommodate these common food intolerances and allergies.
Another cheese-based low carb cracker, Cello Whisps are 100% keto-friendly because they are made with 100% cheese! These crackers fit right in on a charcuterie board between other cheeses and crackers and are available in delicious flavours that will complement the other items on your board. Try Tomato Basil, Asiago & Pepper Jack, Cheddar, Parmesan or Bacon BBQ! They are handcrafted and made from Cello's award-winning cheeses, making them the perfect artisanal addition to your charcuterie board. 
Bread 
Toasted baguettes are another common feature on charcuterie boards, but this can pose some problems for low carb dieters. The solution is to find a low carb bread and cut it into bite size pieces. You can toast the bread with olive oil in the oven to get that crunchy texture reminiscent of a French baguette or crostini. Or, try Unbun Mini Baguettes, low carb and keto-friendly grain-free mini baguettes, perfect for sandwiches or, well, charcuterie boards!
Try them toasted in the oven with a bit of oil or butter and garlic for some extra flavour. Unbun Mini Baguettes are made with almond flour, egg whites, flax, coconut flour and psyllium husk providing lots of fibre and protein. With just 3g net carbs per serving (1/2 bun) they are a great low carb choice. See our full inventory of low carb bread and buns for more options!
Pickled Vegetables
Pickles, olives, artichoke hearts and sundried tomatoes are classic features on any charcuterie board. They provide a nice balance of acidity to the other elements on the board. Plus, pickled vegetables are generally low in carbs and keto-friendly! Just be sure to check the ingredients on store-bought pickled foods, as sometimes sugar is used in the pickling liquid. To avoid any potential added sugars, you can also pickle your own vegetables a few days ahead of time! Pickled vegetables are a great item to keep around the house since they last practically forever and provide great flavour to salads, sandwiches and other meals! They are also a good source of sodium, which is important to get lots of on a ketogenic diet since the body tends to expel more electrolytes while in ketosis.
You can also put some fresh vegetables on your board for dipping. These will provide a bright, fresh element to your charcuterie board to give you a break from the heavier meats and cheeses. Plus, it's always good to get your veggies in when you can!
Fruits and Jams
Fruits and jams provide a nice sweet element on charcuterie boards that can also help balance out the flavours of the meats and cheeses. However, most fruits are not low carb and keto-friendly, especially dried fruits and jams.
Of course, you could include these on your charcuterie board for others to enjoy, but for a sweet treat that you can enjoy too, check out some of these low carb jams and fruit spreads:
MJO Solutions Fruit Spreads, made in Vancouver, B.C., contain just 1g of naturally occurring sugars per serving (about 1 tablespoon)! Sweetened with stevia and erythritol for a little extra low carb sweetness. Available in Strawberry and Blueberry.
La Nouba Fruit Spreads are sugar-free and made with low carb dieters in mind. With approximately 1g net carbs per serving (1 tablespoon) they are a delightful low carb treat! Try 4 Fruits Spread, Cherry Spread, Strawberry Spread, Blueberry Spread or Raspberry Spread! Made without any artificial preservatives, sugars, colours or additives.
Good Good Sweetness Keto-Friendly Fruit Spreads contain real fruit pulp and are sweetened with stevia and erythritol (no sugar added). They are low in calories and contain just 1g net carb per serving (1 tablespoon). Try these spreads in Raspberry, Strawberry, Blueberry or Apricot!
Dips, Condiments and Spreads
It's not uncommon to find other dips and spreads on charcuterie boards, such as basil pesto, olive tapenade, hummus, grainy mustard, tzatziki, or simply olive oil and balsamic vinegar.
Here are some recipes we found online for homemade low carb dips, condiments and spreads:
Stay Connected
There you have it – a complete guide to making low carb and keto-friendly charcuterie boards that are sure to wow your friends and family! We hope that you enjoyed reading this article and feel inspired to make your own charcuterie board with these tips! We are excited to see your creations, so don't forget to share a photo of your low carb charcuterie boards and tag us on Facebook and Instagram!
We also love to hear what you have to say! So, please take a moment to leave us your Google Review. And for more low carb everything, subscribe to our email newsletter!