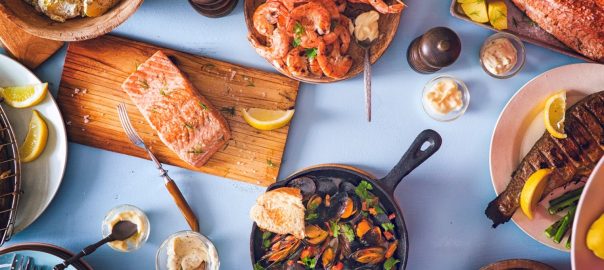 Best Low Carb Fish & Seafood Ideas
Low Carb and Keto Seafood Recipes
Set sail with these low carb and keto-friendly seafood recipes that are rich in nutrients and flavour! Shop the ingredients you'll need at The Low Carb Grocery.
Disclaimer: The information in this article is not intended to replace personalized medical advice. A low carb diet may not be suitable for you. Consult your health care provider before making any changes to your lifestyle or use this information at your own risk.
Seafood lovers rejoice with these low carb and keto-friendly seafood recipes! These recipes are not only delicious and can help add a bit of diversity to your diet, but they are also packed with nutrients, including vitamins, minerals and omega-3 fatty acids. Fish and shellfish are rich in DHA and EPA omega-3 fatty acids, which are harder to find in plant-based omega-3 sources. These types of omega-3 fatty acids have been shown to reduce inflammation in the body, especially in the heart and the brain, which can promote optimal health and prevent common illnesses such as stroke, cancer, depression and Alzheimer's. Consuming enough omega-3 fatty acids in your diet has also been shown to help alleviate the symptoms of a number of chronic health conditions including diabetes, joint pain and arthritis, and auto immune diseases such as Chron's. Some of the healthiest people in the world live in regions where seafood is consumed frequently!
In contrast, most people following the standard North American diet do not consume nearly enough omega-3 fatty acids and overconsume omega-6 fatty acids, which creates more inflammation in the body. Omega-6 fatty acids are found in high concentrations in many common cooking oils such as soybean oil, corn oil, canola oil and margarine, as well as grain-fed meat and snacks and fast foods made from these ingredients. Certain whole food plant-based sources of omega-6 fatty acids such as nuts, seeds, and avocados can still be eaten regularly since they are also packed with healthy fats, vitamins, minerals and antioxidant (anti-inflammatory) compounds.
Ideally, it is recommended to achieve a 4:1 ratio of omega-3 to omega-6 fatty acids in your diet, but aim for at least 1:4. This can be done by taking omega-3 supplements or including fatty fish in your diet 2-3 times a week, while also reducing your intake of omega-6 rich foods. The recipes that follow can definitely help you get on track to achieving an optimal omega-3 to omega-6 ratio!

1. Keto Fish and Chips with Tartar Sauce
Fish and chips is a classic British dish consisting of battered white fish atop a bed of chips (which are typically bigger and thicker than French fries) and served with tartar sauce for dipping. For the chips, check out our article about the best low carb potato substitutes to see which vegetables you can use in place of potatoes. There are lots of options including rutabaga, kohlrabi, and celeriac!
To make your low carb chips, follow these steps:
Slice your low carb potato substitute of choice into long, thin strips.
Dress the sliced veggies in olive oil or avocado oil and season with salt and pepper to taste.
Place the chips on a baking sheet lined with parchment paper and bake at 400F for about 30-40 minutes, or until golden brown (times may vary depending on the thickness of your chips).
Traditional fish and chips batter consists of beer, white flour, baking soda and salt. To make your fish and chips low carb and keto-friendly, you'll need to omit the beer and substitute the white flour. Here are the ingredients you'll need to make the battered fish (2 servings):
To cook the fish, follow these steps:
Whisk the egg in a bowl and set aside. In another bowl or shallow plate, combine the almond flour, cheese, salt, pepper, onion powder and paprika.
Dip the fish filets into the beaten eggs, then coat them in the breading mixture.
Heat the coconut oil in a large frying pan (make sure the pan has some depth to contain the oil splatter) over medium-high heat.
Lay the pieces of fish in the frying pan once the oil is hot and fry on each side for approximately 3-4 minutes, or until the breading turns golden brown and the fish is cooked through.
Before digging into your low carb fish and chips, don't forget to make some tartar sauce to serve on the side! Combine the following ingredients to make tasty, keto-friendly homemade tartar sauce:
Grab some lemon wedges and white vinegar to serve this tasty meal just like they do in the UK!
2. Nut Crusted Salmon over Cauliflower Puree
What's the perfect way to get more fat, flavour and texture into a baked salmon dinner? Nut Crumbs from Appel Foods! These gluten-free breadcrumbs made from a blend of crushed cashews, pistachios, almonds and coconut flakes are available in a variety of flavours that can elevate any dish. Try flavours such as coconut curry, spicy, lemon pepper, BBQ and more, made with just a few all-natural ingredients and seasonings. Nut Crumbs contain no added sugars, fillers or preservatives and they are vegan, paleo, and keto-approved. Check out this Nut Crumbs-encrusted salmon recipe that we found on Nut Crumbs' website, which is recommended to be served with a side of delicious garlicky cauliflower – the perfect low carb and keto-friendly rice substitute.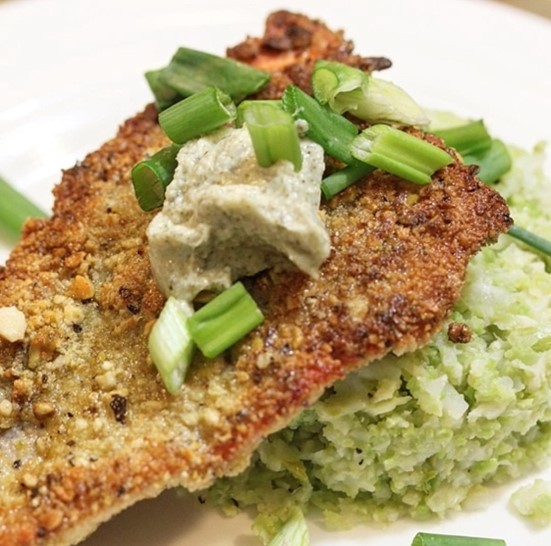 3. Keto Crab Dip
This hot crab dip is the perfect weekend treat! Cream cheese, white cheddar cheese and crab are the perfect trio of decadent, rich flavours. Enjoy this dip with freshly sliced veggies or your favourite low carb crackers or chips. We recommend pairing this dip with KZ Clean Eating low carb high fibre crispbreads, Carb0licious low carb melba toasts, or new BeyondChipz high protein tortilla chips to even out your macros. You could also make homemade crostini by thinly slicing Unbun mini baguettes, drizzling them with olive oil and popping them in the oven for about 5-10 minutes at 400F until golden and crispy.
The ingredients you'll need for the dip are:
Follow these steps to make the dip:
Combine the cream cheese, mayonnaise, half of the shredded cheese, crab meat, green onions or chives and seasonings in a bowl. Mix everything together and transfer to a baking dish or cast-iron skillet.
Top the baking dish with the remaining shredded cheese and bake for about 20 minutes at 350F until the cheese looks bubbly.
Switch the oven to the broil function and broil until the cheese has golden brown spots.
Let the dip cool for 5-10 minutes before serving with chips or crostini!
4. Low Carb Lobster Mac and Cheese
This decadent meal typically found on fancy brunch menus can easily be recreated at home and meet your low carb diet requirements! Next time you are enjoying a feast of lobster, save some leftovers to make this delicious low carb lobster mac and cheese for lunch the next day.
Here are the ingredients you'll need to make this recipe (1 serving):
Follow these steps to make your creamy Low Carb Lobster Mac and Cheese:
Prepare the low carb pasta substitute according to package instructions and set aside.
Heat a saucepan over medium heat. Add the coconut oil, shallots and garlic and stir frequently until they are translucent and slightly golden brown.
Add the heavy whipping cream and cream cheese to the pan. Stir until the cream cheese melts.
Add the shredded cheese and stir until it melts.
Add your pasta, lobster, salt, pepper and optional nutmeg and combine everything together evenly.
Transfer to a baking dish and sprinkle with a little bit more shredded cheese over top. You could also use crushed Moon Cheese crunchy cheese snacks or Original Nut Crumbs to add a crunchy texture!
Set the oven to the broil setting and place the baking dish in the oven for 5-10 minutes, until the cheese turns bubbly and has a few golden brown spots.
Remove from the oven and garnish with freshly chopped chives or green onions.
Prepare to indulge without breaking your carb count with this Low Carb Lobster Mac and Cheese!
5. Cilantro Lime Keto Shrimp Burgers
These cilantro lime keto shrimp burgers are packed with flavour and texture thanks to the additions of one secret ingredient – crushed pork rinds! Pork rinds replace breadcrumbs in this recipe, lowering the carb count and adding a wonderful crunch and salty flavour. If you have a bag of frozen shrimp in the freezer and don't know what to do with them, try out this recipe for something a little different and most definitely delicious!
Don't forget to pick up a package of low carb and keto-friendly hamburger buns for this recipe, too. Some of our favourites are Bakers Deluxe Dream Hamburger Buns, Unbun Keto Buns or GluteNull Bakery Coconut Ciabatta Bread, which has a delicious coconut flavour that goes well with the flavours in the shrimp burgers.
To make these shrimp burgers you'll need the following ingredients (makes 4 burgers):
Here's how to make the shrimp burgers:
Add all of the ingredients to a food processor and pulse until evenly combined. If you don't have a food processor, finely chop the shrimp and combine with the other ingredients in a large bowl.
With wet hands, form ½ inch thick shrimp patties.
Heat a large frying pan over medium heat. Add olive or avocado oil to the pan and cook the patties for about 3-4 minutes on each side.
Alternatively, you could fire up the BBQ to get a smokier flavour on your shrimp burgers. Make sure to brush the grill with a little bit of oil to prevent sticking. Cook for 3-4 minutes on each side.
Serve your shrimp patties atop a low carb hamburger bun with sliced avocado, mayonnaise (this Chipotle Lime Mayo from Primal Kitchen pairs well and adds a kick of spice!) and lettuce or cabbage slaw. For the perfect side dish, re-create the chips from the Keto Fish and Chips recipe above!
Stay Connected
We hope that these recipes have inspired your next seafood meal! If you make any of the recipes from this article, please share your photos with us online on Facebook or Instagram and tag us @lowcarbgrocery!
We'd also love to hear about your experiences with us by leaving a Google Review. And please consider subscribing to our email newsletter for more blog articles and early access to our weekly flyers and sales.