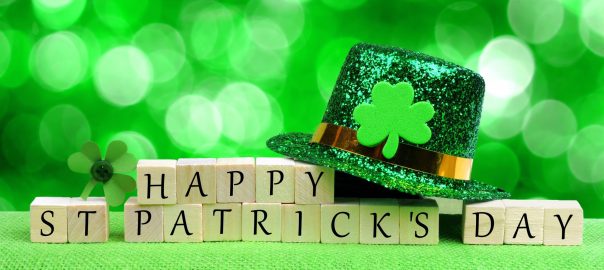 St. Patrick's Day Recipes – The Low Carb Way
Clever, Unique Low Carbohydrate Recipes for St. Paddy Day
March 17th is St. Patrick's Day, a cultural and religious celebration that has a lot of people feeling Irish.
St. Patrick's Day comes from patron saint of Ireland, St. Patrick. Saint Patrick was born in Roman Britain way back in the 4th century. St. Patrick was kidnapped when he was 16 and was forced into slavery and taken to Ireland. Fortunately, he was able to escape, only to return on a mission to convert Irish to Christianity. Before his death, he managed to create numerous religious establishments (churches, monasteries), as well as schools.
Stories surround his life, such as how he drove snakes out of Ireland, the use of the shamrock to explain the Trinity. Because of all he did for Ireland, people celebrated his life with religious services and great feasts.
These day's it's day typically spent enjoying a green beer at the local pub while dressed in green from head to toe.
To help your celebrations, whatever they may be, we've assembled a list of delicious traditional St. Paddy Day recipes. Don't worry if you're currently committed to a low carb lifestyle because you can still dig into some Irish-inspired recipes guilt-free.
All of the below recipes are modified to be low carb compliant, while still including delectable ingredients. Hopefully you'll find one or two that pique your interest!
Low Carb St. Patrick's Day Inspired Recipes
Please note that some changes have been made to these recipes to ensure they can fit into most low carb diets.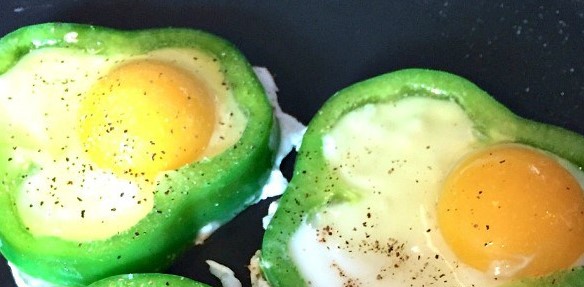 Fried Eggs in Green Pepper Rings
This recipe is a great way to start the day or to make as a post-St. Patrick's Day breakfast.
The best part is all you need is one large bell pepper or two small ones, six eggs and salt and pepper. Don't forget to use a non-stick pan or non-stick spray so you can remove the eggs with ease.
To make, cut the bell pepper into rings and place them evenly apart on a skillet over medium heat. Crack an egg into each ring and allow it to fill. Sprinkle salt and pepper on each egg to taste.
If you like soft eggs, cook on low for 3-5 minutes. To cook hard eggs, break the yolk and let it spread into the white part and cook for 6-9 minutes. For over easy, carefully flip the egg and green pepper ring in one motion.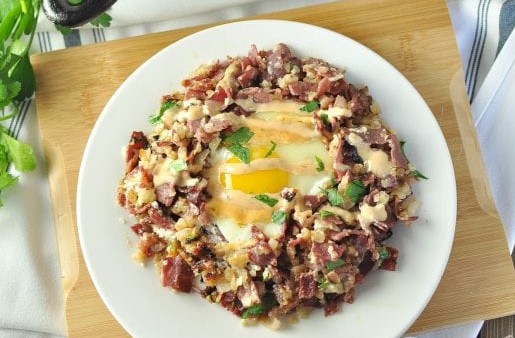 Few meals reflect Irish culture as much as a hearty corned beef hash. It's a beautiful blend of textures and flavours in addition to being easy to make. This low carb version does not skimp on flavour!
Gather 2 tbsp. of olive oil, three garlic cloves minced, 2 cups of riced cauliflower, 1lb. of corned beef diced, four large eggs, 2 tbsp. of Italian flat leaf parsley chopped and ¼ cup of Russian dressing.
Pour the olive oil into a large cast iron skillet over medium heat. Add the garlic and cook until the scent is pronounced. Next, toss the riced cauliflower into the pan and cook until it becomes slightly caramelizes.
Next, add the corned beef to the skillet. Stir it often until it starts to crisp. Take a large spoon and make four holes or wells in the hash. You'll know they're deep enough when you can see the bottom of the pan. Crack an egg into each hole and lower the heat a bit. It's ready once the eggs have cooked.
Sprinkle with parsley and serve with a low carb Russian dressing.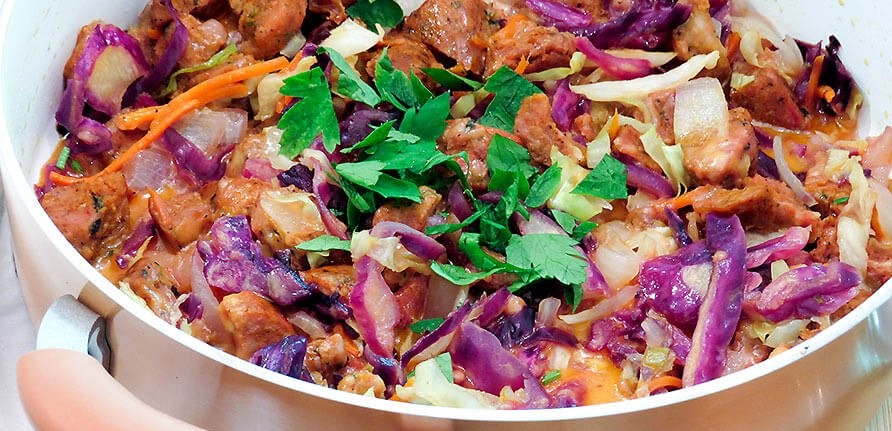 Spicy Chicken Sausage and Cabbage Melt
The only thing better—and more Irish—than hash is a cabbage melt. It's visually appealing and bursting with flavour.
You will need four spicy Italian chicken sausages (choose an organic brand), 1 ½ cups of green cabbage shredded, 1 ½ cups of purple cabbage shredded, 2 tbsp. of coconut oil, two slices of low carb cheese like gouda or Colby Jack and 2 tbsp. of fresh cilantro chopped.
Prepare the sausages by removing the meat from the casings and giving the loose meat a rough chop. Next, chop the cabbage (if not pre-shredded) and add to a large skillet that's been heated over medium-high heat. Cook until the cabbage is soft, which takes about 7-8 minutes.
Add the sausage meat, stir until everything mixes and let it cook for 8 minutes. Afterwards, top with cheese and cover the entire skillet. Turn off the heat and let it sit for 5 minutes. During this time, steam will cause the cheese to melt and cover the sausage and vegetables. Once it's ready, top with cilantro and serve immediately.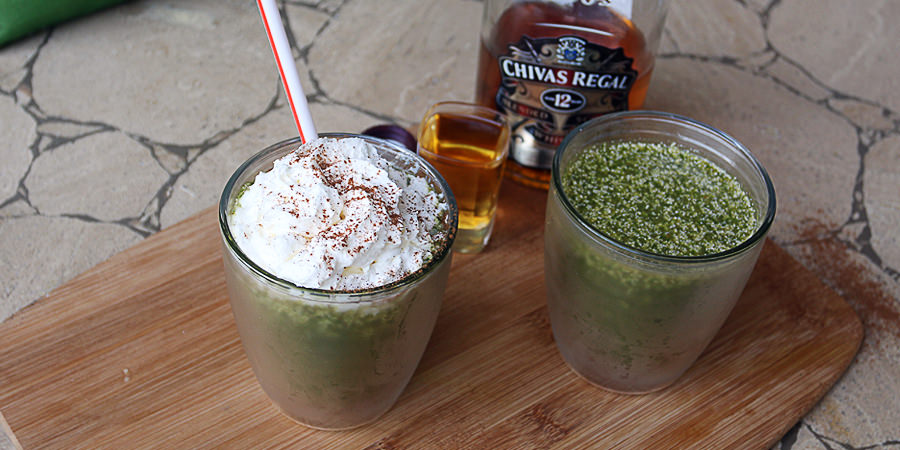 This alcoholic cold coffee drink is a perfect way to recharge your batteries halfway through the night. Alcoholic beverages don't have a lot of health benefits but this one is low carb and does share some qualities with a healthy shake.
Of course, you can leave the alcohol out and enjoy it simply as a cold coffee beverage. Additionally, please note that pumpkin contains about 7g of carbs per 100g so make sure it fits into the recommended daily carb intake of your diet.
You will need 1 cup of strong brewed coffee, ¾ cup of coconut milk, ½ cup of pumpkin puree, 2 handfuls of spinach, 2 tbsp. of butter, 2 tbsp. of erythritol, ½ tsp. of vanilla extract, ½ tsp. of cinnamon, ¼ tsp. of ginger, ¼ tsp. of cardamom, ¼ tsp. of allspice, 10 drops of liquid stevia and ice. If you want to make it "Irish" you can include ¼ cup of whiskey or bourbon.
Toss all the ingredients in a blender and blend until everything is incorporated. Once it's a smooth consistency, serve it cold. To keep it low carb and healthy, skip the garnishes like whipped cream or chocolate shavings.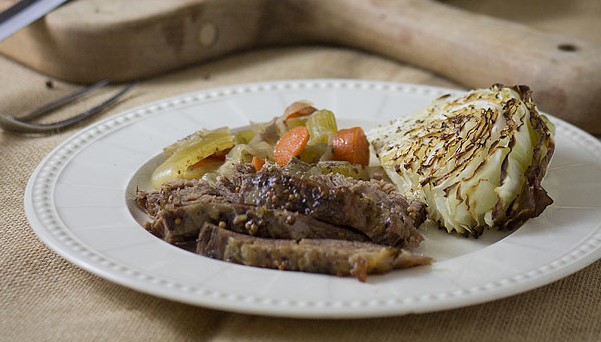 Slow Cooked Corned Beef Brisket and Roasted Cabbage
Use your slow cooker to make this low carb spin on a classic Irish dinner. If you're hosting guests before going out, this is a great meal to make as it's easy and crowd-pleasing.
Gather 2 ½ lb. of corned beef brisket, one celery stalk, one daikon radish and 1 cup of chicken or beef stock. For the cabbage, all you need is one head of cabbage, 1 tbsp. of avocado oil and salt and pepper.
Start by adding the roughly chopped celery and daikon to the slow cooker. Pour in the stock and place the corned beef on top of the celery. Cover with the lid, set to low and cook for 6-8 hours.
To make the cabbage, preheat the oven to 450F. Chop the head into eight wedges and spread onto a rimmed baking sheet. Drizzle with the avocado oil and sprinkle as much salt and pepper as you want. Cook for 25-30 minutes flipping halfway through. You want the cabbage to crisp along the edges.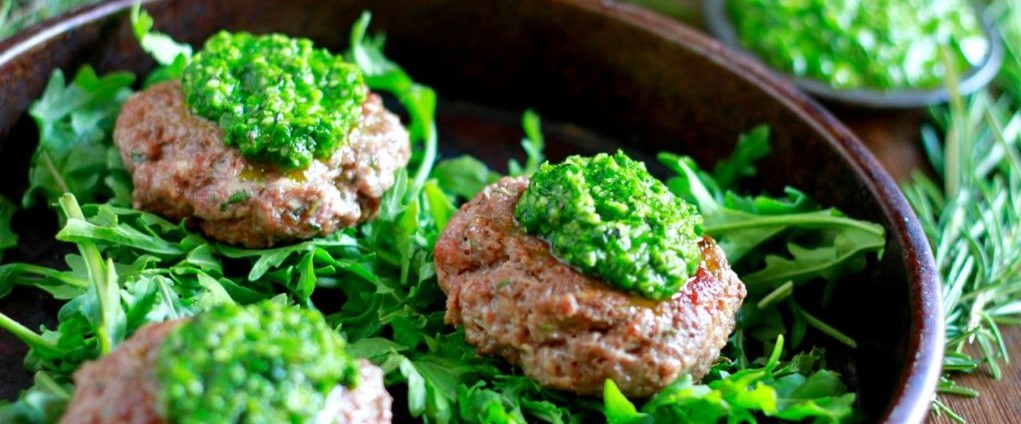 Rosemary Lamb Burgers with Pesto
Lamb is a popular Irish protein and rosemary is the perfect herb pairing.
For the burgers, you will need 1 lb. of ground lamb, 1 tsp. of unrefined sea salt, 1 tbsp. of fresh rosemary minced, 1 tbsp. of coconut oil.
For the pesto, get one bunch of fresh basil leaves, ¼ cup of olive oil, 1 tsp. of fresh lemon juice, one garlic clove minced, ¼ tsp. of unrefined sea salt and ¼ cup of hemp or pumpkin seeds.
Lastly, for the garnish, you'll need the salad greens of your choice, olive oil, white wine vinegar and salt and pepper.
To make, thoroughly mix the lamb, rosemary and salt and then form into patties. Add oil to a skillet on medium-high heat. Cook the patties, flipping them halfway through, until they reach the desired doneness.
Place the basil leaves, olive oil, lemon, garlic and salt into a blender or food processor and blend until everything is smooth. You will need to stop and scrape the sides a few times. Once it's ready, add the seeds and pulse until it's the texture of a traditional pesto. Add more salt and lemon if you'd like.
To serve, mix some of the olive oil and white wine vinegar with the salad greens and then season with salt and pepper. Place the burger on top and then finish with the pesto.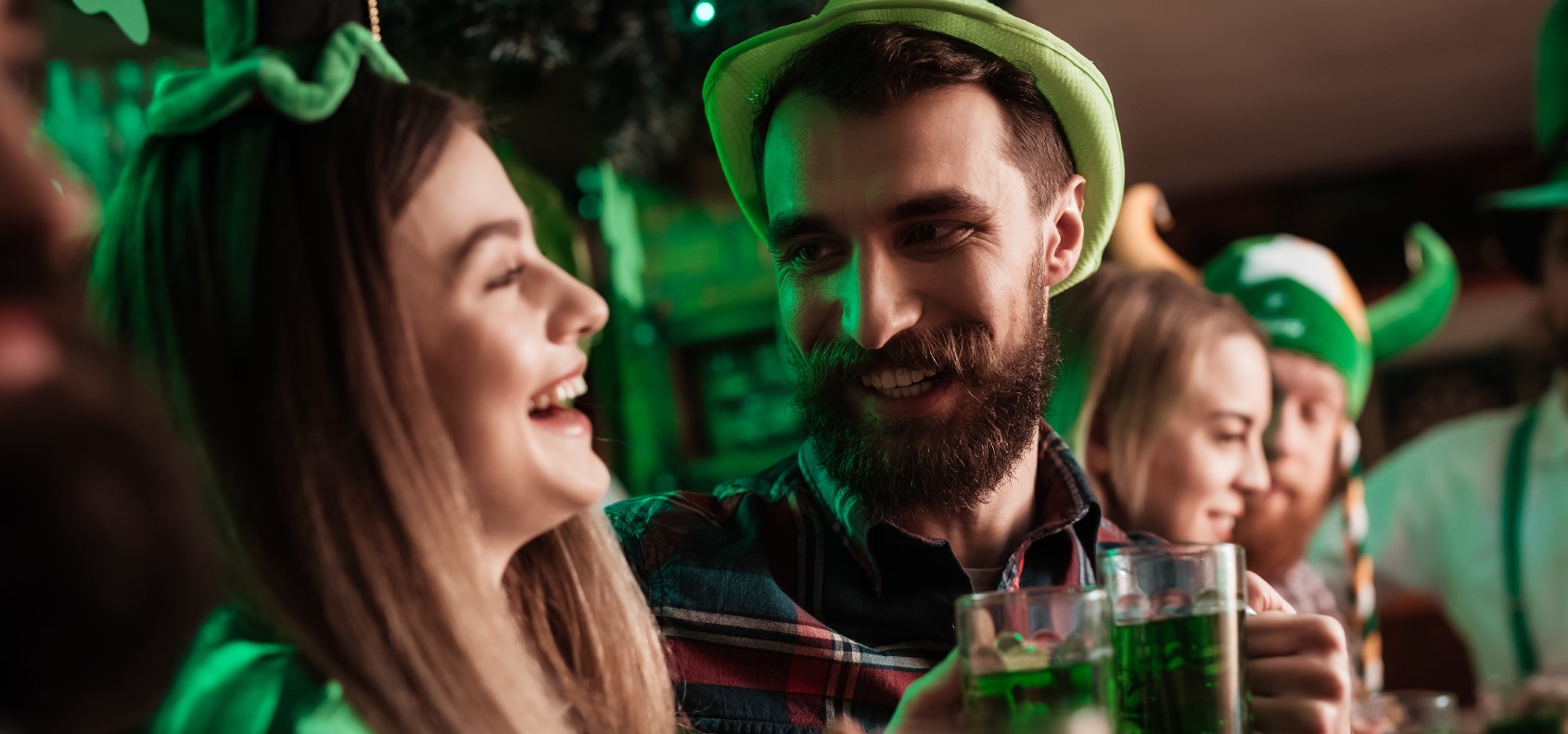 Celebrate and Get Cooking!
Just because St. Patrick's Day is about fun and celebration, doesn't mean you need to cheat on your low carb diet. Enjoy these simple and delicious spin on classics!
Don't forget to shop our store to find the very best low carb food in Canada that will get you closer to reaching your weight loss and health goals.  Or check out all the articles on cooking and living the low carb lifestyle.