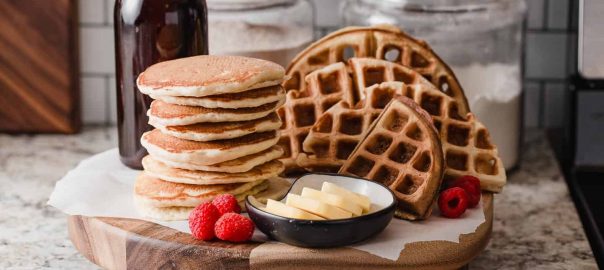 Sugar Free Syrups – Great For Pancakes!
Davinci, Joseph's and Walden Farms Sugar-Free Pancake Syrup
With respect to most low carb diets, it sometimes feels like breakfast is relegated to smoothies or a cold bowl of oatmeal. Remember, just because you're cutting carbs doesn't mean you can't enjoy some of your favourite breakfast foods like pancakes and waffles.
Making a stack of keto-friendly pancakes is great but only if you pair it with the right toppings. The goal should be to find the best sugar-free syrups so you can enjoy your breakfast guilt-free.
Let's start by introducing you to the basics of pancake syrup and why it's become a fixture in most people's diets. Next, we'll introduce you to three brands that make a sugar-free version that you should check out. Lastly, we'll share two pancake recipes and two waffle recipes, all of which are low carb and delicious.
Pancake Syrup
A syrup is a thick liquid that usually consists of a solution made up of dissolved sugar in water. Its consistency is like a slightly looser molasses and it is used to add sweetness to foods that generally lack flavour like pancakes.
Most pancake syrups are made with some combination of high fructose corn syrup, water, salt, artificial flavouring and some form of preservatives like sorbic acid or sodium benzoate.
Popular brands like Aunt Jemima are high carb and loaded with sugar and preservatives. Their lack of nutrition prevents them from participating in most diets including low carb ones. Luckily, there are some sugar-free options that taste amazing and allow you to continue eating pancakes and waffles while you lose weight by restricting carbs.
Davinci Syrups
Davinci is a U.S.-based syrup producer that creates gourmet syrups that are perfect for pancakes, waffles, French toast and other foods. They taste like the classical syrup but unlike many of their competitors they are made only from super high ingredients to ensure the best final product.
They offer a variety of flavours for those feeling more adventurous, many compliment pancakes and waffles or can be included in certain baking recipes. Flavours include blueberry, banana and butterscotch and many others, all of which are sugar-free.
Per 2 tbsp., there are 0 calories, 0g of fat and no carbs.
Joseph's Syrups
Known for their products specifically made for diabetics and dieters, Joseph's offers a leading sugar-free syrup alternative to traditional pancake syrup. It's a delicious sweet syrup that tastes like many of the popular "regular" brands like Aunt Jemima or Mrs. Butterworth. Additionally, this product is gluten and kosher-free.
Its list of ingredients is quite short: water, maltitol and all-natural maple flavour. You can even use this product to replace the sauces that you usually enjoy on top of ice cream. Most importantly, its delightful thickness makes it the perfect topping for a stack of low carb hot cakes.
Per ¼ cup, there are 35 calories, 0g of fat, 9g of carbs and 9g of sugar alcohols.
Walden Farms Syrups
Walden Farms has built their business and reputation on producing the most amazing low carb syrups, sauces, dressings, dips and fruits spreads. Their sugar-free pancake syrup is no exception. It's delicious, thick and elevates pancakes, waffles, ice cream or any other foods that you enjoy with syrup. It's also available in single serving packets.
Its ingredients include but are not limited to maple flavour, natural flavours, sucralose, salt, caramel and beta carotene.
Per ¼ cup, there are 0 calories, 0g of fat and 0g of carbs.
Low Carb Pancake Recipes
Please note that some adjustments have been made to ensure each recipe is as low carb as possible. If you make further adjustments or additions, you could alter the carb count.
Don't forget to top these recipes with your favourite sugar-free pancake syrup!
Pancakes with Almond Flour and Coconut Flour
These keto pancakes are fluffy, light, easy to make and only take 20 minutes including prep time.
To make, gather 1 cup of blanched almond flour, ¼ cup of coconut flour, 2-3 tbsp. of erythritol, 1 tsp. of gluten-free baking powder, five large eggs, 1/3 cup of unsweetened almond milk, ¼ cup of avocado oil (feel free to substitute with a neutral tasting oil that is liquid at room temperature), 1 ½ tsp. of vanilla extract and ¼ tsp. of sea salt.
There are only two steps to make these amazing low carb pancakes. First, whisk all the ingredients together in a bowl until it reaches a smooth consistency. It should look like a typical pancake batter but if it's too thick you can add a touch more milk. Careful, though, not to add too much as it could turn the finished product soggy.
The second step is heat up an oiled pan on medium-low heat. Spoon the batter into the pan, forming each into circles using a spatula. Cover and cook for about 1.5-2 minutes until you notice that bubbles are forming. Flip and cook for the same amount of time. Repeat until you run out of batter.
Keto Cheese Pancakes
Fans of savoury breakfasts will love this recipe that pairs pancakes with the delightful combo of bacon and eggs. This is a great low carb option for those who don't like eating something sweet for breakfast.
To make the pancake you will need, three large eggs, ¼ tsp. of cream of tartar or apple cider vinegar, ½ cup of parmesan, 2 tbsp. of coconut flour, 2 tbsp. of chopped chives and your preferred amount of salt and pepper. Additionally, you will need 1-2 eggs per serving, bacon and an avocado.
Start by separating the egg whites from their yolks. Using an electric hand mixer, beat the egg whites adding the cream of tartar in the process to form stiff peaks. With a light touch, fold in the egg yolks and then add the grated parmesan. Sift in the coconut flour and add the chives. The last step of this stage is to season with salt and pepper.
Grease a small pan with ghee and heat it over medium heat. As soon as it's hot, pour in the pancake mixture. Cook for 2-3 minutes until the surface bubble. Next, broil on high for 3-5 minutes until the top is a light golden colour.
Now that the pancake is ready, it's time to add your favourite savoury items. Fry the egg and crisp the bacon until they reach your desired doneness and slice the avocado. Carefully transfer the pancake to a plate and top with the egg, bacon and avocado. Now all you must do is enjoy!
Low Carb Waffle Recipes
Low Carb Chicken and Waffles
If you love this southern classic that perfectly combines sweet and savoury, then check out this low carb version that doesn't skimp on flavour.
To make the waffles, you should use ¾ cup of almond flour, 1 tbsp. of coconut flour, 1 tsp. of salt, ½ tsp. of baking soda, three eggs, 3 tbsp. of evaporated milk or a combination of soy milk and olive oil (as heavy cream substitutes), 1 tsp. of vanilla extract and 2 tbsp. of monk fruit.
To make, heat the waffle maker to 350F or the medium setting. Combine the almond flour, coconut flour, salt, baking soda and monk fruit. To this mixture, add the eggs, evaporated milk or soy milk and olive oil mixture and vanilla extract and stir everything until it fully incorporates. Pour into the maker and cook for roughly one minute.
The ingredients for the chicken tenders are 1 lbs. of chicken breast, 1 cup of almond flour, ½ tbsp. of garlic powder, ½ tbsp. of onion powder, ½ tbsp. of salt, ½ tbsp. of pepper, two eggs, ¼ cup of butter melted and ½ cup of olive oil.
Add olive oil to a skillet and heat over medium heat. Set up a dredging station that includes one bowl of the eggs and melted butter and another of breading consisting of almond flour, garlic powder, onion powder, salt and pepper. Cut the chicken in 2" wide strips and dip each into the egg followed by the breading. Place the fully coated chicken in the hot oil and cook for 3 minutes per side or until it is fully cooked through.
Protein Waffles
These protein-rich waffles are healthy and as easy to whip up as any pancake recipe.
Gather 23g of protein powder, 1/4 cup of egg whites (diluted with 2-3 tbsp. of water), 1-2 tbsp. of mashed banana or pumpkin purée, ½ tsp. of baking powder, ¼ tsp. of ground cinnamon and ¼ tsp. of pure vanilla extract.
Get your waffle maker nice and hot and spray the top and bottom with non-stick cooking spray. Combine all the ingredients in a bowl until the batter is completely smooth. You can add water to make the consistency more batter-like (pourable but not too thin). Pour the batter onto the bottom iron and spread it evenly with a spoon.
Once the waffles are ready, plate them and top with your favourite low carb ingredients like strawberries, raspberries or peaches. You can also make a low carb and sugar-free whipped cream if your diet allows for a small amount of heavy cream.
Make a Memorable Breakfast!
Ready to roll out of bed and enjoy some amazing low carb breakfasts? Make sure you have the right sugar-free syrup to elevate your pancakes and waffles.