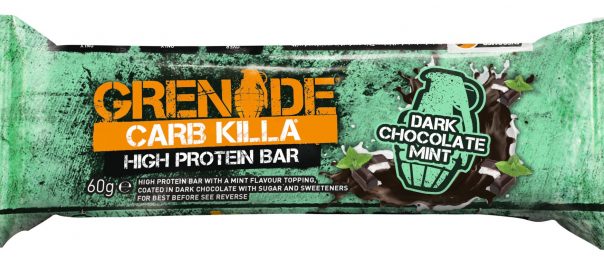 Low Carb Breakfast, Meal Replacement & Protein Bars
Guide to Low Carb Breakfast, Meal Replacement and Protein Bars
It's hard to beat the convenience of a great low carb bar. Whether you've simply got an afternoon craving that needs to be crushed, or you're looking for a simple and effective meal replacement option, bars can deliver everything you need in a handy pocket-sized package. Because of this, there's no shortage of choice for low carb dieters in the world of breakfast bars, meal replacement bars, and protein bars. With so many brands and flavours to choose from, how do you sort through them all and find the bar that's right for you?
In this guide, we will help explain the differences between the various categories of low carb bars, as well as a look at some of the brands and flavours that are the most popular with low carb dieters. Whatever kind of bar you're looking for, we're sure you'll find this guide helpful in finding the right one.
Without further delay, let's dive in to the different categories of bars, and how they are different from each other.
Categories of Low Carb Bars
In general, most bars will fall in to one of three categories based on what their intended purpose is, what kinds of ingredients they consist of, and how most people would tend to use them as part of their diet. These three main categories are:
Low Carb Breakfast Bars
As the name of this category suggests, there are bars available that are designed to be eaten either as part of breakfast in the morning, or as a complete replacement for your breakfast meal. Most breakfast bars are available in similar flavours and ingredients, such as chocolate and peanut butter, and many are heavily focused on nuts, seeds, and fruits. Breakfast bars tend to be loaded with fiber and protein in order to prevent the early return of hunger in the morning. They are a convenient way to deal with morning hunger, and are extremely easy to track as part of your daily carb and calorie intake due to their clearly defined nutritional contents. However, since many breakfast bars feature sweet tasting ingredients, low carb dieters should pay attention to ingredient & nutritional labels closely and choose bars made by trusted low carb brands.
Low Carb Meal Replacement Bars
Meal replacement bars are intended to act as a substitute for an entire meal, usually as part of a weight loss regimen. They accomplish this through high protein ingredients, while maintaining similar calorie content and equivalent levels of nutrition to a full meal. Low carb dieters should observe greater caution when selecting a meal replacement bar, since many popular mainstream brands commonly contain a large amount of added sugar. As a general rule of thumb, meal replacement bars are best used in moderation, and not as a long-term part of your diet plan. They're great to deal with hunger in a pinch, but aren't a good choice as a regular part of a low carb meal plan. As with breakfast bars, it's always wise for low carb dieters to read ingredient labels thoroughly and choose from well-known low carb brands.
Low Carb Protein Bars
In general, protein bars are a great snack option as part of a low carb diet since their focus is on high levels of protein, and not necessarily as a complete meal replacement. Most protein bars are very dense, although this can vary greatly depending on the brand and ingredients used. The variety of flavours available in protein bars are staggering, which means you can find virtually any taste that you can imagine. Even so, the most popular protein bars tend to include sweet tastes like chocolate, peanut butter, vanilla, maple, and caramel. As with the other two types of bars, it's sensible for low carb dieters to pay close attention to the sugar content. Mainstream protein bars can often contain large quantities of sugar, so be sure to choose a low carb and low sugar option.
Most Popular Brands and Flavours
Bars are one of the most popular product categories at The Low Carb Grocery, and our customers have given us lots of feedback on their favourite brands and flavours for each category of bar. Here are some of the most popular brands and flavours from each of the three main categories of bars.
Most Popular Breakfast Bars
Atkins Day Break Bars
As the most well-known name in the world of low carb eating, it should come as no surprise that Atkins has created some of the best low carb breakfast bars available. Atkins Day Break bars are high in protein and low in sugar, making them a great choice for a quick breakfast or mid-morning snack. Our customers simply love the Chocolaty Hazelnut and Oatmeal Fibre flavours.
Shop all Atkins Day Break Breakfast Bars.
Most Popular Meal Replacement Bars
If you're a fan of the taste of blueberries, you'll love these Advantage Blueberry Greek Yogurt meal bars from Atkins. High in fiber, high in protein, and very low in sugar, these are the perfect convenient meal bar for those busy days when a lunch break is always just out of reach. Another top-selling bar that works great as a fast and easy meal option are these Apple Pie bars from Quest. These delicious bars include chunks of dried apple and tons of protein to keep you going. Our customers love the taste of these ones!
Most Popular Protein Bars
These Grenade Carb Killa White Chocolate Cookie protein bars taste so good, our customers simply rave about them! They have a great, smooth texture and rich, delicious flavour that will make you think that you're cheating on your diet. If you're in the mood for a little lemon flavour, then you've got to try these Lemon Cake protein bars from Oh Yeah!. With only 1 gram of sugar per bar, and over 20g of protein, these bars will definitely get rid of your hunger in a hurry.
Shop our entire selection of protein bars here.
Conclusion
As you can see, you've got no shortage of selection when it comes to great tasting low carb bars. Whether you're looking for a low carb breakfast bar you can keep in your desk at work for those rushed mornings, or are simply hungry for a healthy snack option that won't leave you craving for more an hour later, there are lots of great bars you can choose from.
We hope that you've found this information helpful, and remember that if you ever have any questions about these products or any others, we are here to help. Stop in to any one of our stores, or send us a message here, and we'd be happy to answer any questions you have.
Don't forget to share what your favorite bar was below in the comments!