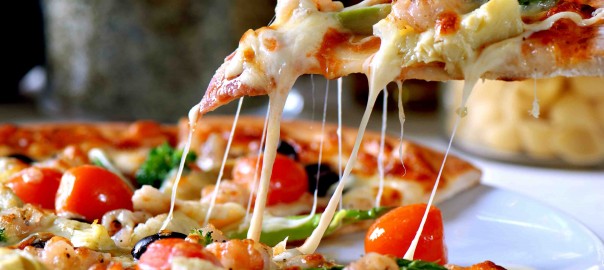 Great Tips for Delicious Low Carb Pizza
Great Tips for Delicious Low Carb Pizza
Pizza is one of those meals that can range from amazingly simple comfort food to a showcase of uber-fancy gourmet artistry. It's the kind of meal that the whole family overwhelmingly votes in favour of, especially after a long and busy week. But when you're living the low carb lifestyle, how do you work in pizza and not hurt your diet progress? It's simple, really. With a few smart substitutions and a little planning ahead, you can have a fantastic low carb pizza that everyone will love. This article will show you how. Let's get right to it!
Great Low Carb Pizza Crust
The biggest factor impacting the carb count of a pizza is, naturally, the wheat flour crust. This is also the biggest factor in why many low carb dieters opt to simply skip pizza altogether in their diet, since they've never been able to find a decent pizza dough recipe that actually tastes good and bakes up well. Fortunately, a lot of progress has been made in recent years to develop amazing recipes for low carb pizza dough so you can make your crust in any way you want, from super-thin and crispy, to thick deep-dish style.
The biggest difference in low carb pizza dough compared to regular pizza dough is that the low carb versions tend to use almond flour as the base in order to cut the carbs down. Most low carb pizza crusts are made from just a handful of ingredients, starting with almond flour, and adding some oil, eggs, and salt. Some recipes call for a wider range of ingredients, depending on the style of crust, in order to achieve different textures or tastes. Some recipes even work cheese right in to the crust!
Whether you like a thin-crust pizza or a deep-dish style, you'll find recipes to suit your taste and the style you want for your meal. Here are two great recipes for low carb pizza crusts you can use as the basis for your creation!
Thin Low Carb Pizza Crust
If a thin, crispy pizza crust is what you're looking for, give this recipe for thin low carb pizza crust a try from Maya over at WholesomeYum.com. It uses only 4 simple ingredients to make a tasty and delicious crispy pizza crust that fits low carb and paleo diets. It's fast and easy to make, and makes a great base for a wide range of gourmet pizzas.
For an even easier and faster thin crust low carb pizza, you can pick up some pre-made pizza crusts from Golden Home Bakery here at The Low Carb Grocery. These crusts are very low in carbs, taste great, and our customers love them.
Thick Low Carb Pizza Crust
If a deeper, softer pizza crust is more your style, this amazing recipe for deep-dish low carb pizza crust from Lisa at LowCarbYum.com is exactly what you've been looking for. It starts by using the basic recipe for the world-famous 'Fat Head' pizza dough, and includes a few little tweaks to make it even better for a deep-dish style pizza. Pile your pepperoni, cheese, and other toppings on this crust for a scrumptious pizza you'll devour every time.
Delicious Low Carb Pizza Sauce
Sauces are not quite as sensitive for low carb diets as the crust for a pizza, but there are still a few things to keep in mind. Generally, you'll simply want to make sure the sauce you're using doesn't contain any added sugar. If the mood strikes you, it's pretty simple to make your own pizza sauce from a combination of tomato sauce, tomato paste, and a variety of spices. Here's a great low carb pizza sauce recipe from Kyndra at PeaceLoveAndLowCarb.com that sticks to the basics, and makes it easy for you to customize however you'd like. Otherwise, most prepared pizza sauces are perfectly fine to slather on to your crust however you'd like. Go heavy if you love a messy, saucy pizza or light if you're focused more on the toppings and crust. It's up to you!
Amazing Low Carb Pizza Toppings
Here's where low carb dieters can really get creative with their pizzas. This is one meal where the rules go out the window and you can start experimenting with all kinds of toppings. For traditionalists, you can go the tried-and-true route of pepperoni, mushrooms, green peppers, olives, and other classic toppings. For pizza chefs who are not timid about getting a little crazier with their pizza, you can try going for seafood like shrimp and scallops, or throw on some unusual vegetables like artichoke hearts and spinach. Don't be afraid to throw on some different cheeses, too. One of the best things to ever make its way on to a pizza is feta cheese. As long as the toppings are low carb, and you love the taste of them, then we say it's fair game!
Have Fun with Your Pizza
We hope that this collection of tips has inspired you to get cooking with some great low carb pizza ideas to try, but mostly we hope that you are excited to have some fun coming up with new flavours that are uniquely your own. That's one of the great things about pizza; you can make it completely different every time and never run out of ideas! Pizza is a great addition to any low carb meal plan, and with these helpful tips, we're sure that you'll come up with lots of great creations that you can share with your family.
Now, we think that it's about time to start planning your next pizza party!