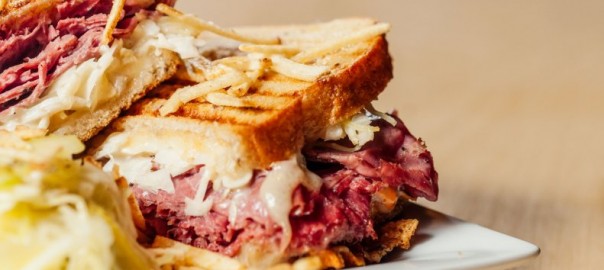 Tips for Making Delicious Low Carb Sandwiches
Helpful Tips for Delicious Low Carb Sandwiches
It probably comes as no surprise that many low carb dieters shy away from sandwiches, simply due to the fact that their basic construction relies on some kind of bread product, whether it be regular sliced bread, a bagel, or some kind of wrap or tortilla shell. Nevertheless, low carb dieters can safely experiment with all kinds of sandwich recipes and still keep their carb counts low. All it takes is the right products, a few clever tips and tricks, and some creativity. In this article, we'll give you all the advice you need to craft the perfect low carb sandwich, and become a true sandwich connoisseur. Let's get right to it!
Start Your Sandwich with Great Low Carb Bread
The basic rule of any sandwich is that it always starts with some kind of bread. While some sandwich purists will tell you that this must mean two slices on either side of the main ingredients, it's generally accepted that you can take any sandwich recipe and swap in a wrap or tortilla and it'll still work just fine. With that in mind, we're going to discuss a few different bread options including sliced breads, bagels, and wraps.
Sliced Low Carb Breads
The most traditional way to make a sandwich is to start with two slices of a loaf of bread. This could range from soft white bread, to flavourful whole wheat, or even a nice firm rye bread. There are all kinds of breads to choose from, and while most of them are completely interchangeable depending on your personal preference, there are a few classic recipes that call for a particular style of bread. For example, the world-renowned Reuben sandwich always calls for rye bread, and many fans agree that there's no other way to truly enjoy it. Regardless of your personal preference, or what your specific sandwich recipe may call for, you can find delicious low carb versions of virtually any kinds of classic sliced bread.
For sliced bread, our customers simply love Dream Bread from Bakers Deluxe. You can find it in many varieties including plain white, rye with caraway seeds, superflax, and more. Check out the full selection of Dream Bread from Bakers Deluxe here.
Low Carb Bagels and Wraps
For those sandwich crafters who like to try something a little different, bagels or wraps are great options that add some variety to your sandwich creations. If you're a fan of breakfast sandwiches, bagels are a tasty alternative to sliced breads, and come in several different flavours that add a bit more flair to your breakfast. We're huge fans of Everything Dream Bagels from Bakers Deluxe. Alternatively, you could wrap up your sandwiches in a nice soft tortilla shell like these from Mama Lupe's. Tortillas are fantastic for wrapping up the ingredients of your breakfast sandwich, or any other sandwich for that matter. Of course, if you're making quesadillas, then a nice tortilla shell is essential.
Low Carb Sandwich Ingredients
Choosing great low carb sandwich ingredients is often really easy. For deli sandwiches, you can pretty much go with whatever meat you prefer. Roast beef, chicken, turkey, ham, pastrami, and many others are all fair game. Cheeses are also generally no problem for the low carb diet. The typical sandwich cheeses such as cheddar, swiss, mozzarella, and others are perfectly fine. Vegetable ingredients such as lettuce, spinach, onions, and others are all safe bets, too.
For some types of sandwiches, you'll want to be sure to pick up low carb versions of their ingredients. One great example of this is the timeless peanut butter and jelly sandwich. Since normal peanut butter and jelly spreads are loaded with sugar, they need to be swapped for low carb alternatives. Fortunately, there are some great low carb spreads available to make your own, healthier version of peanut butter and jelly. For example, pick up a jar of Buff Bake Chocolate Chip Peanut Spread for a new twist on the classic PB+J. Pair it with our customers favourite Strawberry Spread from Walden Farms, and prepare yourself for an amazing sandwich experience!
Finally, it's not unusual for carbs to hide in some common condiments that we sometimes like to include in our sandwiches. Many people enjoy the sweet taste of honey mustard on their sandwiches, but several popular supermarket brands contain added sugar. We suggest trying this Honey Mustard Mayo from Walden Farms, which combines two great sandwich condiments in one low carb spread. Whatever condiment you require for your sandwich, make sure you do a quick scan of the ingredient and nutrition labels to make sure you're not adding more carbs than you're expecting.
Low Carb Sandwich Recipe to Try – Classic Reuben
Since we mentioned it earlier in this article, we can't stop craving a nice Reuben sandwich, so we've decided to share this great recipe we've found for a fantastic low carb Reuben. There's something about the tangy flavour of the sauerkraut combined with the saltiness of the warm corned beef that just works. Although we still prefer to make it on top of a nice low carb rye bread, this recipe will still work amazingly well even if you decide to skip the bread entirely. Lori over at CrabbyHousewife.com put her own spin on the classic Reuben in this sandwich recipe, and we are sure you'll love it, too. Give it a try today!
Conclusion
As you can see, getting in to the groove with low carb sandwiches is actually pretty easy. You can still make all the classics, such as PB+J, or get really creative and invent your own sandwich concoction that will become a legend in your neighbourhood. Whichever way you prefer to craft your sandwiches, making them the low carb way is simple, and with a few great products at your disposal we're sure that you'll be working some new creations in to your meal plans very soon. Happy eating!