Keto Wise Fat Bombs & Chocolate Snacks
Low Carb Sweet Treats and Decadent Chocolate Flavours
Making the commitment to live a low carb lifestyle is one of the best things you can do for your health, but all too often people assume this also means giving up their favourite indulgences and sweet snack treats. Nothing could be further from the truth! Discover how you can have your chocolate and enjoy it, too, with Keto Wise Fat Bombs!
Let's face it, there's really nothing like the taste of rich, creamy chocolate. It's delicious, satisfying, and eating it has been shown to have a profound positive effect on the mood for many people. In fact, some people enjoy chocolate so much it could only be described as a spiritual experience! It seems to be pretty much everywhere, too. The problem that low carbers often find themselves facing is that the regular chocolate you find all over the place is loaded with tons of sugar. Luckily, there's a better way to indulge your craving for chocolate without kicking your low carb lifestyle off the rails.
Wait A Minute . . . Chocolate is OK for Low Carb & Keto Diets?

It sure can be, yes! The problem isn't with chocolate itself, just the sugars that are used in its manufacture. The other ingredients commonly used in chocolate, such as cocoa powder, cocoa butter, and milk, are no problem at all. There are many different ingredients that can be used to replace the regular sugar of normal chocolate. Some of the most common sugar alternatives that are used in chocolate making include Stevia, a naturally-derived plant-based sweetener, and erythritol, a popular non-caloric and non-glycemic sweetener.
Chocolates made using erythritol are particularly common among people living the low carb lifestyle as this sweetener is also found in many other types of sugar-free foods, making it a very familiar ingredient for people who are counting carbs and closely tracking their nutritional intake. This leads us to the reason we're here. Erythritol just so happens to be the sweetener used in Keto Wise Fat Bombs and other sugar-free chocolate products from Healthsmart Foods! Let's take a minute and get to know this innovative brand and how they have become so popular in the world of low carb foods.
What's the Story Behind Keto Wise?

Healthsmart Foods made a grand entrance into the health food marketplace in 2005 with a collection of products launched under the ChocoLite and ChocoRite labels that were focused on delivering delicious snacks to people following reduced-carb and reduced-sugar diets. From day one, the mission of Healthsmart Foods has been to enable people to enjoy all the sweet snack foods they love without any risk of setting their health goals back.
To do this, Healthsmart Foods utilizes a wide range of top-quality alternate ingredients to replace carbs and sugars in their foods without compromising taste or texture. This is why they have selected erythritol as the sweetener of choice in their line of delicious Keto Wise chocolate products, including Fat Bombs, Snack Bars, and Meal Replacement Shakes. Customers who've experienced the taste of Keto Wise products know that they are some of the best chocolate products on the market, bar none. It's hard to believe something that can taste this good and decadent is actually sugar-free and fits the low carb lifestyle, but it's true!
All About Medium-Chain Triglyceride (MCT) Oils
Another thing that sets Keto Wise chocolate products apart from the rest is that they also contain an ingredient known as MCT oil, which stands for medium-chain triglyceride oil. MCTs are a type of heathy fatty acids that are broken down and digested faster than longer-chain fatty acids that are commonly found in many other different types of foods. Because of this, MCTs behave in a similar fashion to carbs as they are absorbed quickly and provide a rapid source of energy for the body, but won't kick the body out of ketosis like regular carbs typically would. Furthermore, MCTs have been linked to many other health benefits such as improved brain function, accelerated fat burning, and weight control.
With that explained, let's get to the good stuff and take a closer look at the variety of delicious chocolatey snacks available from Keto Wise here at The Low Carb Grocery!
What is a 'Fat Bomb'? It's delicious, that's what it is! These little two-bite creations are made from chocolate, of course, but not just any chocolate. Keto Wise Fat Bombs use a sugar-free chocolate made with erythritol and MCT oils, making each bite completely guilt-free and every bit as indulgent as you want it to be! Keto Wise Fat Bombs are available in single-serving packets or multi-pack boxes for convenience in a wide range of flavours that are sure to impress your sweet tooth.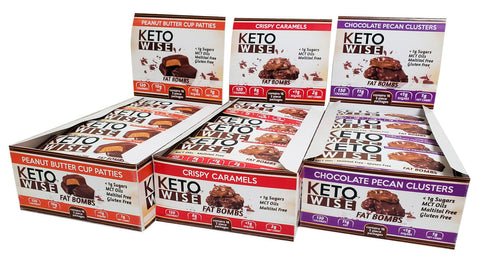 Keto Wise Meal Replacement Bars
If you're looking for a chocolatey treat that can deliver more long-lasting energy, Keto Wise Meal Bars & Snack Bars are packed with extra protein and healthy fats to give you a quick power-up whenever you need it. These bars are incredibly tasty, and are great to take anywhere you need some fast nutrition. Keto Wise Meal Bars are available in delicious chocolatey flavours to satisfy the craving you're having while giving your body the fuel it needs to keep going all day long. Give each flavour a try, and choose from convenient 12-pack boxes or single-serve bars to mix-and-match the different varieties!

Keto Wise Meal Replacement Shakes
If you prefer to sip on your chocolate instead of nibble on it, Keto Wise has got you covered, too! Mix up a delicious and nutritious high-protein shake that's got zero-sugar and is infused with plenty of healthy MCT oils. These tasty meal replacement shakes shakes are the perfect way to boost your morning breakfast, stay fueled up on-the-go, or simply satisfy a random hunger attack any time of day. Best of all, Keto Wise shakes are specifically formulated to make sure your body stays in ketosis to help you keep progressing forward with your health goals.
Discover More Healthsmart Foods Products at The Low Carb Grocery
Did you know that The Low Carb Grocery carries a lot more products from Healthsmart Foods than just Keto Wise? Well, get ready to find out! We also carry the incredible ChocoRite line of low carb candies, protein bars, and protein shake mixes. Not only that, but you'll also find a variety of other Healthsmart Foods products like Sweet Nothings low carb snack treats, along with their amazing line of AtLast! ZeroCarb whey shake mixes and soy protein bake mixes. With these mixes, you can make high-powered energy drinks and protein-rich baked goods including waffles, pancakes, pie crusts, cookies, and so much more.
If you've been missing the taste of rich and creamy chocolate, now's the time to get to know Keto Wise Fat Bombs and the other delectable chocolatey snack foods from Healthsmart Foods! We guarantee that it'll be love at first bite when you try a flavour like Chocolate Pecan Cluster or Crispy Caramel. Those are two of our favourites.
Browse the entire range of top-quality Healthsmart Foods right here at The Low Carb Grocery!
More Low Carb Lifestyle Articles