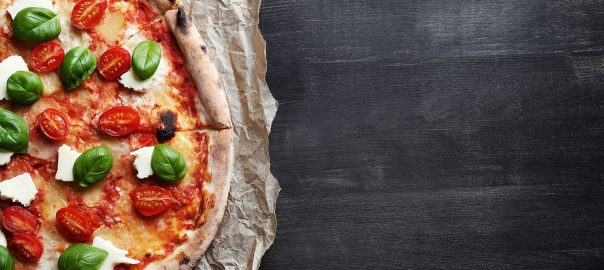 DIY Guide to Keto Pizza Crusts
It's time to make some delicious, piping-hot pizza pies, the low carb way! A great pizza always starts with the right crust, and you'll discover that making pizza crust that's low carb and even keto-friendly can be a snap, right in your own kitchen. Here, you'll learn the right ingredients to use to keep carbs out of your pizza crusts.
Who doesn't love a hot, cheesy slice of pizza loaded with all your favourite toppings? It's practically the perfect food! With pizza shops in literally every big city and small town from coast to coast, it's no secret that it's one of the most popular foods in Canada. While some pizza joints have embraced healthier crust choices and produce a delicious low carb pizza, it's not always easy to find low carb or keto-friendly pizzas that don't cut corners in taste or texture. Sometimes you've got to take matters (and pizza dough) into your own hands!
Recently there's been a huge surge in DIY pizza enthusiasts taking up at-home pizza making. You can now find compact wood-fired and stone-bake pizza oven appliances for gourmet home cooking, and the ingredients to make delicious dough are widely available at many grocery stores and specialty health food shops. This is great news for low carb and keto dieters, because it's super-easy to make pizza dough with low carb ingredients.
What Ingredients Do You Need To Make Homemade Low Carb Pizza Crust?
Pizza dough is actually pretty simple, requiring just a few ingredients. Your standard pizza crust is made from just wheat flour, yeast, water, salt, and a little oil, usually olive or vegetable. Of course, for low carbers, we've got to do something about that wheat flour. Fortunately, there are plenty of ways to get rid of carbs from pizza crusts and still get all the flavour and texture you want in a pizza. For example, some recipes simply call for a straight substitution of wheat flour for a low carb or keto-friendly option like almond flour or coconut flour, for example. In other recipes, there's no flour used at all, and instead the crust foundation is made from other ingredients like cauliflower or cheese.
How To Make Low Carb And Keto-Friendly Pizza Crust
It's super-easy to make a delicious low carb pizza crust at home that also checks all the right boxes to make it keto-friendly, too. In fact, one of the absolute best low carb pizza crust recipes we've ever seen comes from WholesomeYum.com. With two different variations, one for almond flour and one for coconut flour, you can easily pick the one that you prefer, but both make a ridiculously tasty pizza pie.
WholesomeYum.com – Low Carb & Keto Pizza Crust Recipe – If you're short on time, or simply want a low carb pizza crust option that requires fewer steps or ingredients to put together, you're in luck. There are also convenient pre-made pizza crust mixes that take all the guesswork out of mixing flours and other ingredients to make the perfect healthy pizza dough. To save even more time, you can even find ready-to-bake crusts that are low carb and keto-friendly. Simply toss on your sauce and toppings, slide it into the oven, and you're cooking!
Pizza Dough Mixes and Ready-to-Bake Crusts for Low Carb & Keto-Friendly Pizzas
Hold The Carbs Protein Pizza Crust Mix – Making your own pizza dough the low carb way has never been easier than this. Hold The Carbs mixes come in at just 1g net carbs per serving size thanks to a unique blend of almond flour and cheese. This particular mix has been elevated with increased protein content from a combination of soy protein, rice protein, pea protein, and hemp protein. All you need is some eggs and water, and you're good to go to make a gourmet low carb pizza right at home.
Carbonaut Thin Pizza Crust and Carbonaut Not-So-Thin Pizza Crust – When you're craving delicious low carb pizza and every second counts, grab one of these ready-to-bake crusts from Carbonaut and load it up with all your favourite toppings. Choose from gourmet thin-crust or not-so-thin traditional crust to deliver the exact pizza experience you want. Certified gluten-free, vegan, and keto-friendly, Carbonaut crusts are very high in fibre and come in at just 1g net carbs per serving. That's great news for any pizza lover who wants to ditch the carbs and enjoy a supremely tasty slice of pizza.
UnCrusts Plant-Based Keto Pizza Crust – The makers of UnBun didn't mess around when creating their own ready-to-bake keto-friendly pizza crust. With a whopping 12g of protein and just 3g net carbs per serving, UnCrusts are revolutionary pizza platforms to build your delectable masterpiece on. Made in Canada, gluten-free, grain-free, and perfect for keto, paleo and vegan diets, UnCrusts are made from a mix of coconut and almond flour, along with pumpkin seed protein powder and other nutritious ingredients.
One Note About Pizza Sauces
Before we get to some pizza topping ideas that will make your mouth water, we want to take a moment and quickly mention pizza sauce. While you wouldn't necessarily think that a basic tomato sauce would be a source for carbs, you'd be surprised how many sauces on grocery store shelves have added sugars in them. It's always a good idea to check the labels for hidden sugars in pizza sauces before you buy. The last thing you want to do to your low carb pizza is to unknowingly add unexpected carbs to it. We recommend a sauce like Rao's Pizza Sauce, which is extremely low in carbs and brings classic New York Style pizza flavour that is sure to impress you.
So, now that you've got the base for your next pizza creation, what are you going to load it up with? The possibilities are endless, but here's a few of our favourite pizza combos that are sure to satisfy your taste buds with big flavours.
Classic Canadian Low Carb Pizza – This is a favourite in every province and territory in Canada, and it's easy to see why. How can you possibly beat the combo of pepperoni, mushrooms, and BACON? You can't. Start with your low carb pizza crust, slather on some rich tomato sauce, add a healthy portion of authentic shredded mozzarella cheese, and then pile it high with pepperoni, sliced mushrooms, and chopped bacon. For a different take, try another kind of bacon like back bacon or pancetta for a unique flavour. You'll love it!
Keto-Friendly Pizza Margherita – We absolutely love the vibrant colours of the Italian classic Pizza Margherita, which a pizza chef named after Queen Margherita back in 1889, and used the colours of the Italian flag as his inspiration. Made with mozzarella, tomatoes, and fresh basil delicately placed on top of your keto or low carb pizza crust, it might seem simple on the surface, but the flavours are out of this world. While you can use the typical shredded mozzarella, the true authentic taste comes with the use of fresh mozzarella. Once you taste it, you'll know what we mean.
Low Carb Barbecue Chicken Pizza – If big bold flavours is what you're craving, this pizza will definitely deliver. Combining sweet, smoky, and savoury, this pizza has something for everyone. Once you get your keto-friendly pizza crust ready, add a layer of sugar-free BBQ sauce (we love all of the sugar-free sauces from Guy's), load up on the shredded mozzarella and cheddar cheese blend. Then go nuts with roasted chicken, bacon bits, green onion, and fresh cilantro. You won't be able to stop at just one slice, so you may want to make more than one pie if you're feeding a hungry family!
Southwest Taco Pizza – Combining the best of two fantastic cuisines, this pizza combo is definitely unusual! For starters, instead of traditional pizza sauce you're going to use your favourite low carb salsa, like the ones from Desert Pepper. If you're a spice head, go for a really hot one, but if you want a milder more family-friendly taste, Desert Pepper Fat Free Salsa Divino is a great option. Then, top with a cheddar/mozzarella cheese blend, and start adding classic southwest toppings like Mexican beef, jalapenos, tomatoes, sour cream, and green onions, and then finish it off with a sprinkle of Hot Mama's Southwest Spice blend. This is one slice you won't soon forget!