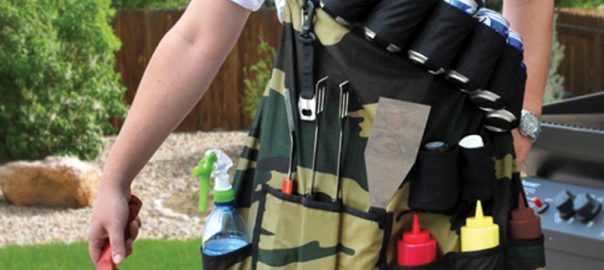 Top Rated BBQ Tools and Gadgets
Great Barbecue Tools and Gadgets
15 Awesome Barbecue Tools and Gadgets You Can't Do Without
The warm weather's here, I'm afraid you must barbecue now—it's the law!
But seriously, there's nothing more life-affirming than going outside and cooking your food. Barbecuing not only reconnects you with nature but the very history of human development itself. It's an instant throwback to the days when an open fire was our only option for cooking. A simultaneous celebration of how far we've come while still honoring all those who've helped us get here.
To help cement our position in this noble continuum this summer, we've put together the ultimate list of barbecue tools, gadgets, and doodads.  They all come in handy, and some of them will kick your grilling game into orbit.
1.      Looftlighter Charcoal Electric Lighter & Firestarter
Propane might be quicker, but charcoal tastes better. To help speed up your charcoal fires, the Looftlighter gets those coals lit in almost no time. All without chemicals. Kiss the awful taste of lighter fluid goodbye for good. For added safety, the Looftlighter's casing instantly cools after use. Safe enough to touch within seconds. As a bonus, it's great for lighting wood-fires, too. But it needs an outlet which means you can't take it camping.
2.      BBQ Dragon
This one's a great companion piece for the Looftlighter. It's a high-powered fan with an adjustable gooseneck clamp. When you've got your coals initially lit, the BBQ Dragon fans the flames, spreading it quickly to all coals. It's battery powered, so you can take it to the grill no matter how far it is from the house. And when you're done, it recharges via USB. Used in tandem, the Looflighter and the BBQ Dragon could have your coals ready to go in just 10 minutes. Somebody pinch me.
3.      Grill Daddy Pro Grill Brush
Most grill brushes get their cleaning power from elbow grease. But the Grill Daddy Pro Grill Brush unleashes the power of steam to get your grill clean as a whistle. Fill the handle with water, heat it up, and off you go. With its powerful stainless-steel bristles and the loosening power of steam, your grates will be spotless in no time. And it's dishwasher safe.
4.      Steven Raichlen's grilling grate oiler brush
And if you're going to have a steam-powered grill brush, how about another brush that has a compartment full of oil in its handle. This one cleans the grill before you put your food on, dispensing your favorite cooking oil at the same time. Keep the grate well-oiled to prevent your food from sticking. Try using an oil with a higher smoke point, such as avocado or grapeseed oil. The brush is made of a heat-resistant polymer of plastic and silicone. Dishwasher safe.
5.      Himalayan Salt Plate
Salting meat is for amateurs. Real barbecue-ists grill their meat on a solid slab of Himalayan salt. Just pop it on the grill while it's warming up and treat it like a griddle. It's a great way to get indirect heat for more delicate cuts like bison. The food you cook is well-protected from the flames below. And the flavor it imparts to your food along the way is sensational.
6.      Charcoal Companion Stainless Grill Clips—Set of 4
Ever try grilling asparagus only to lose half of them falling through the grate? Well, suffer no more. These clips bunch your veg together, preventing unnecessary loss. The clips are made of brushed stainless steel with serrated teeth to grip your veg and a spring hinge to lock it down. Mind you, if you're grilling a lot of veg you might need a couple of sets.
7.      Maverick Pro-Temp Commercial Grade Food Probe BBQ Thermometer
Take the guesswork out of doneness. Stop poking your meat and stick a trusty instant-read thermometer in to see what's really going on. The Maverick Pro-Temp gives you an accurate temperature quickly to reduce the risk of overcooking. It's LCD screen is high contrast, and it's backlit, so you can use it at night, too.
8.      Grillbot
Perhaps the best part of the movie WALL-E was imaging a future where itty-bitty robots clean up after us. Well, as far as your barbecue is concerned, the future is now. Grillbot is programmed to dive into your post-grilling gunk and residue with its whirring brushes so you won't have to. This is not a toy. It's got a proper CPU and sensors and it can run completely autonomous. You can even set it and forget it, programming it to sound an alarm when it's done. After use, the brushes pop out so you can put them in the dishwasher.
9.      Swashbuckler BBQ Sword
This one also gets filed under the not-a-toy category. At least, not a kid's toy. What looks like a play sword comes equipped with a sharp carving fork at the business end. It's only included here because International Talk Like A Pirate Day is September 19, so what better way to celebrate the end of summer? I wouldn't trust the knuckle guard to be a viable heat shield, but at least it comes with a mask. You and your friends can take turns pretending to be the Dread Pirate Roberts. BBQ and cosplay, together at last.
10. Spruce Silicone Wine Glasses
Barbecue. Vino. A match made in heaven. But what if you drop your wine glass and it shatters all over the lawn? Not a problem. This stylish stemless glassware is made from silicone. Guaranteed shatterproof. They're actually flexible, so don't squeeze too tight while it's full of liquid. And when you're done, they're dishwasher safe. Stylish, resilient, and eco-friendly. Plastic and paper cups are so passé.
11. Lynx Grills SMART30F SmartGrill
Okay, maybe an actual barbecue doesn't qualify as a gadget, but this is the grill for gearheads. Why's that? Because you can control it with your smartphone. From a distance. How cool is that? Or if you're close enough to it, it has voice recognition. Control the heat without ever turning a dial. Now that's progress.
12. Brookstone Handle-Mount Grill Light
One of the things stopping folks from grilling in the winter isn't the snow. It's the fact that the sun sets in the afternoon and you can't see what you're cooking. That changes with the Brookstone Grill Light. Just clamp it to the handle and you're ready to barbecue around the clock. The durable LED bulb is good for 100,000 hours, which works out to over eleven years, so you shouldn't have to worry about replacing it for a while. To extend its life even further, it has an auto shut off feature. And it's weatherproof, to boot.
13. Maverick Redi-Chek Wireless Digital BBQ Thermometer
If you're into low-and-slow old-timey Southern barbecue, you know nothing's worse than some goof opening the lid every ten minutes asking, "Is it done yet?" This wireless thermometer stops all that nonsense. You insert it into your meat, you put the meat on, and then you only open the lid when the wireless receiver tells you it's done. It has a 300-foot range. The LED display is also backlit so you can check on your brisket that's cooking overnight without having to get out of bed, which should make a lot of barbecue spouses happier.
14. Sur la Table Stuff-a-Burger Press
The latest rage in burgers is stuffing. Not like turkey stuffing. More like cheese on the inside. Or onions. Or cheese and onions. Maybe some herbs, too. Well, Stuff-a-Burger lets you bring the strange wonder of stuffed burgers to your grill. Without unnecessary mess. Its ingenious design lets you make seamless stuffed burgers every time. The stuffing inside stays there until you bite into it.
15. Motorized Hot Dog Griller
This one appears to be kid stuff on first inspection. But it's not. It's called a hot dog griller, but if you have a straight-enough sausage, that'll work too. with its built-in electric motor, the Motorized Hot Dog Griller keeps your dogs and brats turning on autopilot, so you can pay attention to the fancier aspects of dinner. Imagine a dog with no burns or cold spots. It could be yours.
You'll wonder how you ever grilled before
Live fire cooking—it's what separates us from the lower primates. That, and the cerebral cortex, possibly. But cooking with fire's definitely still important.
And as our species continues to evolve, forever dreaming impossible dreams and reaching for unreachable stars, our barbecue gadgets evolve right along with us.
Try out some of these new innovations and take your grilling game to a whole new level this summer.