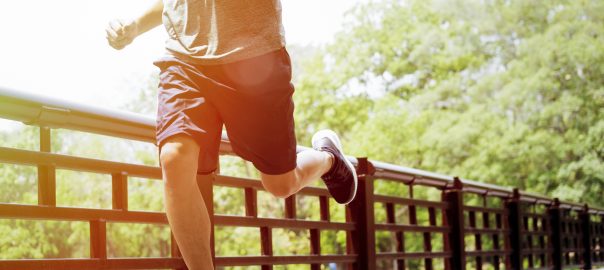 Summer Fitness Goals
When the summer arrives, many people take advantage of the nice weather to get more active and work towards improving their physical fitness. However, getting the amount of exercise we want isn't always easy, and busy home and work schedules don't make it any easier. Here are some helpful tips you can use to set achievable fitness goals this summer and keep yourself on-track to meet your health & well-being objectives.
The sunny days of summer are here, and that means Canadians from coast to coast are venturing outdoors to enjoy the warmth and sunshine and participate in all kinds of physical activities. While many people are heading out just for the sheer fun of it, others are taking the opportunity to also work towards building a healthier body. It's the perfect chance to build healthier habits that you can stick with through the entire year. Studies have shown that it takes about 30 days to develop a long-lasting lifestyle habit, which means that over the 3-6 months of decent Canadian weather, the average person can easily make at least one positive change for the benefit of their health.
The trick is to make the goals you set for yourself achievable and realistic, that way you avoid the potential frustration or disappointment of not reaching a target that may have been set too high given the other important factors in your life like family commitments and work responsibilities. Being ambitious is great, but motivation and momentum can build far faster when you accomplish the task you've set for yourself and use that as inspiration to charge ahead to the next one. Fitness should be fun, and planning out simple goals and milestones to track your progress can be a big part of the enjoyment of getting more active.
Let's talk a little about what this might look like in some examples you can use as templates to craft your own goals to improve fitness and make some healthy lifestyle changes.
What Kinds Of Summer Fitness Goals Could You Set For Yourself?
Quite often, people take the approach of attaching a 'number' at the very top of their fitness goals, such as 'lose X number of pounds', 'fit into a certain size outfit', or 'run a 26 mile marathon'. While this may work for some, it can actually work against some people in the long run. Sometimes it's best to keep the overall goal a little less precise, and gauge success by regular progress instead of a 'win/lose' against a single number.
Lose Weight – For people who want to lose weight for a variety of reasons, it can be tempting to aim high with their weight loss target. However, for those who are just starting out down the path of getting more fit, it's best to kick things off with a smaller number, and perhaps use it as a regular milestone marker along the journey. For example, instead of saying 'I want to lose 25 pounds by the end of the summer', you could instead say 'I am going to aim to lose 5 pounds each month'. While the total amount of weight might end up being the same, the smaller increments are less daunting, and you can feel more confident when you get active that you're on track to meet your goal.
The right mindset is critical to success in losing weight. It's important to keep your mind on the bigger picture, which is even if you don't happen to hit your exact goal target in any particular time period, you still made progress and are sticking to it. There are all kinds of reasons why you may lose time unexpectedly, so don't put too much pressure on yourself when unavoidable situations arise. No sense beating yourself up over something you couldn't control, right? Simply focus on getting active again at the next opportunity, and keep making your way down the path. There's always another sunrise coming up tomorrow!
Boost Energy Level & Endurance – General fatigue and low energy are very common among the general population, and after the last couple of years of living through a pandemic, this seems to be more true than ever. Because of this, a good summer fitness goal is to regain the energy levels you once had through increased physical activity focused on cardiovascular health and improved muscle tone. One way of setting simple objectives towards boosting energy levels and endurance is to commit to small intervals of daily physical activity that gradually increase over time.
For example, a daily 10 minute spin on the bike or brisk walk is a great way to start out. Then, after a couple of weeks, increase it to 15 minutes per day, then 20 minutes after another few weeks. It's proven that regular daily physical activity, even in small amounts, can make a big difference on mood and sleep quality. In turn, better quality sleep and a positive mood will help you feel more energized throughout each day. Every little bit adds up, and can have a substantial impact over the long run.
Lower Stress – Daily stress builds up if you don't take steps to relieve it, and consistently high stress levels can take a significant toll on a person's health. Exercise is well known to be one of the most effective stress relievers, but don't think that this only applies to the more 'intense' types of physical activity. In fact, some of the best ways to relieve stress involve slowing the mind down and focusing on precision movements through practices such as Pilates and yoga. Beginner yoga and Pilates classes are inexpensive and require almost no equipment other than comfortable clothes.
A good goal for anyone who wants to lower stress levels to improve health and well-being this summer is to commit to a once-weekly Pilates or yoga class. It won't cost much or take up a lot of time. An excellent way to stay motivated and inspired is to participate in these activities with a partner. That way, once you both get the hang of the movements and routines, you can also get together on your own time outside of the studio and go through the exercises together.
Simple Summer Activities You Can Start Today To Improve Fitness
Whether you've got your heart set on losing weight, are eager to feel more energized each day, want to feel the relief of lower stress levels, or have any other health or fitness goal in mind, there are countless different activities you can participate in to get there. Many of these can be done solo or with a partner, making it easier on you to get active whether or not you've got a friend to join you.
Here's some ideas you can try to get fit this summer!
Walking, jogging, running, swimming and cycling may seem obvious, but they truly are great ways to improve your total body fitness, require very little equipment, and can be done virtually anywhere.
Aerobics, yoga, and Pilates classes at your local studio or gym are a fantastic way to get moving and relieve stress, rain or shine. Plus, they can be a fun way to meet new people who share similar interests.
Rowing, kayaking, and paddle-boarding are some of the best ways to get exercise and cool off on sunny summer days. Rental shops are commonplace at waterfronts, and most have affordable hourly rates.
A round of golf is a fantastic way to spend a summer day, with plenty of walking on varying terrain, great conversation among friends, and moments of Zen that can help you shed built-up stress and re-focus.
Treat the kids to a family water battle with balloons, water pistols, hoses, buckets, and whatever else you have on hand to splash each other. The laughs alone are worth it, but there'll be plenty of running, too.
Nature walks are a fun way to get moving and explore the world around you. With all the time we spend indoors and in front of digital screens, an afternoon of immersion in nature can be incredibly refreshing.
Whatever activity or combination of activities you find most interesting, it can help to plan them out a couple of weeks in advance so you will be more likely to stay on track with your goals. Here's an example of what a typical one-week workout plan might look like for someone who is just getting started with regular exercise to help improve their fitness.
Sunday: 20 minute walk around the neighbourhood
Monday: 15 minute spin on the bike, outdoor or indoor
Tuesday: Active 'rest day' with stretching in the morning, afternoon & evening
Wednesday: Weekly yoga/Pilates class with friend
Thursday: 30 minute nature walk
Friday: Active 'rest day' with stretching in the morning, afternoon & evening
Saturday: Round of golf
Now, each week will inevitably look a little different depending on what's happening in your work/home life, but you get the idea. Plug in any activity you prefer into those slots and you've got your own weekly plan! One thing to note is the importance of active rest days. In general, you should have at least two in the mix to allow your body a bit of relaxation in between workout sessions. However, during these days it doesn't mean you should just sit around and lounge. Casual walks, mindful stretching, and meditation are examples of low-impact activities that can help you continue down the path to wellness and better health on those active rest days.
Keep It Simple, Make It Fun, Achieve Your Goal
At the end of the day, getting fit and improving your overall health isn't about churning out 100k bike rides every week or hardcore hour-long CrossFit sessions at the gym. It's about progress, and moving ever-forward towards your goals. The best way to enjoy exercise is to MAKE it enjoyable. Choose activities that you find fun, get together with the people you like spending time with the most, set yourself achievable goals and objectives, and most importantly, keep things simple. A simple plan is easier to stick to, and if it's easier to stick to it will be more likely that you will. Remember; it takes 30 days to develop a healthy habit, so make it easy on yourself to check off those 30 days and build that positive lifestyle habit.
Take-Anywhere Nutritious Snacks & Energy Drinks To Keep You Fuelled Up
Nutrition is key to any healthy lifestyle initiative, and that includes the snacks and drinks you use to fuel up for your physical activity and re-hydrate afterwards. Here's a few very popular low carb and keto-friendly products you can find right here at The Low Carb Grocery that will help you stay energized and refreshed, without the extra carbs and added sugars that are so common in typical energy drinks and protein bars.
Zevia Zero Calorie No Sugar Added Energy Drink – Available in invigorating flavours like Raspberry Lime, Grapefruit, and Mango Ginger, Zevia Energy Drinks are different from the rest because they're not just 'low sugar'. They're NO sugar. These refreshing beverages will get you fired up for the day and wake up your spirit.
Grenade Carb Killa Protein Bars – Loaded with protein and with delicious flavours that will really satisfy your cravings, Grenade Carb Killa protein bars are the perfect way to boost energy without all the carbs of other energy bars. Choose from White Chocolate Salted Peanut, Dark Chocolate Mint, Cookies & Cream, and other great tastes. 
Atkins Ready-to-Drink Iced Coffee Protein Shakes – If you can't start the day without a cup of coffee, these are the protein shakes for you, and since they're from Atkins you know they're good. Available in Original, Vanilla Latte, and Café Caramel varieties, these protein-rich shakes are ready to drink and keep you going all day.
Buff Bison Meat Sticks – Low calorie, keto-friendly, and with no added nitrates, Buff Bison meat sticks are the high-protein snack you'll be craving before and after your workout. With bold flavours like Original and Chipotle, and 7g of protein in each 30g stick, Buff Bison sticks are made with simple ingredients for unmatched taste.