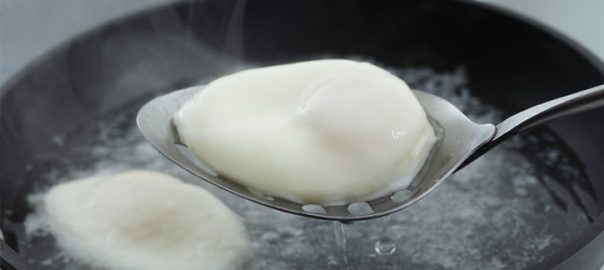 Make Perfect Poached Eggs for a Low Carb Breakfast
How to Make Perfect Poached Eggs for a Low Carb Diet
Eggs are a huge part of the low carb diet for many people. They are a great source of protein, and can be made in dozens of different ways for any meal of the day. From a plate of simple sunny-side-up fried eggs, to a fresh baked quiche, you can find an egg dish to suit any taste. There are some methods of preparing eggs that are a bit trickier than others, and poached eggs definitely fall in to that category. Poached eggs seem simple enough, but there is a certain technique that you need to have to make a perfect poached egg, and that technique comes from experience (and a bit of luck!).
We're here to help give you a head start on learning how to make a perfect poached egg with this handy set of tips. There are plenty of ways to use poached eggs in low carb recipes, and we'll give you a couple of examples that we're sure you'll be craving by the end of this article. Let's get started with the basics on what you need to make perfect poached eggs.
Gather the Right Set of Tools
While making a poached egg doesn't require any really unique or special tools, there are a few common kitchen items that certainly make it a bit easier. Here's what you need to gather before you begin:
Eggs, of course!
White vinegar
Salt
Deep sauce pan
Small dish just big enough to hold a cracked egg
Slotted spoon
Now that you've got everything you need to work with, let's go through the basics of how to poach an egg correctly.
Step-by-Step Directions for Perfect Poached Eggs
Fill the sauce pan with enough water (about 2 quarts) to make it about 4 inches deep, add 2 tablespoons of white vinegar and ½ tablespoon of salt and bring the water to just under a boil.
Crack your egg gently in to the small dish and check to make sure the yolk stays intact. Keep each egg you intend to poach in its own separate dish.
Stir the water steadily in a circular motion to create a stable, whirlpool-effect in the pan.
In one smooth motion, lower a dish with a cracked egg close to the surface of the water, and very gently pour the egg in to the hot swirling water.
Repeat with the remaining eggs, turn off the heat and cover the pan. Let the eggs sit in the hot water for 5 minutes to cook.
Using a slotted spoon, scoop the poached eggs out of the water and let drip for a few seconds to shed any excess water, blot with paper towel and serve immediately.
A Few Notes to Remember
In addition to the step-by-step instructions above, there's a few additional things to keep in mind to make sure your poached eggs come out perfect.
If you want to prepare many eggs at once, be sure to use a larger pot. The larger amount of water will hold more heat to cook a greater number of eggs consistently.
Poached eggs can be refrigerated and reheated. To refrigerate poached eggs, place them in ice water immediately after cooking, and place in the refrigerator. Reheat them in warm water when ready to serve.
Fresher eggs will give better results, so if you're committed to making perfect poached eggs, then farm fresh eggs are the best choice.
Cooking times for poached eggs can vary, depending on size and temperature, but not much. Generally, between 4-5 minutes is the threshold. 4 minutes gives an egg that is still cooked, but will be very runny. 5 minutes gives a firmer egg with a slightly thicker, but still fluid yolk.
Helpful Instructional Video for Poached Eggs
In addition to these steps and tips, there are lots of video tutorials available that can help get you up to speed even faster. Here's a video for poaching eggs that you may find helpful!
Other Methods of Poaching Eggs
While the traditional method definitely produces great results, you may not always have the time to do it. Fortunately, there are all kinds of handy gadgets you can use to save time and still produce a delicious poached egg when you're in a hurry.
Poach Pods Silicone Egg Poachers – These handy little silicone cups make it incredibly easy to make delicious poached eggs and helps simplify the process by keeping the eggs from direct contact with the water.
Denmark 8-Inch Stainless Steel Egg Poacher – This sophisticated egg poacher features four separate egg poaching cups, and a unique design that provides consistent heat distribution for perfect eggs every time.
Hamilton Beach Electric Egg Cooker – For an all-in-one egg cooking device, this one is a great choice. It is able to cook eggs in several ways, including soft, medium and hard boiled, in addition to poaching. It can cook up to 7 boiled eggs at a time, or 3 poached eggs at a time, without occupying a spot on your stove. This makes it great for busy kitchens and big breakfasts.
Amazing Poached Egg Recipes
Now that you've got the tools and the skills to make the perfect poached eggs, let's take a look at a couple of amazing low carb recipes you can use to put them to the test!
Chorizo & Corn with Poached Eggs
This zesty recipe comes from J. Kenji at SeriousEats.com, and will definitely get your tastebuds cheering. The combination of the spicy chorizo with the fresh taste of basil works amazingly well with the flavour of a perfectly poached egg. This recipe can easily be made in a low carb version by substituting in a low carb crouton instead of the brioche croutons, or simply by skipping the croutons altogether. Whatever way you may choose to alter it, this recipe for Poached Eggs with Corn, Chorizo, Basil, and Croutons is simply delicious and definitely unusual.
Frisée-Lardon Salad
Here's a recipe that combines cool, crisp salad greens with delicious bacon and a poached egg to create a unique experience that will blow you away. This creative salad is very simple to prepare, and checks off all the criteria that a low carb dieter looks for. It's got lots of protein and plenty of greens, along with a great flavour from the vinaigrette dressing that perfectly suits the combination of warm egg, salty bacon, and fresh frisée lettuce. Check out the full recipe here for Frisée-Lardon Salad from Eva at BonAppetit.com.
Conclusion
Well, there you have it! Making perfect poached eggs does take a bit of practice, and a little patience, but with these tips you'll have a great head start. Poached eggs are a great addition to any low carb meal plan, and add a bit of variety to your bacon-and-egg breakfasts, as well as lots of options for other interesting meal combinations. We hope that you've found these tips helpful, and that the next time you're cracking a few eggs you're encouraged to give poaching a try.