What You Need to Know About Online Grocery Shopping
Ordering Groceries Online – Food Safety, Shipping & More
You can order virtually everything online these days. When it comes to groceries, however, there are still some common concerns that many people have about the process of buying food online. Some are worried about the safety and integrity of the packaging, and fear that their order will show up with broken or damaged packaging. Others have concerns about shipping times and worry that you can't effectively order perishable foods online, since they'll spoil before they even arrive at your door.
Fortunately, modern online ordering processes, packaging methods, and shipping services have addressed all these issues and you can now safely and easily have virtually any kind of grocery products delivered right to your door. Here, we will outline some of the steps we take at The Low Carb Grocery to ensure that your order is packed, shipped and delivered quickly and properly, each and every time.
Freshness Details on Product Pages
For any perishable product, you can see specific details on their shelf life right on their product pages. For example, for the popular Mama Lupe's Tortillas, you can see how long they will stay fresh at room temperature, and if you wish to extend this time you can store them in the freezer.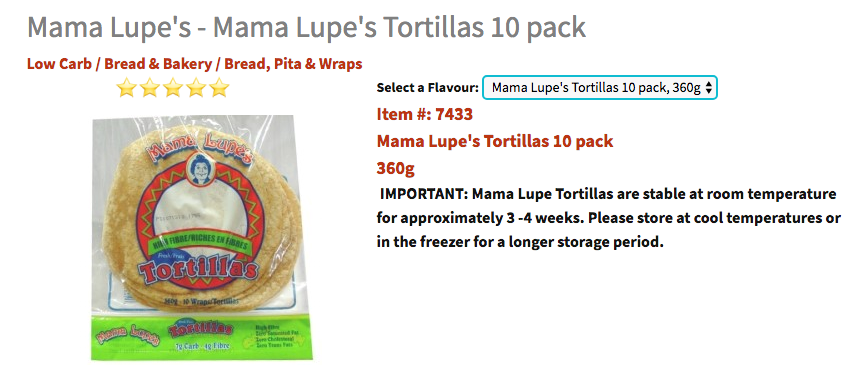 Estimated Shipping Time Guidelines
Before you place your order, be sure to check our shipping and delivery time calculator for your location. You can access this tool on our Shipping & Returns page. Simply by entering your postal code, you will be able to see your estimated delivery time as well as details on shipping weight limits, and the store location that your order will ship from.
Special Packaging Details
All orders from The Low Carb Grocery are packed securely and carefully in durable, sturdy packaging materials to ensure that each item stays in perfect condition on its journey to you. In addition, we offer thermal packaging options and cooling packs that provides additional assurance that your order will maintain optimum freshness during transport, regardless of climate changes or seasonal temperature swings.
Communication & Customer Service
In addition to our specialized packing methods, we provide communication directly to you on any orders or products that may require special steps or are facing unexpected delays. Rest assured, we will not let any product ship out unless we are 100% certain that you'll be satisfied with it when it arrives. We will take steps to contact you via email and telephone to keep you informed of any special circumstances related to your order.
Order Confidently
We hope that this information has helped answer your questions and concerns about ordering groceries online. We want you to have all the details you need to order confidently, and know that we're committed to your satisfaction with each and every order we ship. The team here at The Low Carb Grocery is dedicated to providing excellent customer service, quality products, and fast delivery times so that you always have the best low carb food products for you and your family.
If you have any questions about ordering from us, or would like more information about a particular brand or product, please don't hesitate to contact us here, or drop in to any one of our stores. We look forward to serving you!