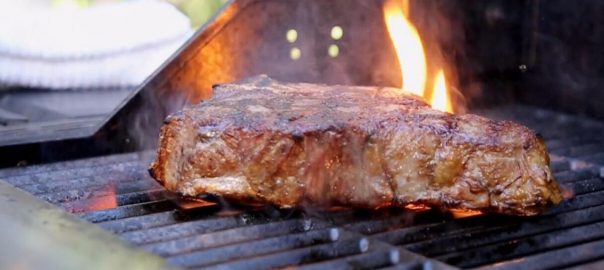 BBQ Cleaning Guide – Great Tips
The How-To Guide for Cleaning Your Barbecue Grill
With summertime just around the corner, our minds turn to warmer weather and fun times outdoors with family and friends. For many of us, a big part of summer fun comes from firing up our BBQ's and having a family cookout, complete with delicious foods like fresh grilled hamburgers, hot dogs, chicken, steaks, and much more.
However, when the warmer weather hits and we rush to get those first burgers of the summer cooking, we sometimes forget how important it is to thoroughly clean and prepare our barbecues for the new season of grilling. While most of us are diligent in cleaning the actual grills each and every time we cook, the rest of the barbecue needs attention too, and making sure it's clean and in full working order is a good idea at the start of every grilling season.
In this article, we walk through all the steps you need to know to perform a complete inspection and top-to-bottom cleaning of your barbecue grill and ensure that it's ready to rock and roll when the time is right. We'll discuss the essential tools you should have on hand, as well as some things to avoid along the way. Let's get right to it!
Start with Safety First
We always abide by the credo of 'safety first' when it comes to working with a gas grill, so always disconnect the gas line from the grill before you do anything else. Leaving the gas line connected to a fuel source while you're cleaning it can be extremely dangerous, so always make sure this is the first step you take to stay safe.
Gather the Right Tools
Before you begin, it's important to gather together the necessary tools and equipment you'll need to properly clean your grill. You don't need much, but the right tools can make things much faster and easier, and get the process done with less mess overall. Here's what you should have close at hand before you begin.
Two large buckets – You'll use one bucket to dump any ashes or dirt that has collected in the bottom of your grill to be disposed of later, and the other bucket will be used to hold clean, soapy water to clean the various parts of the grill.
Metal paint scraper – A stiff metal paint scraper is great for removing burnt-on stuff from the insides of the barbecue shell. Pick one that's no wider than about 1.5" – 2" so it's easier to maneuver inside the various areas of the barbecue. Note that if your grill is made from stainless steel parts, you will want to avoid using a metal scraper since it will scratch the finish. In these cases, opt for plastic instead.
Stiff bristle brush – You'll need a stiff bristled plastic brush to scrub down the surfaces of the barbecue after you've scraped off the loose dirt. You'll want something with fairly long bristles since it will be easier to get in to the different nooks and crannies on the inside.
Metal grill brush or grill cleaning stone – For giving the grills themselves a good scrub, you'll want to use a good quality grill brush or cleaning stone that is specifically for BBQ grills.
Gentle dish soap – You'll want just a little bit of gentle dish detergent and warm water to clean the majority of the parts of the barbecue. Harsh chemicals should be avoided for the obvious reasons that you don't want to risk any of that stuff getting near your food. Gentle dish soap will rinse away easily and leave a clean, chemical-free surface.
Disassemble and Check for Replacement Parts
Now that you're ready to work on the grill, start by removing the main components for easier cleaning. The grills, burners, and heat diffusers are all easily removed, usually without the need for any tools. Take out the grease drip trays and any other removable pieces that you can in order to give yourself more space to work with while you clean.
This will also give you the opportunity to closely inspect all the different parts of your grill and look for any signs of excessive damage, wear, or corrosion. If you spot any parts that appear to have been damaged or are beginning to rust through, they should be replaced with the correct replacement parts from the manufacturer of the grill. Look for signs such as thick areas of rust or thinning and brittle metal that are telltale signs that corrosion has progressed and the parts are no longer safe to use in your grill. Consult the manufacturers website and look through the technical support section for a parts list for your grill or call them for assistance in identifying the correct replacement parts you will need.
Scrape and Scrub
Once you've got things disassembled, gently but firmly scrape any burnt-on food and layers of grease or dirt from the parts and dump the scrapings in to one of your buckets. This will keep all the dirt in one place and make it easier to dispose of when you're done. After the parts have been scraped sufficiently to remove the bulk of the surface dirt, you can begin washing and scrubbing them in the bucket of warm and soapy water. Use the stiff bristle brush to scrub the parts in the soapy water to get them as clean as possible. Also scrub down the inside of the grill casing to remove any loose dirt and grime.
Rinse and Dry
Now that you've got everything scrubbed down and looking clean, give everything a good rinse with clean, cold water. Avoid using high pressure hoses, as they can force water in to areas that are difficult to dry and could cause faster corrosion. If you have a gentle spray nozzle on your garden hose, you can use this if you dial down the pressure to a very low setting, otherwise rinse everything by hand with clean water.
After everything has been sufficiently rinsed, place all the parts in a well ventilated or sunny area to accelerate the drying process. You can speed things up by patting with paper towels to absorb any excess water that has collected in the various parts of your grill.
Reassemble and Test
Once you are certain that all the parts are completely dry, you can now reassemble the grill and get it ready for use again. Put everything back in the reverse order that it was removed and be sure to consult the owners' manual if you are uncertain where some things need to go.
With the grill completely dry and reassembled, it's time to reconnect the gas line and fire it up. We recommend running the barbecue for several minutes to help remove any additional moisture that may still be present and to ensure that the grill is working correctly.
Finish with a Big Family Dinner
Put that nice, clean barbecue to good use by planning a big family dinner to officially kick off the summer grilling season. If you need help planning a fantastic low carb barbecue, check out our BBQ Grilling Guide for a collection of tips and recipes you can use to cook up something really special.
We Canadians love our barbecues, and since we all know that winter will be back before we know it, let's plan to get as much out of this summer grilling season as we can. Now, go get that barbecue ready for action, Grill Master!