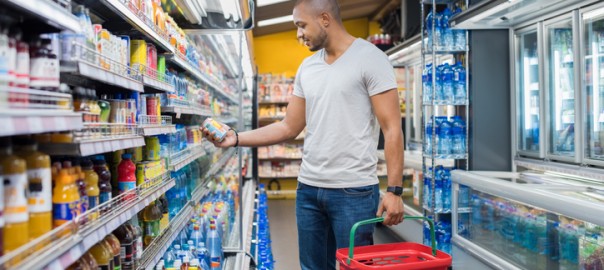 Black Friday & Cyber Monday Low Carb Food Sale
Stock Up On Low Carb Food Essentials With Black Friday & Cyber Monday Deals
This time of year, retailers of all types are planning their biggest and best deals to kick-off the holiday shopping season with a big bang. While most people tend to think of big-name electronics, must-have toys and popular fashion brands, there are some awesome deals to be had on the best low carb & keto health food brands. Find out how to shop smarter and save a ton of cash on low carb foods with Black Friday and Cyber Monday sales.
It's hard to believe that the year is coming to an end already! Seems like it was just yesterday we were enjoying the warmth of the summer sun, but the calendar says that fall is almost over and winter will be here before we know it. However, this time of year is also when you can get incredible deals and discounts on all kinds of items on the crazy shopping weekend that starts with Black Friday and ends with Cyber Monday. This retail event has only gotten bigger and bigger over the years, and you'll now find huge savings on products and services of all types, including low carb health foods & keto groceries!
Shopping on Black Friday and Cyber Monday for low carb foods helps you save lots of money, especially when you take advantage of the best deals on the right kinds of products. It can also be a great way to make this season a little easier on your bank account by keeping your grocery bills down in the weeks leading up to the big holiday events, when so many other expenses all hit at the same time. Here's some helpful advice you can use to create a smart Black Friday and Cyber Monday low carb food shopping plan that will get you more of the health food essentials you need for a lot less money. Let the savings begin!
Focus On Dry Goods & Non-Perishables For The Best Value
For starters, you're going to want to think a little different about your low carb food shopping list for Black Friday and Cyber Monday. This time, it'll be a bit more like a trip to a wholesale store, where you're going to want to stock up in larger quantities on things that you always want to have on-hand that also have really long shelf lives to avoid the possibility of spoilage. Dry goods and non-perishables, such as cooking and baking ingredients, pasta and noodles, sweeteners, coffee and tea, candy, and other items like this are going to give you the best long-term value. You can really stock up on them without worry, as they'll be shelf-stable for months on end.
Think 'Multi-Use' Products To Get More Variety In Meals
In addition to focusing on products that have really long shelf-lives, take a step back and think about what kinds of meals can be prepared using them. Some foods and ingredients are a bit more limited in the types of dishes that they will work with, while others are much more universal in their applications. Sweeteners, hot sauces, spices, noodles, and baking ingredients are all prime examples of the kinds of products that you can use in a hundred different ways. This makes these specific product types great choices to add to your low carb Black Friday & Cyber Monday shopping lists.
Hunt Down The Biggest Discounts On The Most Expensive Items
Some items that will be on your low carb shopping list are naturally going to be more expensive than others, so be sure you take your time to check the size of the discount on those particular items. For example, products like health supplements, protein powders, and general wellness products might normally be some of the more expensive items on your list. However, on Black Friday and Cyber Monday their prices could get slashed by quite a bit. Be sure to check the deals on these healthy living products, because you're not going to want to miss out on some of the biggest discounts!
Jump On Deals Fast, Because Stock Is Sometimes Limited
One of the defining characteristics of the best Black Friday and Cyber Monday deals is that stock will be limited, and once they're gone, they're gone. The same is true with low carb foods on sale. Sometimes it's only selected varieties or certain brands, which means that to get the exact low carb products that you want, you've got to act fast. So, when you find a good deal on a product that you know you want, don't wait too long to get your order in, otherwise you might miss your chance.
Save On Shipping & Make The Most Of Each Order Shipment
Another thing to keep an eye on is the total amount of your shopping cart and what amount might be needed to hit the threshold for free shipping. Most specialty grocery retailers will have minimum order values to qualify for free shipping, but with Black Friday and Cyber Monday deals, it's usually pretty easy to reach that threshold to save even more cash on your big low carb grocery delivery. Fill that box up and save as much as you possibly can!
Add Specific Items To Your Cart Early For Fast Deal Checking
One shortcut to check for deals on certain low carb brands & keto products is to build out your 'wish list' ahead of time by logging in to your account and then adding products to your shopping cart. This will save your cart history on your account so that when you log back in on Black Friday or Cyber Monday, you'll quickly be able to scan for reduced prices and discounts on the products that you've got in your cart. This is also an easy way to add up the total savings. Simply jot down the total of your cart before the sales begin, and then compare to the total that has the updated pricing discounts applied. The savings might really surprise you with how much the value of the discounts can add up to!
Check The Start Date AND Time Of Sales To Avoid Missing Out
One thing to keep in mind is that many Black Friday and Cyber Monday sales will kick off the moment the clock rolls over at midnight. Waiting until the morning to place your order for those low carb health food products that are in limited supply might not work out too well, as they could have already sold out. Now, not all retailers will kick off their sales right at midnight, so be sure to check the website for details on the promotion to be sure of when the discounts will be available. In many cases it's well worth it to stay up until midnight, or get up early when the sale starts, to make sure you can score the best deals on low carb foods and save the most money.
Get Great Deals For Black Friday & Cyber Monday Right Here At The Low Carb Grocery!
In case you were wondering, we are definitely going to be offering some fantastic deals on your favourite low carb health foods and keto-friendly products during Black Friday and Cyber Monday this year. Now, we can't let the cat out of the bag quite yet on what featured brands you'll find on sale, but we can give you a little early advice to pique your interest. There's a pretty good chance that you'll be able to score some savings on categories such as baking and cooking ingredients, alternative sweeteners, snack foods, and many other kitchen and pantry essentials that you always need on hand. Plus, there will definitely be a few surprises as well!
To make sure you're getting the latest news from The Low Carb Grocery, including early notifications on sales and promotions, be sure to follow us on Facebook. Not only will you see links to current promotions and sale offers, you'll also discover plenty of clever cooking ideas, innovative brand stories, and informative product features to help you stay on top of what's hot in the world of low carb and keto living. Don't forget to subscribe to our weekly Low Carb Grocery e-newsletters. We'll deliver the deals right to your inbox so you won't miss out on the savings when Black Friday and Cyber Monday arrive!
Make this the year where you take advantage of the best deals of the season and stock up on the top-quality low carb health food brands that you know and love. We look forward to the rush of the holiday season, and wish you the best of luck in your Black Friday and Cyber Monday shopping adventures!