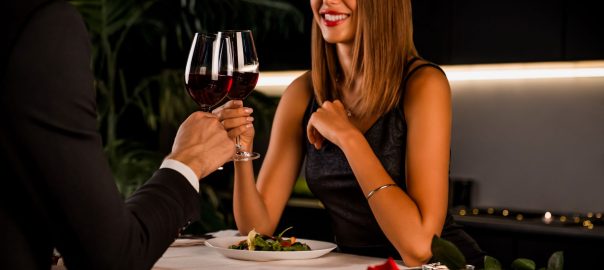 Valentine's Meal Ideas
Delicious Low Carb Recipes for a Romantic Valentine's Day Dinner
The most romantic day of the year is just around the corner, and now is the time to plan the perfect Valentine's Day dinner menu for that special someone. We've gathered up an amazing selection of low carb appetizers, entrees, desserts, and even a couple of tasty cocktails that are perfect for an evening where the lights are dim, the music is playing, and the mood is just right. These incredible flavours are sure to impress you both!
Pulling together a great Valentine's Day menu to delight your partner may seem like a big job, but we're here to help make it easy for you. With this collection of low carb recipes to inspire you, it'll be a snap to plan a wonderful romantic evening with a variety of delicious food experiences to share. Let's get started right away with a selection of tasty low carb appetizers that will start your meal off on the right note and set the stage for a memorable Valentine's Day!
 
Appealing Low Carb Appetizers
One of the best things about bell peppers, aside from their delicate taste and light sweetness, is the vibrant colours they bring to your plate. To match this appetizer to the occasion, we suggest you use just the red variety of mini bell peppers, but of course it's entirely up to you! Each one will be stuffed with a blend of cream cheese, firm salami, spicy (but not too spicy) chipotle paste, and fresh herbs. These little peppers will definitely get your taste buds warmed up for the next course, literally!
Bacon Roses & Strawberry Hearts Valentine's Day Salad
For the food artists out there, this recipe is your chance to get really creative and put something on the table that will delight your eyes just as much as it will your taste buds. If you're thinking this one might be a little tricky, don't worry. It's actually a lot easier to make a bacon rose than you'd expect, and it doesn't take much to cut up some strawberries into heart shapes. However, the end result of bright colour, playful flavour, and creative style will really impress you!
The name of this recipe really caught our eye, and once we read through it, we knew we simply had to add it to this list! This fun appetizer is a blend of ground beef, spicy sausage, onions, creamy American cheese, and a simple but lively spice mix of cayenne and red pepper flakes. Although the recipe calls for serving the hanky panky warm on top of cocktail rye bread, you can easily make it low carb by serving it with your favourite brand of low carb crackers, melba toasts, or mini pita breads instead.
Avocado Cucumber Shrimp Appetizers
We love a good shrimp appetizer, because they just feel fancy, and this one is no exception. Tender shrimp sautéed in a Cajun spice blend have just the right amount of heat. Fresh avocado spread with hints of lime and cilantro add a nice light element to the flavour profile, and the slice of cool cucumber plays well with the spice of the shrimp. It's a perfectly balanced bite that will have you both coming back for more.
Now that your appetite is properly fired up, let's move on to the list of delectable entrees!
Enticing Low Carb Entrees
Keto Carbonara with Zucchini Noodles
You'll feel like you're being wrapped in a warm hug with every bite of this low carb pasta dish. Zucchini noodles, or 'zoodles', are hugely popular among those living the low carb lifestyle because of how well they work as a carb-free nutrient-rich substitute for regular pasta noodles. This recipe pulls together the salty crunch of crispy bacon with the smooth texture of a creamy carbonara sauce. Top with some shredded parmesan cheese, and serve. It's absolutely scrumptious!
One-Pan Keto Creamy Tuscan Chicken
Dream of romantic sunsets in the Tuscany countryside when you present this amazing dish to your favourite person. It's elegant, flavourful, and perfect for a romantic date night like Valentine's Day. Even though it sounds fancy, it's actually quite simple to make, and can be ready to serve in just 40 minutes. Plus, it takes just one pan to cook the whole thing so your kitchen won't be overrun with dishes to clean up later. This creamy chicken recipe is so good, it'll probably make it into your regular meal rotation!
Making tender lamb chops has never been this easy. In less than 30 minutes and just a few quick minutes of prep time, these melt-in-your-mouth lamb chops will be ready to serve to your special Valentine's Day company. It brings the savoury flavours of Herbes de Provence to the forefront with a simple paste blended with bold Dijon mustard. When these lamb chops are roasting, it will fill your kitchen with an incredible savoury aroma that will have your mouth watering in moments.
Finally, we bring to you this unbelievably tasty chicken recipe that is sure to have you craving it again and again. Tenderized chicken breasts are wrapped up with a blend of creamy Boursin cheese and mozzarella, and then finished with a thin strip of delicious prosciutto. As the chicken bakes, they'll absorb the flavours of the cheeses and the ham, and stay perfectly moist. Just one bite is all it will take to turn you both into fans of this chicken dish!
After the entrees have come and gone, it's time to move onto the sweet treat at the end of a romantic meal. Let's take a look at a couple of delicious low carb desserts to serve your Valentine!
Delightful Low Carb Desserts
Luxurious is the best word to describe this decadent dessert. With how fancy it looks and how wonderful it tastes, you'd never believe how easy it is to make. The recipe calls for topping this creamy vanilla panna cotta with pomegranate seeds and some fresh mint, but you could easily use other toppings like a fruit coulis, or other fresh berries that you prefer. You might even want to try some of those 'heart shaped' strawberries from the salad we mentioned earlier for some extra Valentine's Day flair.
Chocolate is one of those things that is pretty much synonymous with Valentine's Day, so we couldn't leave a chocolate dessert off this list! This particular recipe uses unsweetened cocoa powder, cocoa butter, fresh raspberries, shredded coconut, pure vanilla extract, and monk fruit sweetener to deliver a sophisticated taste experience that's perfect for low carb, keto, and paleo lifestyles. You may start with just a small piece of this bark, but after that first bite we know for sure you'll be reaching for a bigger one!
Now, we couldn't let this list end without offering a couple of suggestions for some low carb & keto-friendly cocktails that will lift your spirits as you propose a Valentine's Day toast!
Raise Your Glass with These Low Carb Cocktails
Light & Refreshing Keto Sangria
Sangria is a very playful type of cocktail, with exciting citrus accents and the full flavour of a low-sugar red wine. This particular mix calls for Zevia Orange sugar-free soda to elevate the citrus notes, but you can also use plain club soda for a more subtle taste. If you want to cut out the alcohol entirely, you can easily make this with a dealcoholized red wine instead. Enjoy sipping on this beverage over delightful conversation before dinner, or afterwards when nibbling on a tasty dessert.
When the romantic music is hitting just right, a margarita in your hand just makes it that much better. This recipe is fast and easy, which is good because there's a pretty strong chance you might want another when your glass runs dry. Starting with a premium tequila, and combining fresh lime juice, orange extract, and monk fruit sweetener, this blended margarita checks off all the right boxes. Low carb, keto-friendly, and incredibly tasty. Don't forget the sea salt on the rim of the glasses, and a lime wedge to finish it off. Cheers!
Celebrate the Love of Your Life with a Delicious Low Carb Menu for Valentine's Day
We hope that this list of low carb recipes has given you exactly what you need to plan the perfect evening of romance and delicious food for the one you love most. It's a very special day to celebrate each other, and there's no better way to do that than with a wonderful meal to share together. Happy Valentine's Day from all of us here at The Low Carb Grocery!