How to Replace Potatoes:
7 Sensational Low Carb Solutions/Keto Foods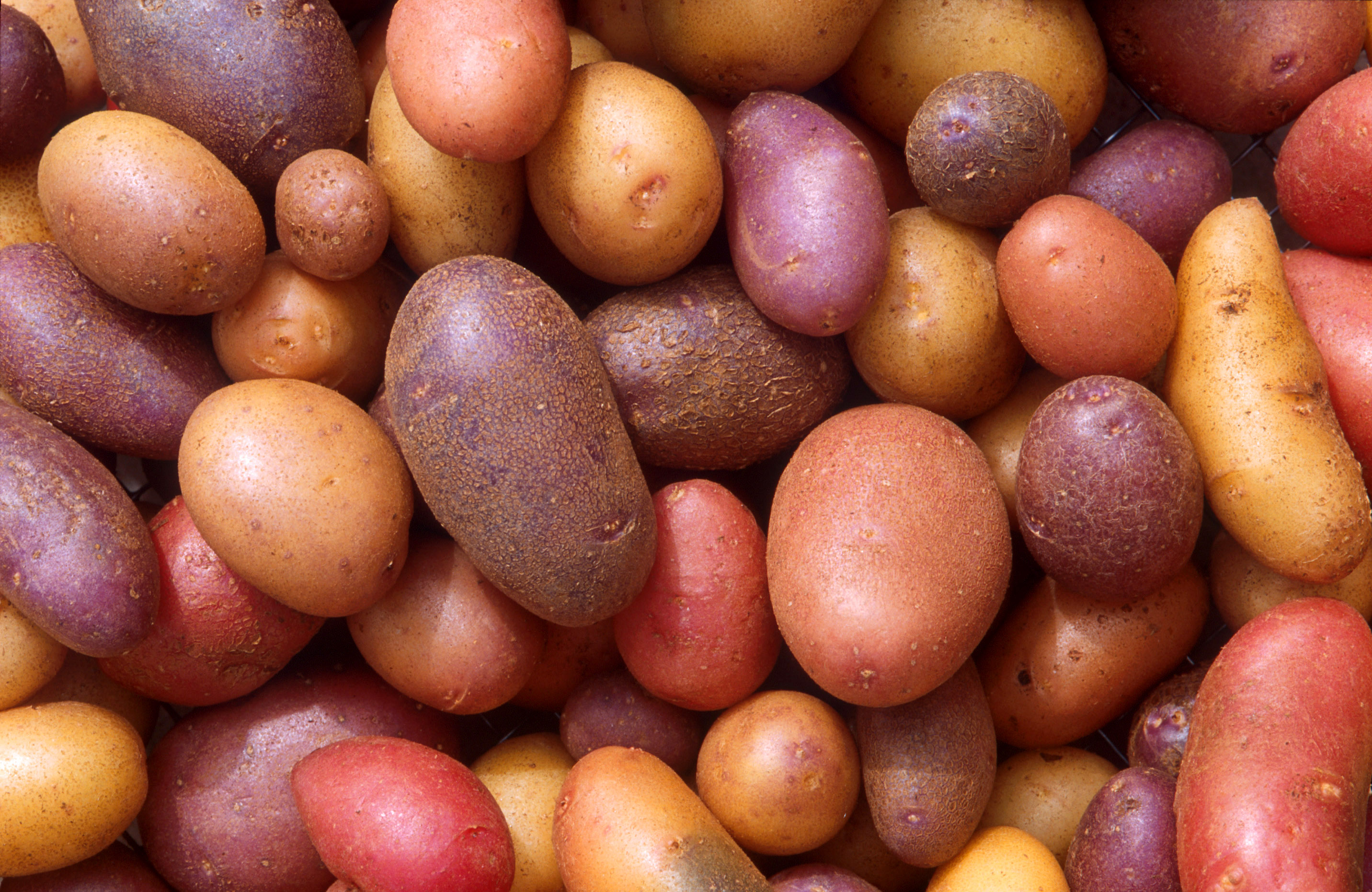 For many North Americans, meat and potatoes is a way of life. A mantra of meal planning so deeply ingrained in our collective psyche it's almost a religion. The stuff of legend. A menu planner of mythic proportions. After you figure out what's for dinner, the next question is invariable: How would you like your potatoes?

To say the least, it throws a wrench in the works if you're trying to go low carb.
Potatoes come in all shapes, sizes and colours. But they don't come in low carb varieties. Potatoes are a great source of micronutrients like vitamin C, vitamin B6 and potassium. But they're also starchy and don't offer a lot of dietary fibre or protein.
They also rank high on the glycemic index and can make your blood sugar spike worse than white bread. And for these reasons, potatoes are often the first thing struck from most low carb diets.
But the burning question remains: What else can we put on our plates alongside the meat?
Fortunately, there are lots of tasty ways to replace potatoes in a low carb diet. Below, we've compiled a list of some of our favourite low carb potato alternatives. Each substitute can be prepared in many distinct ways. And some of these dishes are so delicious you'll wonder why everyone else still makes such a fuss about potatoes. They'll both fill and satisfy you, all without the starchy carbs.
Low Carb Potato Substitutes
Cauliflower (2 g carbs/23 calories per 100 g)
Cauliflower is fast becoming the superstar of the low carb world. It may well be the gateway potato replacement, with many people singing the praises of cauliflower mash and even cauliflower rice. It's caught on so well that big pizza chains are rolling out thin-crust pizzas with cauliflower crusts.
It's dead easy to fry and roast cauliflower or throw into soups and stews. And it's the one vegetable that's most likely to pass as potatoes.
Try this out. Chunk a head of cauliflower then steam and mash it. Mix in 2 beaten eggs, half a cup of parmesan, and half a diced onion. Form into small balls and bake at 400°F until golden brown (about 20 minutes). Cauliflower tater tots—you're welcome!
Daikon (2 g carbs/18 calories per 100 g)
The daikon is a plus-sized relative of the common radish that's an important staple in some Asian cuisines. It's good raw or pickled, but when it's cooked it takes on very potato-like qualities. Try it boiled or fried and see how you like it.
To enjoy boiled daikon, peel two large daikons and slice into medallions. Boil in salted water for 30 minutes. When fork tender, drain and toss with butter or oil, salt and pepper.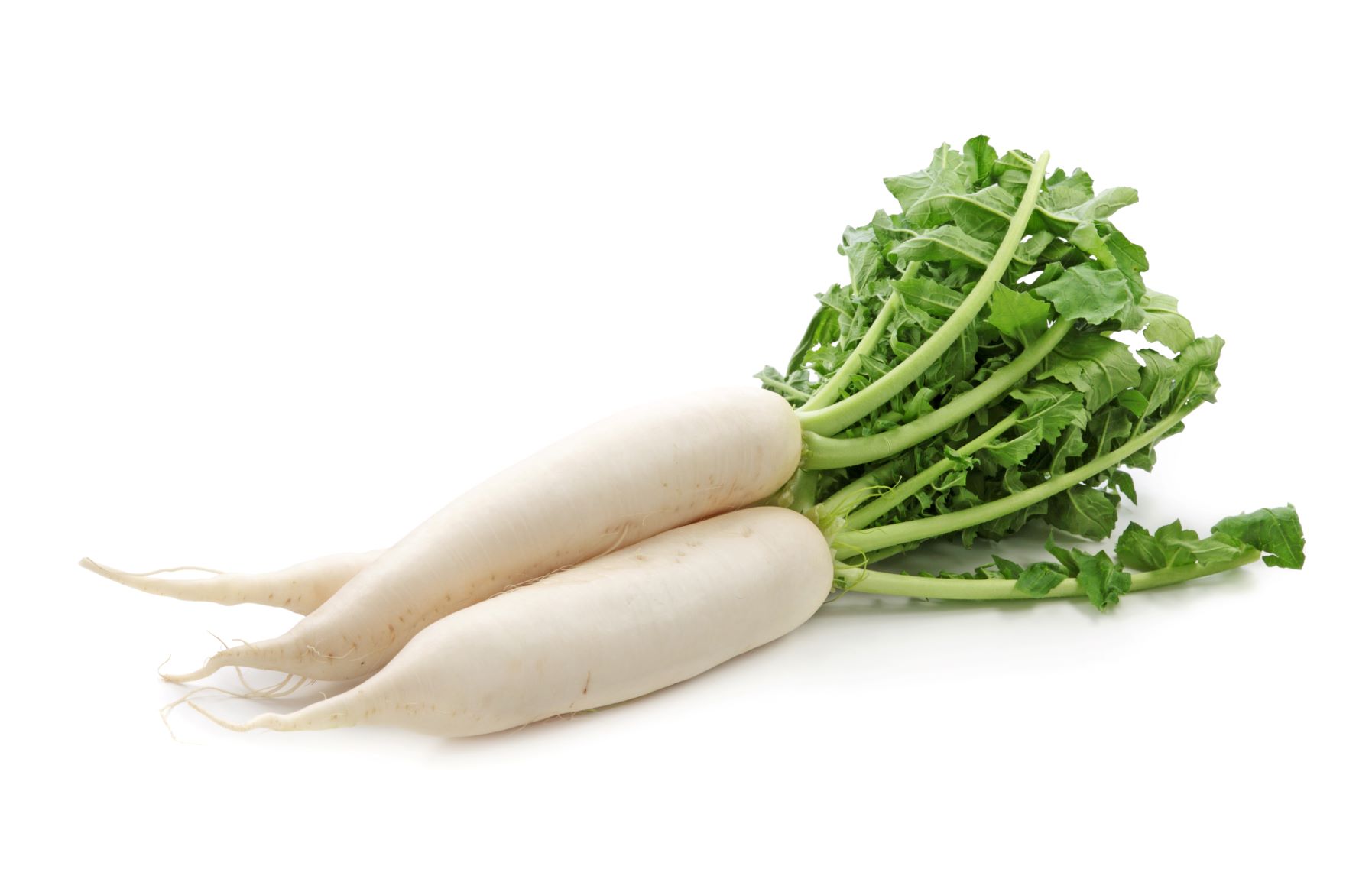 Kohlrabi (2 g carbs/27 calories per 100 g)
If you've never tried it before, it's hard to look at kohlrabi and imagine it'll taste good. You might imagine it looks more like a doorstop than food. But the truth is this odd-looking bulb has a delicate flavour that really comes into its own when you boil, steam or fry it.
To turn a kohlrabi or two into fritters, remove their leaves then peel and grate them. Squeeze out the extra moisture by wrapping the gratings in a tea towel and giving it a good twist. In a bowl, mix the grated kohlrabi with two eggs, salt and pepper then fry in a quarter inch of oil over medium high heat.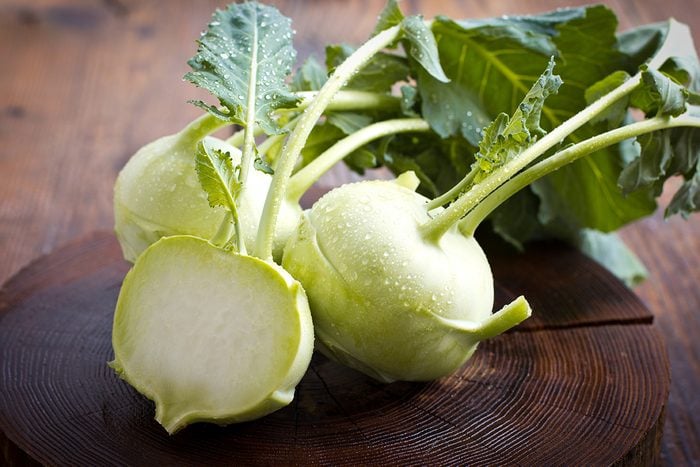 Rutabaga (5 g carbs/35 calories per 100 g)
When a cabbage and a turnip fall in love, the result in their union is this funny looking thing called a rutabaga. It's also known as a swede in Europe due to its popularity in Scandinavia. And yes, it's a great low carb replacement for potatoes.
They're great in soups and stews and all manner of side dishes. And they're fantastic boiled, baked and roasted.
Try these roasted rutabaga fries to see for yourself. Peel a rutabaga and cut into fries. Toss with olive oil, salt and pepper and put in a roasting dish. Add a few sprigs of fresh rosemary if you have them. Roast 30–35 minutes at 400°F until crisp and golden brown.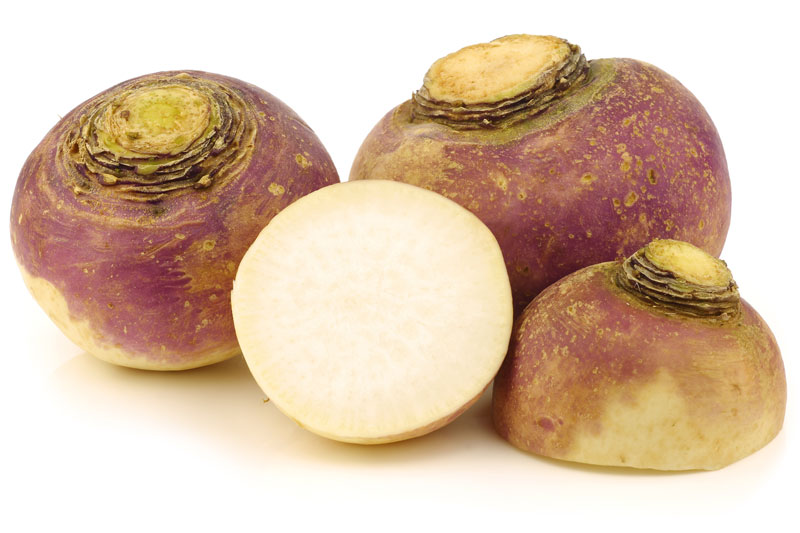 Turnips (4 g carbs/28 calories per 100 g)
If you're Scottish, you know the turnip more as neeps, commonly served mixed with potatoes as neeps and tatties, the customary side dish to go with the haggis.
But turnips don't need to be served with potatoes (or haggis, for that matter). They do very well all on their own, baked, boiled or steamed.
Try them out mashed. Peel three or four turnips then cut into chunks and simmer in boiling water for 20–30 minutes. When fork tender, drain and mash with butter, cream, salt and pepper.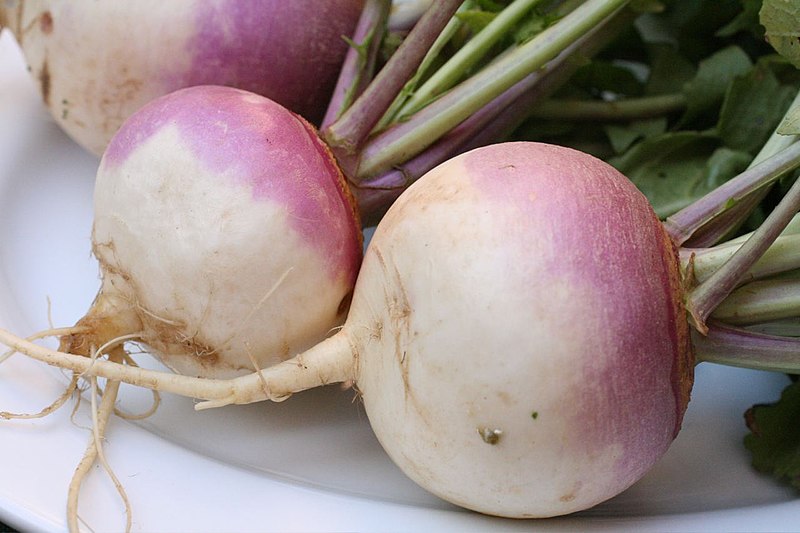 Zucchini (2 g carbs/20 calories per 100 g)
Last, but only because this list is alphabetical, comes zucchini. Or as they're known in Europe, courgettes. Zucchini is well acquainted with the culinary limelight being featured in a lot of baking and even starring in its own dish—ratatouille.
Lauded by low carb chefs for its sinfully low carb count, zucchini can also be turned into pasta noodles, including lasagna. But today, let's focus on turning the common zucchini into a bag of chips.
Slice your zukes nice and thin then press down with a paper towel to absorb the excess moisture. Lay the slices on a parchment-lined baking sheet. Don't overlap. Brush with oil and bake at 225°F for at least two hours, if not more. Keep going until they start to brown and crisp up.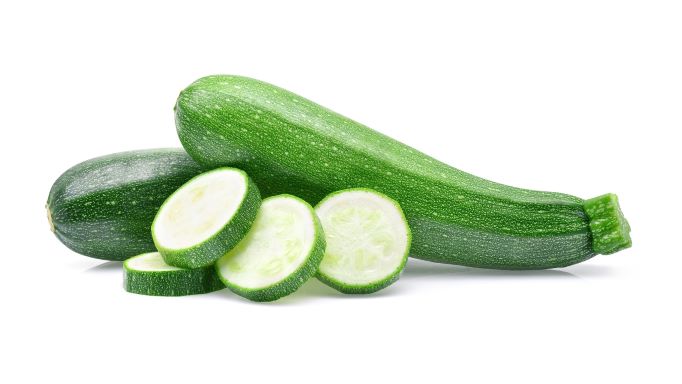 Goodbye, spuds. Hello, low carb goodness!
Being raised on a meat-and-potatoes mindset doesn't mean you have to eat that way for the rest of your life. There are lots of hearty vegetables that pair just as well as, if not better than, our old lumpy friend the potato.
Try the recipes listed above and see what peaks your interest. But keep in mind that these suggestions are just the tip of the iceberg. All these vegetables are robust and versatile. If you find you like them prepared like this, deep dive into the online recipe rabbit hole and see what else you can do with them.
Also, remember these aren't the only veggies in the produce aisle. See what else your grocer has to offer. Beets, butternut squash, carrots, parsnips, Jerusalem artichokes . . . the list goes on and on.
Break out of the meat-and-potatoes routine and discover a whole new world of flavour—today.
Cutting out processed sugars alone can greatly improve your health, but there's more to watch out for on a low carb diet…
Looking for more low carb food ideas?
If you're looking for more inspiration for eating low carb, check out our blog. It's full of tasty low carb and keto recipes to get you cooking up a storm in the kitchen. And don't forget, we also have an online grocery store packed with everything you need to turn almost any dish into a low carb tour de force.
Stay Connected
If you're looking for more inspiration for eating low carb, check out our blog. It's full of tasty low carb and keto recipes to get you cooking up a storm in the kitchen. And don't forget, we also have an online grocery store packed with everything you need to turn almost any dish into a low carb tour de force.
Whether you're trying low carb or keto for the first time or if you're a seasoned pro, be sure to join our conversations on Facebook and Instagram! We'd also love to hear what you think about our content, our products, and our customer service by leaving us a Google Review! And lastly, don't miss out on deals, updates, and keto trends each week on our low carb newsletter!
More Low Carb Lifestyle Articles