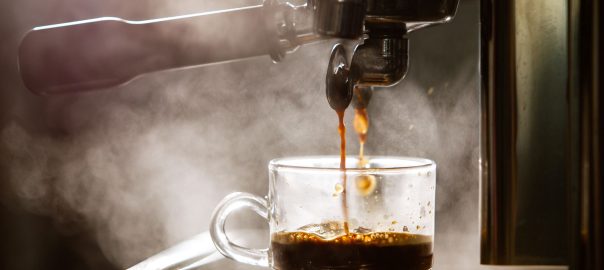 Specialty Coffees
Amazing Low Carb & Sugar-Free Coffees to Perk You up This Winter
When you wake up on a chilly winter morning, or after coming home from a walk through the frosty snow-filled landscape, it's time to warm up and settle in with a nice hot coffee beverage. There are plenty of creative coffee concoctions to choose from to shake off the cold and lift your spirits and making them right at home using low carb and keto-friendly ingredients can be easy!
This probably comes as no surprise, but Canadians drink a lot of coffee. On average, we drink about 3 cups per day, which puts us in the top 10 of all coffee-consuming countries in the world! Not bad, eh? Of course, we suspect that this number tends to rise up during the cold, long months of the Canadian winter. Chilling out with friends and warming up with a great cup of rich coffee is a pretty nice way to spend some time, especially when the snow is flying outside.
For people living a healthy low carb lifestyle, coffee is a great beverage choice. The drink itself is naturally free of carbs and sugars, it's just the toppings and other ingredients which are often added to various coffee drinks that have the potential to increase the carb count. This means that all it takes is some simple substitutions and virtually any coffee drink can be made low carb and keto-friendly. In fact, these drinks are so tasty and have become so popular that they're even appearing on the menus of some trendy coffee houses!
Let's take a look at some of the most delicious low carb specialty coffee recipes we've discovered recently. You've just got to know about these easy-to-make coffee drinks that are perfect to enjoy all winter long.
Ok, the name of this keto-friendly coffee recipe may be a little aggressive, but it's honestly well-deserved. This unique and powerful brew is designed to get you fired up and ready to get the day moving. Starting off with the strongest and most potent dark roast coffee you can find, this recipe blends in a subtle hint of vanilla flavour and natural-tasting sweetness from liquid stevia sugar substitute drops. Boosting the nutritional value is 2 to 3 tsp of MCT oil, which is a concentrated source of healthy fats known as medium-chain triglycerides. Finishing off the rich and flavourful experience of this coffee drink is a hefty dollop of keto-friendly whipped cream on top. Enjoy, and get ready for a real shot of energy to start a day filled with snowy adventures outdoors!
Low Carb & Keto-Friendly Irish Coffee
Undoubtedly one of the most iconic types of specialty coffee around the world, classic Irish coffee is just an absolutely delightful drink to enjoy on a cold winter's day. This recipe can easily be made with a few simple ingredients, and if you want to skip the alcohol content, you can omit it entirely and just enjoy it that way. Start by blending a shot of sugar-free Irish cream syrup into heavy whipping cream, and then prepare your cup by adding a small amount of Irish cream syrup, fill nearly to the top with freshly brewed medium-roast coffee, add a shot of Irish whiskey (omit if you choose), and then top with a scoop of the blended whipped cream. Finally, grate some sugar-free dark chocolate shavings on top of the whipped cream, and take your first sip. Cheers!
We're going to cool things down a little with this next recipe. Blended frozen drinks are a great way to enjoy some bold coffee flavours along with hints of sweetness and seasonal flavours that pair perfectly with each other. In this particular recipe, strong dark roast coffee and unsweetened almond milk are blended together with ice, cocoa powder, heavy cream, Swerve sugar substitute, and MCT oil. The result is a decadent icy treat that you'll absolutely love! Top with sugar-free whipped cream and chocolate shavings to finish off the taste experience.
This particular recipe can easily be altered in lots of fun ways. For example, instead of the chocolate ingredients, try salted caramel flavoured syrup and drizzle the top with some thick sugar-free caramel sauce. To make a festive version for the holiday season, flavour your blended coffee with sugar-free peppermint syrup and top with some crushed peppermint flavoured chocolate chips. Get creative and come up with your own seasonal blended coffee beverages to share with friends and family!
Bulletproof Keto-Friendly Coffee
Ever heard of bulletproof coffee? If not, you're in for an eye-opener! This revolutionary coffee creation has become quite the popular beverage among those living the low carb or keto lifestyle. Think of bulletproof coffee as a latte that's been supercharged with healthy fats and protein from ingredients such as MCT oil and butter. Blending all the ingredients together produces a frothy coffee drink that's the ideal way to boost your morning breakfast routine with long-lasting energy and a nice kick of caffeine. Listed in the recipe are optional ingredients you can use to customize your bulletproof coffee, including protein powder, flavoured syrups, and other enhancements.
These recipes are just a handful of ideas to get your winter coffee fix in new and creative ways, but sometimes there's something to be said for coming up with your own brilliant homemade coffee beverages. Using just a few key ingredients, you can make a wide range of unique flavour combinations to explore. Here's the essential products that any low carb coffee lover should have on-hand in their kitchen cupboards.
Essential Low Carb Coffee Ingredients for Your Kitchen
Equal Exchange Organic Ground Coffee
There's a significant movement happening in the coffee industry that is placing greater emphasis on the importance of ethical practices and fair trade. Equal Exchange takes this philosophy to heart and reflects the movement in everything they do. You can definitely feel good about supporting a company like that, and the coffee is fantastic, too! Whether you're looking to fill your cup with a robust dark roast full of flavour, or a mellow morning blend to relax with, Equal Exchange coffees strike the perfect balance.
Swerve Sugar-Free Natural Zero-Calorie Sweeteners
Alternate sugars are a standard product in low carb kitchens, and Swerve is one of the most popular sweeteners in Canada. Swerve is made from natural erythritol, giving it a balanced sweetness that measures 1:1 with regular sugar, making it easy to substitute in all your favourite recipes. Choose from granulated sweetener in bags or single-serve packets, as well as brown sugar alternative and icing sugar substitutes. For adding natural-tasting sweetness to your coffee or baking a delectable dessert, Swerve sweeteners are a great choice to keep stocked in your pantry.
Allo Protein Powder Coffee Creamer
It can be easier than you think to get more protein in your diet. In fact, all it takes is to replace your normal coffee creamer with the high-protein powdered creamer from Allo. Each serving of Allo protein creamer adds 10g of hydrolyzed whey protein to your morning cup of coffee, instantly elevating it to a whole new level. Available in great tasting flavours like caramel, hazelnut and vanilla. Try Allo high-protein coffee creamers in place of your usual creamer and give your coffee a nice boost!
DaVinci Gourmet Sugar-Free Flavoured Syrups
Flavour aficionados will likely already be familiar with DaVinci gourmet syrups. They're great for customizing the taste of  all kinds of foods, including cold drinks, desserts, and a wide range of baked goods. For adventurous coffee lovers, DaVinci sugar-free syrups offer a world of tastes to experience. Each bottle is low carb friendly, with zero-calories and plenty of delicious flavour in every pump. Here's where you can really let your personality shine through in your coffee drinks. There's so many varieties to choose from, it can be hard to know where to begin. Irish cream is a worldwide favourite of course, but there's also caramel, chocolate, amaretto, butter rum, French vanilla, dulce de leche, peppermint, marshmallow, and more! Accentuate your winter holidays with festive and delicious coffee drinks and DaVinci sugar free syrups.
Enjoy Your Morning Coffee in New Ways This Winter
The coffee you rely on to start your day doesn't have to be boring or ordinary. With just a few low carb ingredients, you can transform it into something truly special that will brighten your mood on even the longest and coldest Canadian winter days. So, get a pot brewing and break out your favourite flavour syrups, because it's time for another cup!