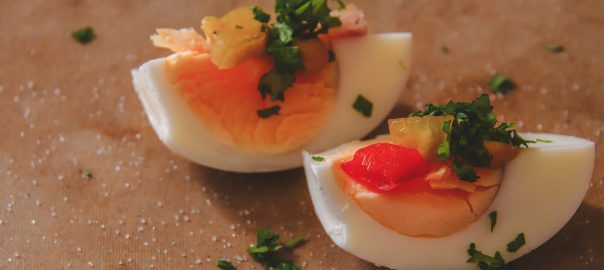 Low Carb Snacks & Appetizers for the Holidays
Delicious & Decadent Holiday Appetizers & Festive Party Snacks
Whether you're hosting a casual Christmas get-together or are heading out for a fancy holiday party, food is always a big part of the festivities. This year, we've compiled a collection of easy but impressive recipes for low carb seasonal appetizers & holiday party snacks that are sure to delight everyone gathered around you.
Every year, when the holiday season arrives we all look forward to once again enjoying a plethora of delicious foods we know and love from years gone by. Of course, it's also a wonderful time to discover exciting new recipes and create unique taste experiences to share with the people we care for the most. That's why we've curated this list of seasonal party snacks and holiday appetizers! We've found a variety of healthy low carb recipes with rich flavours to bring to mind warm memories of Christmases past, along with sensational new food ideas that will make you the hit of the party.
Now, it's important to have a diverse selection of snack recipes and appetizer types to choose from so that you always have something that will perfectly match the people you are serving. Sometimes the occasion calls for something light, fresh, and simple. Other times, you might want a fancier hors d'oeuvre that will make taste buds awaken with unique and unusual flavours. This kind of variety was exactly what we were aiming for when we picked the recipes on this list, and we think we nailed it. Let's get started & kick off the festive season with some great food!
Holiday Colours Dip Platter with Veggies & Crisps
As simple as this appetizer may seem, the visual impact is definitely impressive! Veggie trays with dip are a standard item on holiday party snack tables, so to really make yours stand out, you've got to get creative with the colours and arrangement. There are plenty of low carb vegetables to choose from that are vibrant colours, many of which fit right in with the typical red, green, and gold themes of traditional holiday decorations. Colourful red and orange bell peppers cut into thin strips for dipping are perfect, as are bright green celery sticks and ripe red cherry tomatoes. Accent the brightly coloured vegetables with neutral white mushrooms and cauliflower, alongside delicious and crunchy baked low-carb cheese crisps to add contrast to the platter and make it really catch the eye!
Next, you're going to want to feature a selection of dips for guests to taste. A zesty ranch dip with red and green seasonings throughout is always a seasonal favourite. Some other tasty dips to choose from include roasted red pepper dip and fresh guacamole to complete the holiday colour theme and bring big and bold flavours to the celebration. In our experience, a good veggie tray with delicious dips is almost always cleaned out by the time the party ends. It's one of those kinds of snacks that you've just always got to have, but as we've shown it definitely doesn't have to be boring!
Think of these tasty little fritters as a unique 'green veggie' spin on a traditional Jewish latke. Grated zucchini is strained to remove excess moisture before combining with the rest of the ingredients, just like how grated potatoes are strained to make crispy latkes. The zucchini is then mixed together with eggs, parmesan cheese, gluten-free coconut flour, and seasonings such as parsley, garlic powder, onion powder, and sea salt. The mixture is formed into thin patties and fried up in a pan to be nice and crispy. You can make larger fritters and eat them with a knife and fork if you want, or make smaller, thinner ones to be extra-crispy and use them as dippers alongside your other chips, veggies, and dips. These are super yummy and definitely a unique addition to your holiday buffet table!
Hot appetizers are so nice to enjoy on a chilly winter night, and the rich aroma of these delectable meatballs will attract guests like a magnet as soon as they walk in the door. The meatball recipe is super simple and delicious, but you can also use prepared meatballs of your choice to speed up your prep time. Don't worry, because this sauce works equally well with beef, pork, and even turkey meatballs. Speaking of the sauce, that's the real star of this particular appetizer. Sometimes it can be tricky making a really well-balanced sweet and sour sauce that's low carb friendly, but this recipe comes out just right thanks to the natural taste of Monk Fruit sugar replacement.
Baked mushrooms are great, and tender crab meat is delicious, so you know that this combination is going to be a winner. This recipe for crab stuffed mushrooms is a little different than the others, with the mouth-watering flavours of Creole seasonings, fresh lemon juice, and savoury herbs. To make these healthy baked mushrooms even better for the low carb lifestyle, we recommend you swap out the regular bread crumbs for keto-friendly Nut Crumbs from Appel Foods. They taste great, and are the perfect way to cut out unnecessary carbs from any recipe that calls for bread crumbs.
Every now and then we discover a recipe that is unbelievably simple and yet brings a taste experience that is so unusual that it makes us wonder where it's been all our lives. This is one of those! Sliced cheeses are a pretty typical snack that you'll see during the holidays, but by marinating the cheese in a blend of herbs, oils, and spices, you can elevate the flavours to something completely different. This particular recipe combines soft and firm cheeses along with onions, basil, garlic, vinegar, olive oil, fresh ground pepper, and sea salts. If you're feeling creative, you can easily make your own unique marinade variations with your preferred holiday-themed spices and seasonings. Just remember – the longer the cheese marinates, the more intertwined the flavours will become. It's so simple, and so good!
We LOVE deviled eggs. Aside from the fact that they are rich in protein, low in carbs, and ridiculously tasty, they can also be decorated in such fun ways to accentuate your holiday table! This recipe for 'Decked Out Deviled Eggs' puts the creativity in your guests hands by providing them a variety of toppings to mix and match. Each egg will have its own one-of-a-kind flavour profile. Combine toppings like shaved parmesan, sun dried tomatoes, fresh rosemary, sriracha, smoked paprika, toasted pine nuts, and more. Don't hesitate to throw some of your own topping ideas in there to showcase your culinary personality! This is a very fun appetizer to feature at your next holiday party.
Everything's better with bacon, and that's definitely true with this beautiful low carb holiday appetizer that tastes just as good as it looks! It starts with a cool, crisp slice of cucumber, and then adds on a perfectly-cooked slice of smoky bacon. Next, scoop on a dollop of zesty guacamole, and top with a tender sautéed shrimp seasoned with a simple blend of salt, pepper and cumin. Stick a toothpick through the middle of each one, and serve up to your eager holiday party guests. Just don't expect them to last long! In fact, you might want to make a double batch, just in case. We love all the holiday appetizer ideas on this list, but if we had to pick just one that was the ultimate example of low carb, great taste, and beautiful presentation to serve up this season, it would have to be these!
More Holiday Cooking Ideas from The Low Carb Grocery
Looking for other ideas on how you can prepare delicious low carb meals this holiday season, and still offer the traditional dishes that everyone craves this time of year? Be sure to check out our tips for cutting out carbs from holiday recipes in our Low Carb Holiday Cooking Guide. From something as simple as cutting carbs out of the gravy for the turkey, to making an incredibly decadent low-sugar dessert to finish the meal, you'll find all the info you need.
Wishing You and Your Family the Best during the Joyful Holiday Season
We certainly hope that this collection of creative holiday snacks and festive low carb appetizers has given you some inspiration to try something new, as well as experience some tasty tried-and-true favourites with a healthy low carb twist. Share these wonderful flavours with the people you love most, and make some cheerful new memories. From all of us here at The Low Carb Grocery, we send you and your families the warmest of wishes for the holiday season!