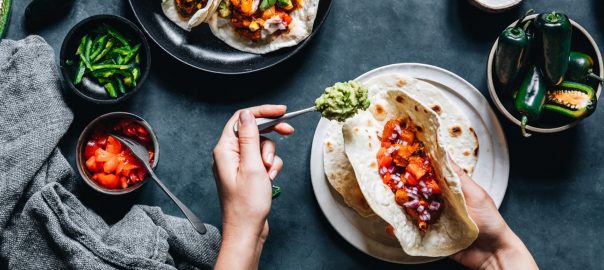 Delectable Keto Friendly Tacos
Low Carb Taco Night Essentials
Get ready for your next taco night with these low carb tortillas, spice blends and more!
Disclaimer: The information in this article is not intended to replace personalized medical advice. A low carb diet may not be suitable for you. Consult your health care provider before making any changes to your lifestyle or use this information at your own risk.
Tacos are a great and versatile meal for quick weekday dinners with the family or even for get-togethers on the weekends! This staple Latin American dish is not only tasty and nutritious but also super easy to prepare and customize. Plus, with just a few modifications, tacos are also a great option for low carb and keto dieters looking to explore flavourful recipes. Discover how you can create the perfect keto-friendly taco night for you and your family, and you'll wonder how you ever ate tacos from a box.
Step 1: The Tortillas
Let's begin by tackling the most challenging part about tacos for low carb dieters, the tortillas. To make it easy, we've broken down our favourite tortilla brands below and where to buy them, plus we also found great recipes online for how to make your own!
Traditional tortillas are either made from corn or wheat flour (often bleached and refined), meaning that they aren't suitable for low carb diets. However, similar textures and tastes can be achieved with grain-free meals such as almond flour or coconut flour or by combining whole wheat flour with other low carb high fibre ingredients. Check out some of our customers' favourite low carb tortillas below:
La Tortilla Factory's mission is to be the market leader in innovative, premium Mexican food! By providing healthier alternatives to conventional products, they strive to help customers enjoy great tasting products that contribute to a healthy lifestyle.
La Tortilla Factory wraps are made with wholesome ingredients such as oat hull fibre, whole wheat flour (a healthier alternative to refined white flour), soy flour and wheat gluten (for added protein). They are free from hydrogenated oils, dairy, cholesterol and sugar. With just 3g net carbs per tortilla (36g), as well as 8g of fibre and 5g of protein, these are a great option for low carb dieters or anyone really! Our customers love these tortillas for their taste that closely resembles traditional tortillas, as well as their versatility. You can use these to make tacos, quesadillas, burritos and even nacho chips! Plus, they freeze well and retain their original taste and texture once thawed.
Our highest rated tortillas, Mama Lupe's low carb tortillas are almost indistinguishable from traditional tortillas. They are made with wheat gluten, wheat protein isolate, and oat fibre to provide 7g of fibre, 5g of protein and just 3g net carbs per tortilla (36g)! Our customers also use these wraps in place of pizza crust or even as hamburger and hotdog buns.
These tortillas boast some of the cleanest ingredients of all our low carb tortillas. They are made with ingredients such as wheat fibre, whole wheat flour, wheat gluten, avocado oil and oat fibre and contain no artificial flavours, colours or preservatives. Maria and Ricardo's sources the freshest ingredients to meet their high-quality standards and provide an authentic taste to their products. Each tortilla (28g) provides 5g of fibre, 3g of protein and 5g net carbs. Our customers have also rated them very highly in terms of taste and texture, just read numerous 5-star reviews!
Looking for something plant-based and organic? Nuco organic coconut wraps are the perfect option for gluten-free and plant-based low carb dieters, or those looking for something a little lighter! They are made entirely from coconuts (organic coconut meat, organic coconut water and organic virgin coconut oil), making them rich in healthy fats, vitamins and minerals. Each wrap (14g) contains just 4g net carbs as well as 5g of healthy fats, 2g of fibre and 1g of protein. These wraps are perfect for veggie, shrimp or fish tacos and pair well with other fresh toppings!
Make Your Own Low Carb Tortillas
If you are crafty in the kitchen or have specific food sensitivities that rule out most store-bought tortillas, you can also make your own low carb tortillas at home with just a few simple ingredients! Check out some recipes we found online below:
Step 2: The Meat
Tacos are really versatile, so you can use whichever types of meat you have on hand. Some great options include chicken, white fish (such as halibut or cod), shrimp, pork or ground beef. When selecting meat at the grocery store, opt for grass-fed, wild-caught and free range where possible as these sourcing practices ensure the highest amount of vitamins, minerals and healthy fats, and are better for our environment. You could also choose low carb vegan options such as tofu, tempeh or plant-based meat substitutions.
A good taco really comes down to the spices and seasonings! You can make your own spice blends or look for pre-made mixes that contain all the authentic flavours of Latin cuisine! Check out some of our favourite sugar-free spices and seasonings below:
La Tortilla Factory Skillet Starters – made with all-natural ingredients and packed with flavour, these skillet starters are easy to use and great for low carb dieters with just 1-4g net carbs per serving! Available in authentic flavours such as Al Pastor (smoky and citrus-y), Barbacoa (spicy and herb-y) and Classic Taco.
Mayacamas Gourmet Taco Seasoning Mix – these dry mixes require just a little bit of cooking oil for 5 star-rated taco seasoning in just a few minutes! Plus, each serving contains just 2g net carbs.
Oh My Spice All Natural Seasoning Blend – Sriracha Lime – this all natural, low carb spice blend contains zero calories, zero carbs and absolutely no fillers or preservatives! This Sriracha Lime flavour can take you from taco night to Thai night with the perfect combination of citrus and heat.
Step 3: The Veggies
Fresh vegetables are an essential component of any great taco! Not only do they providing balancing flavours and textures, but they are also a crucial source of nutrients and fibre, which tend to be lacking in the other elements of a taco.
Here are some of our favourite low carb vegetable toppings for tacos:
Quick Pickled Cabbage Slaw – you can also use this recipe to pickle red onions, radishes, or other low carb vegetables. Instead of sugar, this recipe uses Lakanto Monkfruit Sweetener to make the pickling liquid.
Keto Pico De Gallo – this classic combination of onions, tomatoes, chili peppers and spices deserves a place on every taco!
Shredded lettuce
Fresh herbs such as cilantro or oregano
Julienned (thinly sliced) bell peppers, hot chili peppers or jalapeños
Chopped green onions (scallions) or white onions
Sliced avocado
Black olives
Step 4: The Condiments
The last step is the perfect condiment to top off your tacos! Sauces and condiments are also a great way to incorporate more healthy fats into your meal to make it more keto-friendly. Just be sure to choose the right ones from the store, or make your own at home from scratch to avoid hidden carbs.
Guacamole
This classic taco condiment is super easy to make and keto-friendly by nature! Simply mix together the following ingredients:
2 large avocados, mashed
1 clove of garlic, minced
1/4 cup of red onion, minced
1/2 jalapeño pepper, minced (use more or less depending on your desired spice level)
Juice from ½ a lime
¼ cup of finely chopped fresh cilantro
Salt to taste
Cilantro Lime Crema
This is another popular condiment you'll see at many authentic taco restaurants. Made with a base of sour cream, this tangy, citrusy sauce provides a relief from the heat and a visually stunning drizzle atop your tacos! Check out a recipe we found online here.
Hot Sauce
For those that like their tacos extra spicy, check out our selection of low carb hot sauces! Spice levels range depending on the type of chili pepper used in the hot sauce, poblano and jalapeño peppers being the mildest and habanero peppers being on the hotter side!
Putting It All Together
Now that we've covered all of the essentials you'll need for the best low-carb or keto-friendly taco night, all that's left is to put everything together! We suggest making all the components separately and laying them out family-style so that everyone can choose their favourite toppings and assemble their own tacos. This is a great way to get your family members involved in dinner and create a fun and memorable experience!
Also, check out our inventory of low carb tortilla chips – perfect for dipping in leftover guacamole, salsa or pico de gallo!
Taco night wouldn't be complete without a low carb cocktail. Check out low carb margarita mixes from Baja Bob's, Skinnies and Jordan's Skinny Mixes.
Stay Connected
We hope that you are excited about planning your next taco night with family or friends! If you would like to share your thoughts or experiences with the rest of our low carb community, try heading over to our Facebook and Instagram pages. We'd also love to hear your thoughts directly through a Google Review. And remember to sign up to our weekly newsletter so you can be the first to know when low-carb products come on sale!