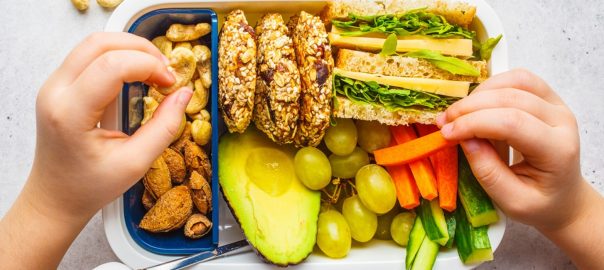 Kid-Friendly Low Carb Recipes
Choosing Low Carb Foods Kids Will Love
Should children eat low carb? How can you incorporate low carb principles into your family's diet? Learn the answers to these questions and more in this article.
Disclaimer: The information in this article is not intended to replace personalized medical advice. A low carb diet may not be suitable for you. Consult your health care provider before making any changes to your lifestyle or use this information at your own risk.
Nutrition can easily become a family practice. While many diets, such as vegan, vegetarian, dairy-free and gluten-free, can involve the whole family without serious health consequences, low carb and ketogenic diets should be kept a personal choice, unless a child has been diagnosed with a medical condition that requires a low-carb diet treatment. That said, some of the principles guiding a low carb or ketogenic diet, such as focusing on whole foods, eliminating highly processed, refined sugars and carbs and incorporating more healthy fats in the diet can benefit all family members!
In this article, we explore how you can get your family involved in some aspects of a low carb or ketogenic diet. Keep reading for kid-friendly recipes and products that can make snack and mealtimes fun, healthier and more collaborative! However, avoid counting carbs for your children or spouse unless medically necessary and advised by a doctor.
Carbohydrate Requirements of Children
When it comes to children's diets, the most important thing is nutrition. Foods that provide your kids with vitamins, minerals, protein to build muscles, healthy fats to improve nutrient absorption and promote cell growth, and fibre for healthy digestion are all important. The reality is that the right kinds of carbohydrates check off many of these boxes, which is why they remain important for children's health. Technically, our bodies can use either carbohydrates or fats as a primary fuel source, but both are important parts of a balanced diet and provide different benefits. So, eliminating one or the other is not a good idea. Children are active and growing, so providing them with enough fibre from healthy carbohydrates, lean protein, healthy fats (especially omega-3 fatty acids), vitamins and minerals should take priority over counting specific macros. You can speak to your family doctor to determine the right amounts of each for your child's stage in life.
Refined vs. Complex Carbohydrates
Not all carbohydrates are created the same and you may be surprised to learn that carbohydrates are found in a wide variety of foods – from grains to vegetables to dairy. The key is to avoid refined carbohydrates and focus on providing your kids with whole food, complex carbohydrates. These are described in more detail below.
Refined carbohydrates include sugars and grains that have been processed to improve their texture, appearance and shelf life, but also stripped of many important nutrients. For example, grains that have been milled lack fibre, iron, and B vitamins, leaving behind only simple starches and sugars. A diet high in refined carbs can be just as dangerous (if not more) to your children's health as a diet without any carbs at all. This is because without the presence of fibre and other essential nutrients, refined carbohydrates are processed by the body extremely quickly, meaning your little one will experience spikes and crashes of energy and they won't receive the right nutrients to fuel their growing body. Not only does this make feeding your child more challenging, but it can also train their body to become accustomed to an unsustainable diet that can ultimately lead to prediabetes, diabetes, obesity and a life-long sugar addiction.
Refined carbohydrates are found in things like:
Chips
White bread
Children's breakfast cereals
Mac and cheese in a box
Animal crackers and other snack crackers
Fruit juices
Pastries
Candy
Fruit snacks
Sweet desserts, such as popsicles and ice cream
Frozen microwaveable snacks (pizza pockets, tater tots, etc.)
Low fat yogurt
Cheese sticks and other processed cheeses
Granola bars
Cookies
If this list looks a lot like what your child eats in a typical day, you may want to consider swapping these foods out for healthier alternatives or eliminating them altogether. Sometimes, healthy packaged snacks can come at a higher price tag, but they don't need to be an essential part of your children's diet. Making your own snacks at home will require a bit more time and effort, but getting your kids involved in the kitchen is also a great way to educate them and cure boredom! In many ways, a whole foods diet consisting of fresh fruits and veggies and whole grains (especially when bought in bulk) can also save you a lot of money compared to frequent restaurant visits and loading up on packaged snacks every week at the grocery store.
When looking at packaged food labels, look out for ingredients that indicate added refined sugars. These include:
Glucose
Fructose
Lactose (found primarily in dairy, but can also be added to other foods)
Galactose
Dextrose/dextrin
Maltose
Sucrose
Complex carbohydrates are found in vegetables and whole grains. While fruits are also a healthier source of carbohydrates compared to packaged snacks, they mostly contain glucose and fructose, which don't provide long lasting fuel. That said, fruits are a great source of fibre, vitamins and minerals and should still be included in a healthy diet (plus, you might have an easier time convincing your children to eat fruit than vegetables!). Complex carbs are also converted into glucose by the body, but higher amounts of dietary fibre and nutrients make these a longer-lasting fuel source. Complex carbs include things like:
Peas
Beans
Lentils
Chickpeas
Vegetables – some kid-friendly choices include baby carrots, cherry tomatoes, snap peas, cucumbers and celery sticks.
Potatoes, yams and squash
Whole grain bread and pasta
Quinoa
Oatmeal (note: avoid instant oatmeal packets as these likely contain added sugars)
Buckwheat
Brown rice
Keep reading for products and recipes containing these ingredients for easy ways to incorporate them into you and your kids' diets.
How To Get Your Kids To Eat Healthier
It can be hard to wean picky eaters off of refined carbohydrates, especially since these foods are designed to be addictive. That said, there are a few ways you can encourage your children to eat healthier:
Bring them to the store with you to pick out some fruits, veggies and healthy snacks that look interesting to them. Even if they don't like them, they'll be excited to try something new.
Always have fresh fruit and vegetables washed and chopped for easy snacking.
Set a good example; children look up to their parents for many things, but especially what they should eat. By showing them healthy foods that you enjoy eating, they will feel encouraged to eat them, as well.
Involve them in cooking and baking healthy snacks, so they can feel that they have a part in their food choices and so that you both can enjoy a fun bonding activity.
Make healthy foods "fun" by experimenting with different shapes, arrangements and engaging presentations – children, like us, eat with their eyes first!
Kid-Friendly Low Carb Products
Below are some of our top picks for kid-friendly foods you can find at The Low Carb Grocery and other health/natural food stores!
Chickapea Pasta – made from organic chickpeas and organic lentils, this alternative to wheat pasta is a great way to give your kids the same meals they love, but with a healthier twist. Each serving provides 11g of fibre and 23g of protein, which will keep them full for hours!
Liviva High Protein Organic Pasta – another healthy pasta alternative, Liviva offers a line of pastas made from black beans, edamame, or soybeans in fun and recognizable shapes such as spaghetti and fettuccine. 
Cello Whisps – we challenge any kid not to like these! Made from 100% cheese, but baked like a cracker or a chip, these are a great snack that provides a number of essential nutrients for growing kids. Available in lots of fun flavours such as Bacon BBQ, Parmesan and Cheddar. Check out these and other cheese snacks.
Crazy Mooskies No Sugar Added Ketchup – kids seem to want to put ketchup on just about everything! However, conventional brands of ketchup usually contain loads of added sugars, so this simple swap can make a big difference. (This ketchup is sweetened with Stevia instead, which has been shown to be safe for children.)
Noble Jerky – delicious flavours offering a wide range of options like Sweet BBQ and Teriyaki. Noble Jerky's chewy texture and convenient bite-sized portions make it fun and easy for children to snack on, adding to their overall enjoyment.
Fat Snax – made with high-quality, wholesome ingredients that prioritize nutrition without compromising on taste. These products are specifically designed to be low in sugar and carbohydrates, making them a healthier alternative for children while still satisfying their snack cravings.
SmartSweets – the stevia-sweetened gummies that revolutionized the candy category! These delicious treats contain just 3-5g of sugar per package and come in fun flavours that your kids will recognize, such as Peach Rings, Sour Blast Buddies and Gummy Bears!
Unbun Plant-Based Keto Pizza Crust – this low carb, vegan pizza crust is packed with nutrients and flavour to make pizza night a little bit healthier! Plus, you and your kids can enjoy customizing your own pizza toppings!
Kid-Friendly Low Refined Carb Recipes
We realize that packaged products aren't the only way to make a difference in your kids' diets – the real impact comes from the kitchen! Making your own meals and snacks with whole food ingredients, and getting your kids to help out, is the main way to shape their eating habits and ensure they are getting all of the nutrients they need. Below are some recipes we gathered that contain no added sugars or refined carbohydrates and can even be a fun way to get your kids involved in making their own food – a valuable skill they will need later in life!
Berry Blender Muffins – these are made with almond flour instead of traditional white flour; or you could use oat flour to keep things allergen-free. In addition, this recipe calls for a natural sweetener such as Swerve, made with erythritol which has been proven safe for children (note: never give your children artificial sweeteners, such as Splenda or Sweet 'N Low). Alternatively, you could use a mashed banana, maple or agave syrup or unrefined coconut sugar. These muffins are super quick, easy and relatively mess-free!
Zucchini Chocolate Chip Cookies – these are sure to be a hit with children and can be eaten for snack or even breakfast! Yes – you read that correctly, cookies for breakfast. This recipe calls for a mix of almond and coconut flour, making them flourless and gluten-free. They also recommend using sugar-free chocolate chips such as Lily's!
No Bake Chocolate Peanut Butter Protein Bars – these are a great all-natural alternative to store bought granola bars. Some things you'll need to make these include natural peanut butter (no added sugar), your favourite protein powder and dark chocolate (or sugar-free chocolate if your kids aren't huge fans of dark chocolate).
Cauliflower Mac and Cheese – this low carb version of mac and cheese is a great way to get your kids to eat – and even like – veggies! Cauliflower is relatively tasteless, so it can be substituted in any recipe that you would normally make with white rice or pasta.
Broccoli Fritters – who thought broccoli could ever be golden and crispy? This is yet another recipe that can help encourage your kids to open their minds to vegetables by making them super tasty! You can serve these with dinner or pack a few in your kids' lunchboxes.
Blueberry Popsicles – These are super fun and easy to make with kids! They only require two ingredients – full fat coconut milk and fresh or frozen blueberries! You could also add a liquid natural sweetener, maple syrup or honey. The recipe also suggests topping these popsicles off with a grain-free granola for a little extra crunch!
Edible Cookie Dough – forget store-bought cookie dough that can carry the risk of bacteria – now your kids can enjoy cookie dough straight out of the bowl safely! Plus, this cookie dough is made with nut butter, almond flour and sugar-free maple syrup, making it full of healthy fats, vitamins and minerals, too.
Stay Connected
We hope that this article helps you feel excited and empowered to take your family's nutrition up another level! If you would like to share your thoughts or experiences with the rest of our low carb community, or just join the conversation, head over to our Facebook and Instagram pages.
Share any direct feedback and experiences through a Google Review. Also, find these incredible products listed in this article along with 100's more on sale now by subscribing to our email newsletter today!