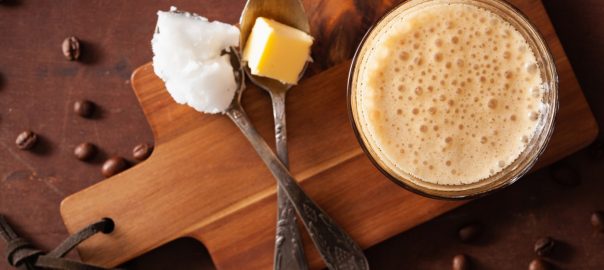 Drinking Tea & Coffee – Low Carb
Can You Drink Coffee or Tea on a Low Carb Diet?
Your morning beverage might need a little modifying when you start a low carb or keto diet – find out why and how!
Getting the day started with coffee or tea is necessary for many people, but not always healthy. If you are on a low carb or ketogenic diet, or are thinking of starting one, here's what you need to know to make your morning beverages low carb and tasty!
On their own, coffee and tea can be good for you. They are both full of antioxidants and can help increase your focus and mental clarity. In addition, the caffeine in coffee and tea can increase your metabolic rate and help promote fat loss. That said, not everyone likes to drink their coffee or tea black, and this is where it can get tricky to make your beverages taste good while still being good for you – until now. The Low Carb Grocery carries a number of low carb and keto-friendly coffee and tea helpers that can help you make your morning beverages low carb without sacrificing taste! Below are a few ways to get started.
Disclaimer: The information in this article is not medical advice. A low carb diet may not be suitable for you. Consult your health care provider before making any changes to your lifestyle or use at your own risk. 
Replace Sugar
The worst thing you can do to a cup of coffee or tea is add heaping spoonful's of sugar – especially when that's the first thing to hit your stomach in the morning. Starting your day with too much sugar can cause a number of negative side effects that you may not even realize are affecting the rest of your day. Consuming sugar in the morning can cause your blood sugar levels to spike and then crash very rapidly, making you feel groggy and tired for the rest of the morning, and causing you to crave more sugar or carbohydrates to get your blood sugar back up. This can also cause your mood to suffer, which can be burdensome if you have work, exercise or other tasks to get done. In addition, eating sugar every morning can ruin your gut health over time because the "bad" bacteria in your gut feed off of sugar. Too much bad bacteria in the gut can cause digestive problems, food sensitivities and allergies, unintentional weight changes, skin problems, sleep disturbances and autoimmune diseases (where the body's immune system attacks healthy cells).
As you can probably tell, it's a good idea to replace sugar whether you follow a low carb diet or not. The good news is there are tons of all-natural, zero glycemic sugar replacements that still taste sweet, without the negative side effects (seriously)! Stevia, erythritol, xylitol and monk fruit sweeteners are all great and safe choices. Unlike artificial sweeteners, consuming these won't cause bloating, gas or other digestive issues (of course, still consume them in moderation). Check out our inventory of natural sweeteners!
And if you've never tried any of these natural sweeteners and aren't sure which one to choose, read through our article all about sweeteners on this topic to help you understand some of the differences (we're fans of all of them, though!).
Try These Instead of Milk
Although 2% milk is low carb and technically keto-friendly, it may not be your best choice if you are trying to consume 70% of your calories from fat, as you would on a ketogenic diet. Also, you definitely should not be drinking skim milk as this gets you even further away from your ideal fat intake, and skim milk often undergoes extra processing and refining that removes a lot of its original nutrients, too. Instead, swap out your milk for heavy cream or half and half. It will make your morning coffee or tea taste even more delicious and keep you satiated longer!
For some extra flavour and healthier fats, you can also try a plant-based version of a coffee creamer. Here are some of our favourite choices:
Nutpods
Nutpods Unsweetened & Dairy Free Creamers are a great replacement for traditional coffee creamer! Not only do they come in delicious, sugar-free flavours such as French Vanilla, Caramel and Hazelnut, but they are also a great source of heart-healthy plant-based fats. The main ingredients include coconut cream and almonds, giving them the same thick, creamy texture as dairy creamers but more nutritious!
Califia Farms
Califia Farms Better Half Coconut & Almond Coffee Creamer is another great plant-based choice. Similar to Nutpods, it is made with a blend of almond milk (almonds and water) and coconut cream for a rich and creamy taste. It is also unsweetened meaning there are no hidden sugars and still room to add your own sweeteners!
Try making your own specialty coffee beverages at home with the following ingredients:
Mix everything together vigorously or use a milk frother or heavy-duty blender to get a nice foamy layer on top!
Milkadamia
Milkadamia Unsweetened Macadamia Milks are made from raw, never roasted macadamia nuts to preserve the pure flavour and nutrients of these nuts! Macadamia nuts are rich in several vitamins and minerals and are a good source of healthy fats, fibre and protein. Milkadamia is also enriched with added pea protein as well as vitamins A, D2 and B12 to give you more energy and nutrients to last the morning. Try Original or Vanilla.
Milkadamia is also a supporter of sustainable regenerative farming methods. Regenerative farming is extremely important for soil quality, underground ecosystems, reducing carbon emissions and producing more nutrient-dense food. Milkadamia started sourcing its macadamia nuts from a family-owned farm in Australia, the birthplace of the macadamia tree, where low impact farming practices are used. Purchasing Milkadamia helps support farmers protecting ecosystems.
Learn more at www.milkadamia.com (this is not a sponsorship, we just love them!)
Coconut Milk Powder
Coconut milk powder is a great shelf-stable replacement to liquid creamers. It is made from dehydrated coconut milk and mixes well for a delicious, creamy taste in your hot beverages. It is naturally low in carbs, while also providing some fibre, protein and a number of vitamins and minerals! We love Wild Tusker Organic Coconut Milk Powder, made from organic, non-GMO coconuts. Another great thing about coconut milk powder is its versatility; it can be added to sauces, soups, curries and other dishes as a thickener!
Butter, Ghee, Coconut Oil & MCT Oil
For those familiar with bulletproof coffee, these milk replacements should come as no surprise. Bulletproof coffee has been praised by keto dieters for its ability to kick start ketosis first thing in the morning! By blending hot coffee (be sure to use a blender suitable for hot liquids) with butter, ghee, coconut oil or MCT oil, you'll get a foamy, creamy keto-friendly beverage that will keep you satiated all morning or fuel a workout.
Coffee Booster
Coffee Booster is a line of keto-friendly creamers and liquid coffee boosters that provide nutrients for different needs such as Mind, Energy, Vitamins and Collagen. The creamers are made with MCT oil and available in Vanilla and Mocha flavours to turn boring black coffee into something delicious! All Coffee Boosters are packaged in portable dropper bottles so that you can take them anywhere or conveniently store them with your other coffee supplies. They are all sugar-free, dairy-free and gluten-free.
Mind Coffee Booster is a flavourless liquid that gives you a quick mental boost. It is packed with L-theanine, B Vitamins and glucuronolactone. All of these fancy-sounding nutrients provide benefits such as increased mental energy, mood balance and improved memory function.
Energy adds Taurine and B Vitamins to your beverages to give you a boost of energy. It is also a flavourless liquid that can be added to coffee or other beverages.
Vitamins provides 5 essential vitamins in addition to other nutrients such as thiamin, riboflavin, niacin and biotin in a flavourless dropper that makes it easy to get your daily vitamins.
Finally, Collagen Coffee Booster allows you to add a dose of flavourless collagen to your morning beverage (or really any time of day) to provide benefits for the skin, hair and nails.
What To Order From Cafés
Now that we've covered how to make your own low carb and keto-friendly versions of coffee and tea at home, let's talk about how to order from restaurants.
It goes without saying that specialty coffees, Frappuccino's and other sweetened beverages are off-limits for low carb dieters. That said, there are still many ways to achieve the same great flavours of these indulgent beverages without going over your daily carb allowance. While black teas, black coffees, americanos, and cold brews are your lowest-carb and safest options, there are other ways to enjoy café beverages from time to time.
Many establishments offer sugar-free syrups as an alternative to their normal sweeteners. Be mindful of "skinny" beverages made with these, however, as the "skinny" claim can still be misleading. It's best to ask the barista to make your own customized drink than order something straight off the menu as the full ingredients are not always shown.
Start with a simple black coffee, espresso shots or tea as the base of your drink. From there, you can ask the barista to add heavy cream or almond milk (make sure that it's unsweetened) as well as any other flavourings, such as sugar-free syrups. For example, you can try ordering an iced coffee and ask them to add heavy cream and a few pumps of sugar-free caramel syrup. Here are some other ideas:
Keto Vanilla Iced Latte – 2 espresso shots over ice with almond milk and sugar-free vanilla syrup
Keto Chai Tea Latte – steeped chai tea with heavy cream, topped with cinnamon
Keto Half & Half Matcha Latte – matcha latte with sugar-free vanilla syrup and leave room to add heavy cream
If you prefer to stick to plain coffee and tea, make sure to choose the right sweeteners at the store. A lot of cafés have a sugar replacement packets, but these are not always clean, healthy choices. Many cafés only offer artificial sweeteners instead of sugar, which can be harmful to your gut. If this is the case, you can purchase your own portion-sized sweetener packets and keep a few in your bag or in your car whenever you go out for coffee. We offer these single serving size packets of sweeteners:
Stay Connected
We hope this article helped answer your questions about coffee and tea, while on a low carb diet! We also hope you feel inspired to transform your morning beverages with our suggestions and recommendations! If you would like to share your thoughts or more ideas, join our social communities on Facebook and Instagram. If you want to share your experience with us, leave a Google Review! And be sure to subscribe to our weekly newsletter for the most up-to-date low card and keto news, as well as special announcements and product sales!